$1080 USD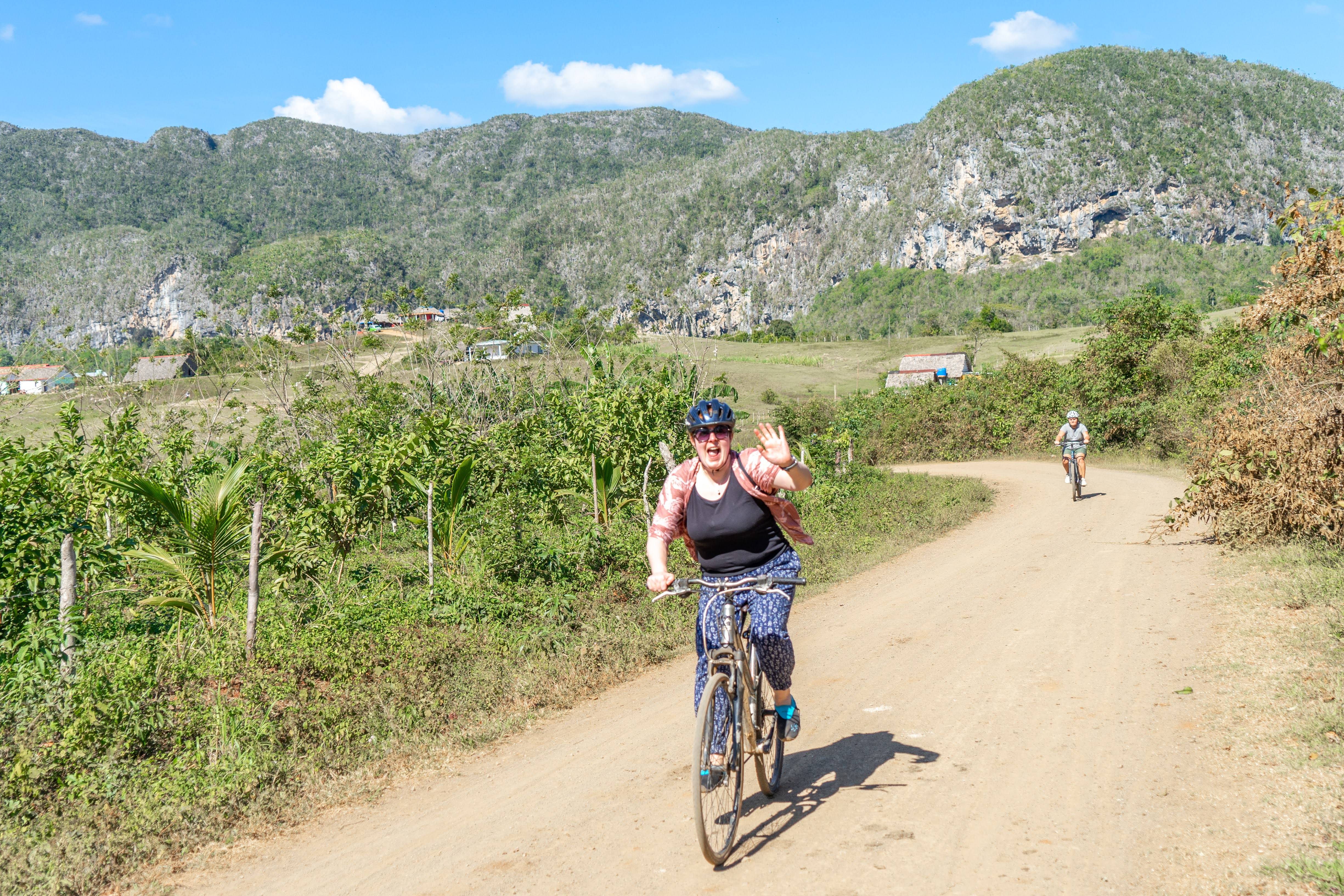 Itinerary Summary
Day 1
Havana

Day 2,3
Varadero
Day 4
Santa Clara
Day 5
Trinidad
Day 6
Cienfuegos
Day 7
Havana
Day 8
Departure
Booking Options
The Guide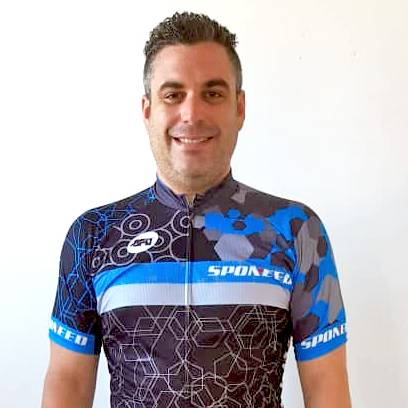 On this cycling excursion through Western Cuba, tour leader Maurice combines two of his greatest passions: cycling and sharing his country with visitors.
"I've spent my whole life riding bikes. When I'm on two wheels I feel like a fish in water. I simply love this physical activity and it is always my preference to be out in the fresh air. When I combine guiding with one of my favorite hobbies I feel as though I'm not even working. The extra benefit is that I get to show you places we couldn't see in a bus, showing you another side of Cuba that is hidden from most."
Tour description
Pedal through the narrow alleys, cobbled lanes, and vast landscapes of Central Cuba on this tour that starts and ends in Havana. You'll experience up close and personal the diversity in nature and architecture and that this jewel of and island has to offer with visits to five different provinces. You won't just see Cuba, you'll immerse yourself in its streets and its culture, accompanied by your English-speaking tour leader, bike mechanic, and support vehicle driver.
Our accommodation is in privately owned guesthouses that are typically run by local families. In Cuba this form of accommodation is the best way to get an insight into how the locals live – their food, culture, and it provides opportunities to interact with the family members. Recently comfort levels of this type of accommodation in Cuba have increased considerably and are highly rated by our travelers.
The tour starts and ends in Havana, so if you are interested you can add a few days before or after the tour to experience this unique city. Take our Havana Short Stay package or just add a couple of extra nights of accommodation and choose from our selection of Havana day tours with specialist guides.
Note: This tour can meet the requirements for general license travel, please request general license assistance in comments section of your booking form.
Tour Summary
| | |
| --- | --- |
| Duration | 8 days / 7 nights |
| Group size | Minimum 2 / Maximum 16 |
| Accommodation | Guesthouses throughout. Twinshare. |
| Single Supplement | Single Room for the tour - $249 USD extra (read more) |
| Transport | Bicycle (you are required to bring your own helmet), support vehicle (bus or mini-bus depending on group size) |
| Activities Included | 2-hour old Havana walking tour, orientation walking tours in Trinidad and Cienfuegos. Cycling routes as noted. |
| Other Inclusions | All breakfasts, all lunches, 1 dinner. Cold filtered water to refill bottles. Airport arrival transfer. English-speaking tour leader Maurice or one of our other excellent and expert biking tour leaders, bike mechanic |
| Suggested Combinations | Combine with a Havana Short Stay package, or a Beach stay package! |
| Can Americans join this tour? | Yes! This tour forms a great base for a legal trip to Cuba. Read more about how to make your trip to Cuba legal. |
Itineray Details
Day 1 - Arrive Havana
Welcome to Havana! Home of the most fascinating architecture and the famous seawall, el Malecón. Your included airport arrival transfer will take you to your guesthouse in Havana. The tour leader will conduct a welcome meeting at 6:00pm in the main guesthouse. Your optional snack kitty of US$20 will be collected. This money will be used to buy additional water, sodas, crackers, fruits, vegetables, nuts, etc for the road because it is difficult to buy food in remote areas. It is a good opportunity to learn about how the locals like to fuel themselves between meals and to try new foods. We offer this as a convenience, it is optional but those who don't contribute will not have access. Due to the scarcity of snacks in Cuba, we also recommend you bring your own packaged snacks from home.
Day 2 – Varadero
In the morning we meet the crew for bike fitting and mechanical check, then it's off we go on our first riding adventure as we tour the modern part of Havana on two wheels. You'll cycle through the neighborhoods Vedado, Nuevo Vedado, Havana Forest, and Miramar. We'll stop for a photo op at the Revolution Square where the state buildings are adorned with metal sculptures of some of Cuba's most important historical figures. We'll have a delicious lunch at a paladar (private restaurant) in Old Havana before we stretch our legs on a two-hour walking tour of Old Havana four main plazas after which we will hop on our support vehicle and head to one of the top-rated beach destinations in the world, Varadero!
Included: Cycling tour of Modern Havana (20km), 2-hour walking tour of Old Havana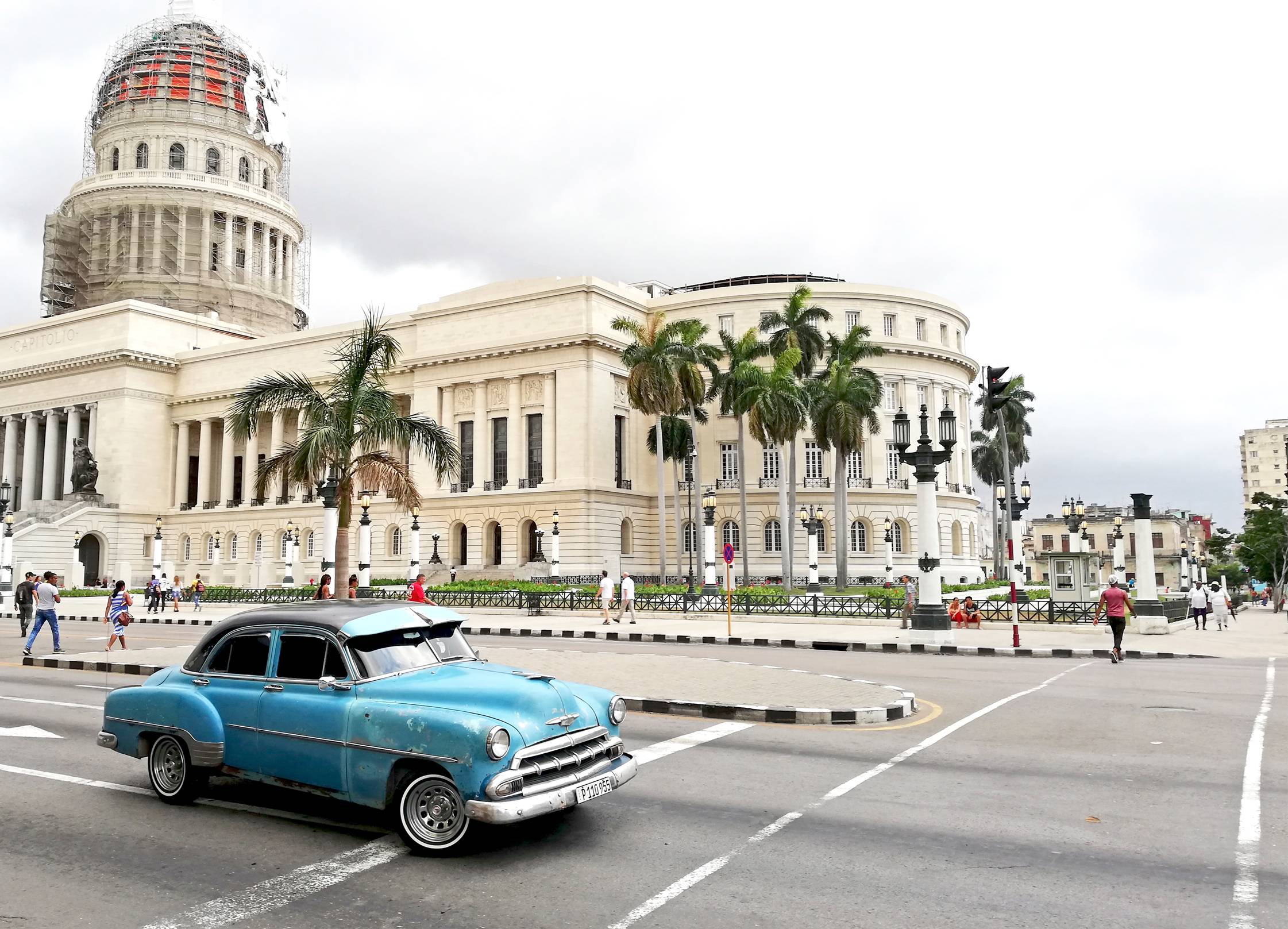 Day 3 – Matanzas
Rise and shine for an early 30 min drive to Camarioca, just outside of Matanzas, where we start our first cycling route. We ride to Matanzas on a lightly undulating road in good condition. Matanzas is known by many monikers such as the "Athens of Cuba" "Venice of Cuba" or "City of Bridges", it is rich in art and music heritage and is birthplace of many of Cuba's most important cultural figures as well as Afro-Cuban history and culture. This hidden gem is often neglected by tourists in favor of the crystalline waters of nearby Varadero, we explore its treasures of everyday life on bike tour though the city. Afternoon is at your leisure, you can enjoy the sun and sand, bike around on your own, or watch the sunset on the beach.
Included: Cycling for 40km, Bike tour of Matanzas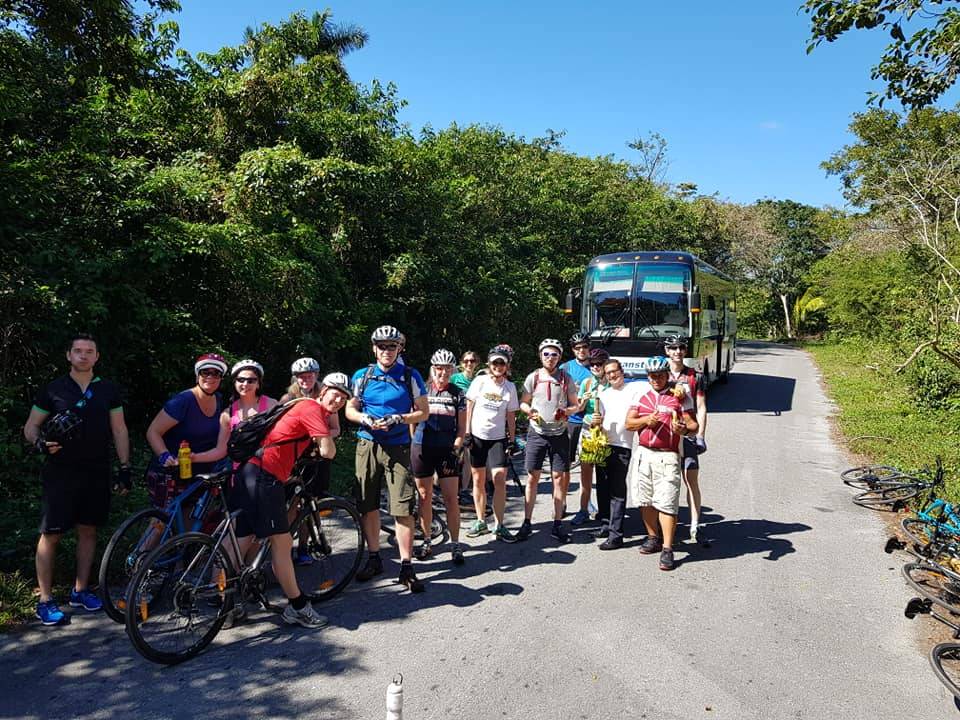 Day 4 – Santa Clara
We hit the pedals early to our next destination Santa Clara. The cycling route is mostly flat through agricultural fields, small villages, and interesting cities such as Cardenas and Colon. Santa Clara is the city of Che, as here is where the national hero is laid to rest near a gigantic bronze statue of his likeness. Another city overlooked by tourists, Santa Clara is unapologetically edgy, its large student population means that subcultures are well-represented here. It is a city of creativity, and rebellion. Today dinner is included.
Included: Cycling for 50km, entrance to the Che Guevara Museum and Memorial. Dinner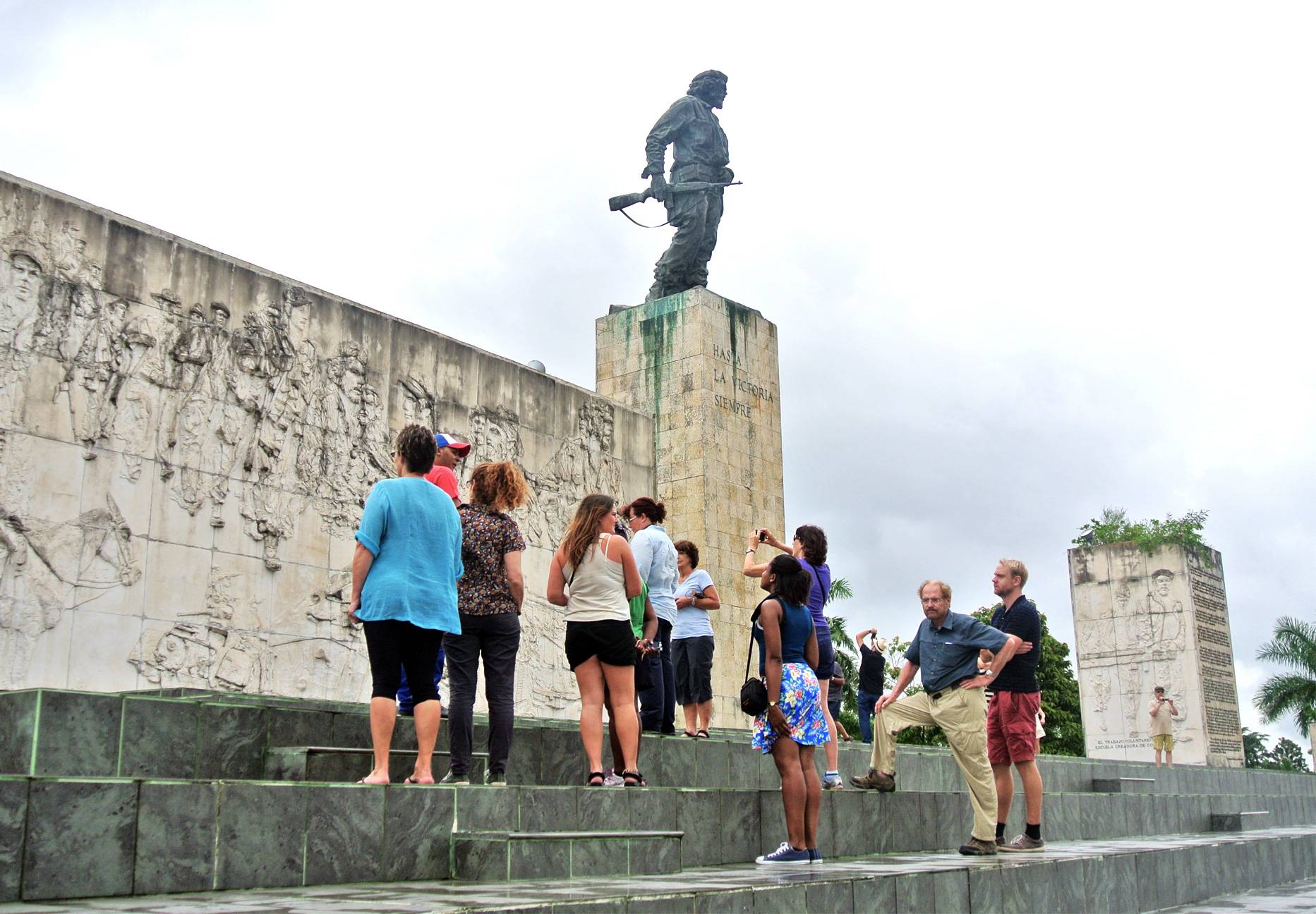 Day 5 – Trinidad
Make sure you fuel up with a good breakfast this morning as we will be uphill riding for much of today's route. We cycle early to the mountains of Guamuaya, with an average incline of 4% during 10km. We'll meet a farmer family in Jibacoa who will prepare a farm to fork meal while we rest our legs and enjoy the conversation. After lunch we take our support vehicle to colonial jewel Trinidad where we'll do an orientation walking tour in the historic center. For many visitors to Cuba, Trinidad is their standout favourite destination. No other colonial city in Cuba is so well preserved, and the local residents are extremely friendly and festive. Trinidad is steeped in religiosity, none the least of which is Santeria, which is one of several Afro-Cuban religions. After the tour the rest of the evening is free. If you have some excess energy to burn, we recommend a salsa lesson followed by a night of dancing in arguably one of the best places for nightlife in Cuba.
Included: Cycling for 30km (mostly uphill), farm lunch in Jibacoa, orientation walking tour in Trinidad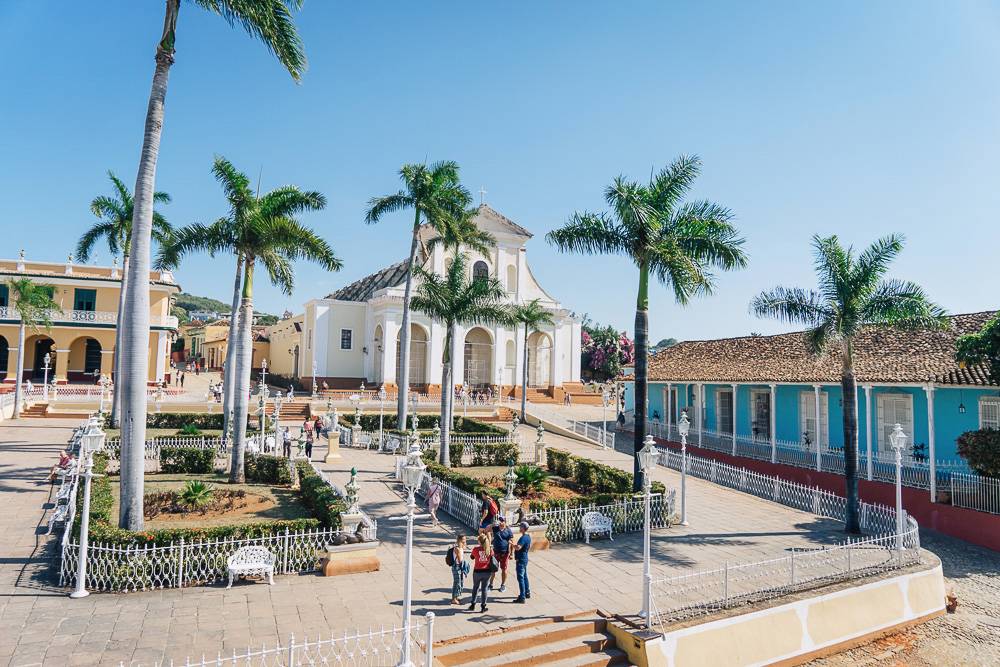 Day 6 – Cienfuegos
With the turquoise waters of the Caribbean Sea at our side, we ride along the coast from Trinidad to Cienfuegos, or "The Pearl of the South". Expect the terrain to be slightly undulating in the first 5km, then it flattens out with the sea to the left and mountains to the right for about 40km. The last 20k will be hilly. We'll take the rest of the journey in the support vehicle. French inspired boulevards and architecture await you in the elegant and peaceful city of Cienfuegos. After an orientation tour of the center of the city, around Parque Jose Marti, you are free to explore on your own. Don't miss some of Cuba's most beautiful buildings on Punta Gorda. There is nothing like an ice-cold beer at the Yacht Club or the astounding Palacio del Valle while watching the sun set.
Included: Cycling for 60km. Orientation walking tour of Cienfuegos.

Day 7- Havana
We start our last day of the tour with a ride in the support vehicle to Bay of Pigs, site of the infamous U.S. invasion during the JFK presidency. We'll learn the Cuban side to this story with a cycle on flat terrain to the Museum of the Invasion. Afterwards we'll have an hour to enjoy the beach snorkeling or swimming and lunch on the road. Back in Havana for our bittersweet farewell dinner (not included). Who could say good-bye to Cuba without a final night out for music and mojitos? Perhaps at the Buena Vista Social Club or the Time Magazine honored Fabrica de Arte Cubano, art and nightlife megaplex (optional).
Included: Cycling for 30km, entry to the Museum of the Invasion

Day 8 – Departure Day
Today you can depart at any time, there are no activities or cycling today. We suggest you stay longer to enjoy the many wonderful restaurants, museums, and galleries that Havana has to offer. Your departure transfer is not included but a taxi can easily be arranged with your casa host.
Summary of Travel Times (in Vehicle)
| | |
| --- | --- |
| Havana to Varadero | 2.5 hours |
| Varadero to Matanzas | 2.5 hours return |
| Varadero to Santa Clara | 3.5 hours |
| Santa Clara to Trinidad | 2.5 hours |
| Trinidad to Cienfuegos | 2 hours |
| Cienfuegos to Havana via Bay of Pigs | 5 hours |
Arrival and Departure Accommodation in Havana

The first and last nights of the tour in Cuba will be in Guesthouse Accommodation, centrally located in either Old Havana, Central Havana, or Vedado.
We include an arrival transfer from the Havana airport (or from anywhere else in Havana if you are already in Cuba) to the joining Guesthouse Accommodation.
On the booking form, you can request extra nights before or after the tour in the same guesthouse you will have for the tour. Click here to see prices.
We also offer other accommodation options in Havana for before or after the tour.
Late arrivals or Early departures
Late Arrival - If you plan to arrive on Day 2 or after, we may be able to arrange for you to catch up to the group. This may involve you paying transport costs to do so.
Early Departure - The group will arrive back in Havana late afternoon of Day 7, so a departure from Cuba in the evening of Day 8 is possible. An earlier departure than this is also possible and may involve you paying transport costs for us to send you back to Havana by yourself.
Spending money
We estimate you will need between €190 and €380 EUR ($200 and $400 USD) for local expenses during the tour, such drinks, souvenirs, and optional activities. Click here to see details of expenses you will have while on the tour in Cuba.
Packing List
Required
Bike helmet
Mosquito repellent
Appropriate shoes
Sun protection (sunblock, sunglasses)
Rain gear
Optional
Padded bike shorts
Quick-dry clothing (e.g. socks, jersey)
Windbreaker
Cycling gloves
Cycle water bottle or camelback
Snacks (in case they are scarce locally)
Day pack
Saddle
Pedals
Do not bring stand-alone GPS units (e.g. Garmin) – these are a restricted in Cuba. However you can bring a GPS watch
This is a list of items specific to this tour. Please also read our general packing list for Cuba tours .
Not Included in the Tour
Visa and passport fees
Insurance (Travel Medical Insurance is required to participate on the tour)
Food: meals before Breakfast on Day 2 and after Breakfast on Day 8, dinners (except on Day 4), additional snacks (snacks included for snack kitty participants)
Drinks
Airport departure transfer
Tour Dates & Availability
Flexible Bookings!
With our flexible bookings policy, you can book your place on a tour for only $25 and change your departure date anytime at no cost. Read more...
A

Jul 24 - Jul 31, 2022
10+ places available
$1080

Available | no bookings yet

$1080 USD

July 24, 2022 - July 31, 2022

Rainer Companioni scheduled to guide this tour

A

Sep 25 - Oct 2, 2022
10+ places available
$1080

Available | no bookings yet

$1080 USD

September 25, 2022 - October 2, 2022

A

Oct 30 - Nov 6, 2022
10+ places available
$1080

Available | no bookings yet

$1080 USD

October 30, 2022 - November 6, 2022

A

Nov 27 - Dec 4, 2022
10+ places available
$1080

Available | no bookings yet

$1080 USD

November 27, 2022 - December 4, 2022

A

Dec 4 - Dec 11, 2022
10+ places available
$1080

Available | no bookings yet

$1080 USD

December 4, 2022 - December 11, 2022
Alternatives
Your travel dates don't match?