Havana's airport - Jose Marti Internacional - is a well ordered and modern airport. There are actually 5 terminals. The vast majority of international flights arrive to Terminal 3. However, US airlines Southwest and United have their flights currently arriving and departing from Terminal 2*.
This is the latest information we have. However, changes are frequent, and we do not guarantee that this information is correct. It is the responsibility of each traveller to check which terminal their flight arrives to and departs from in Cuba.
Arrival procedure in Cuba
Migration - Upon arrival you may have to wait a little while in line at migration for your passport, Cuban Tourist Card (pictured on right), Covid Vaccine Certificate (or PCR test result) and travel insurance to be checked. If you are asked to provide proof of travel insurance valid for Cuba and you don't have any, you will be directed to a desk where you can buy this. If you are flying directly from the US your insurance is included with the airline ticket (your boarding pass is proof of this) and you won't be asked for documentation.
Health Check - after a standard security check, you will be asked to submit your health assessment card. This is a piece of paper that the airline will give you during your flight and which you have to fill out and sign. There are some health officials at this check point that may ask you if you have a fever or symptoms of diseases that Cuba is trying to prevent entering the country. You may be subject to a temperature screening and PCR test if you are displaying symptoms or if they select you for a random PCR test. Arrival procedures change frequently due to the COVID pandemic, our travel alert page has updated arrival procedures.
Luggage Claim - you then pass through to the luggage claim area. Checked luggage is carefully screened in Cuba to search for illegal substances and contraband, and there can be long delays in waiting for checked luggage to appear on the carousel. Some travellers have reported up to 3 hours.
Customs Declaration - once you have collected your luggage, and before exiting to the main arrivals hall of the airport, you will be asked to submit your customs declaration form. The airline will also provide this form to you during your flight. If you are carrying any electrical equipment, computers or communications equipment in your checked luggage, the baggage handlers may have marked the luggage tag attached to your suitcase. The customs official will check your luggage tags for any such marks and you will go to the inspection area for agents to search your luggage.
Arrivals Hall - After having your luggage tags checked you will pass through to the big arrivals hall area. There will be crowds of people waiting to greet their friends and family members. If you are a Cuban Adventures traveller and you have an included airport arrival transfer, our representative will be waiting for you holding a Cuban Adventures sign.
If you cannot find this sign and have arrived to Terminal 3, you can go to our meeting point located in the center of the arrivals hall and marked by a large banner with our logo on it (along with the logos of some other agencies).
Changing money upon arrival
Even though the queues can be quite long, in most situations it is probably best to get some local currency (CUPs) before you leave the airport.
In Terminal 3, there is an ATM on the upper level, above the arrivals hall, in the departure hall. A CADECA currency exchange office is located on the ground floor. The exchange rates at the airport CADECA are the same as in other CADECAs around Cuba. To read about currency exchange and accessing your money in Cuba, please click here .
In Terminal 2, to get to the currency exchange you must leave the arrivals area and re-enter the departures area, the CADECA is to the right of the check-in lines.
You driver can help. Depending on the time of day and the day of the week, the driver of your airport arrival transfer might be able to offer to take you to an alternative CADECA somewhere on the way to your guesthouse, where there is likely to be a smaller queue.
Warning: The practice of short changing has been reported by travellers at the airport CADECA. It's advised to carefully count the CUPs you receive in front of the CADECA employee as soon as you receive them.
More Cuba Airport Information
Getting from the Airport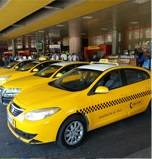 If you don't have a pre-arranged airport arrival transfer, the best way to get from Havana Airport to your hotel or guesthouse in Havana is in taxi. In fact, this is pretty much the only way - as yet there are no official buses running from the airport to the city. You should be able to easily spot the long line of yellow tourist taxis outside the arrivals area of the airport. The current price for a taxi from the airport to the center of Havana is 25 USD. It is a 30-40 minute drive (depending on traffic) into the city.
Official taxis in Havana run on a conventional taxi-meter, and you are expected to pay the price stated on this meter at the end of your trip. Most tourists leave a small tip for the taxi driver if they are pleased with the service they received. Taxis from the airport however charge 25 USD almost as a standard fee for this journey so that they can compensate for their time spent in the queue.
Warning: It has been reported on a few occasions that taxi drivers have taken tourists to a different casa particular to the one that they have reserved and instructed the driver to take them to. We assume that this is so that the taxi driver can earn commission from the casa. We recommend that you check the street number of your Havana Casa upon arrival to make sure it is the same as the one you have reserved.
Airport Arrival Transfers in Cuba - Havana or Varadero?
If you don't have an airport arrival transfer included with your Cuban Adventures tour, you can add this as an additional service.
HAVANA: our price is $55 USD per taxi (4 people maximum).
VARADERO: If your flight arrives to Varadero airport you can catch a taxi to the Viazul bus terminal. Click here to see the timetable. We provide transfers in private taxi from Varadero airport to Havana for US$127 for up to 4 people (2 hours travel time).
Arrival Day in Cuba & Group Meeting
If you are taking one of our tours, your tour guide will organize a short meeting on the arrival day for the tour at the base guesthouse for your tour. In your guesthouse, ask about a note from your guide if one is not presented to you upon arrival. The first official group meeting is usually arranged for the morning of Day 2 of the tour by which time all group members will have arrived, as some flights can arrive late at night on Day 1. The tour guide will advise on the note what time and where you should meet the next morning if you do arrive late.
Please note: Day 1 of our tours is set aside as an arrival day and no activities are planned, so you may arrive at any time. Similarly the last day is a departure day in which no activities are planned.
Airport Departure Tips
Taxis will charge between 15 and 25USD for a ride to the airport from the central parts of Havana, for your departure from Cuba depending on the type of taxi and the time of day.
Departure tax There is no airport departure tax payable (previously this was 25USD per person).
Change back your CUP – Cuban currency cannot be officially changed to other currencies outside of Cuba.
In Terminal 3 - there is a CADECA to change these in the departure hall of the airport before you pass through migration. There is also one after you pass through migration (in the departure lounge area), as well as a shop that accepts CUP and other currencies. This shop sells Cuban rum, coffee, cigars, and a small range of snacks and sweets. There is also a small cafeteria that offers hot drinks and a poor selection of snacks.
In Terminal 2 - there is an outdoor cafeteria and a CADECA inside the terminal prior to going through customs.
Public WIFI. The departure lounge areas of both Terminal 2 and Terminal 3 have a wifi point. The government has announced that all travellers get a free half hour of airport wifi. If you have a public wifi card with any credit remaining, you can use this here while waiting for your flight.