Book with us a beach stay package that includes accommodation at a Cuban beach resort, plus transport to and from Havana. We can arrange accommodation in any of Cuba's beach resorts. Below is a sample of some of the beaches in Cuba with hotel resorts that we recommend.
The US government prohibits US travellers from recreational beach vacations. Read US Cuba travel rules.
Jibacoa (1 hour from Havana)
Also known as Playa Amarillo, this beautiful beach is on the north coast of Havana Province about 60 km from Havana and 50 km from Varadero. The beach is lined by a beautiful landscape of surrounding hills about 100m in height. Jibacoa is 12km from the fishing township of Santa Cruz del Norte, which features one of the largest Havana Club Rum factories in Cuba.
There are 2 mid-range beach resorts at Jibacoa.
Villa Tropico - 3 stars
Memories Jibacoa - 4 stars. Room options are

Standard Gardenview
Standard Oceanview
Standard Pool View
Tropical Oceanview
Both hotels include all food and drink in its packages. We can arrange private car transfers to and from Havana or Varadero to the hotel. Consult us for prices and availability.
Varadero (2 hours from Havana)
Varadero is Cuba's premier beach resort and is only a couple of hours drive from Havana. There are literally dozens of hotels dotted along this spectacular peninsular that is lined by a seemingly endless stretch of perfect white sand beach. While not much authentic cultural interaction is available at these beach resorts, they do provide a quiet place to relax and to enjoy the sun, the beach, and the warm Atlantic water. Below are our suggestions for all-inclusive hotels in each of the available categories.
Hotetur Sunbeach - 2 stars
Hotel Palma Real - 3 stars
Blau Varadero - 4 stars
Iberostar Varadero - 4.5 stars
There are also guesthouse options in Varadero
Guesthouse - Santa Marta, Varadero - 3 stars
Comfort Guesthouse - Varadero - 4 stars
We can arrange private car transfers to and from Havana or Varadero to the hotel. Consult us for prices and availability.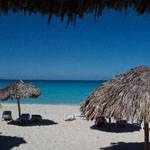 Cayo Levisa (3 hours from Havana)
Cayo Levisa is an island about 4km long, and about 6km off the north coast of Cuba's Pinar del Rio Province. It's about 140km east of Havana and is known to have some excellent sites for scuba diving and snorkelling. The island is framed by a mangrove forest on the south side and a 3km long idyllic white-sand beach on the north side. The only hotel on the island houses a fully equipped dive center.
Hotel Cayo Levisa - 3.5 stars - consult us for prices and availability which can include transfers to and from Havana.
While not reaching luxury standard, the hotel rooms are clean and comfortable, and most of them are literally within a few steps of the spectacular beach. Being the only hotel on the island it is a very quiet place - perfect if you are after a relaxing time reading a book in a hammock, but not ideal if you are more interested in partying. Apart from the staff who work at the hotel and at the dive center, there are no local Cubans living on the island, so don't come here looking to meet and interact with Cubans and cultural immersion.
There are only 2 ferry services per day to the island - 10am and 6pm, and 2 services back to the mainland - 9:20am and 5:20pm. These need to be paid for in CUP cash (current cost is approximately equivalent to 15 EUR per person) upon boarding the ferry.
Maria La Gorda (5 hours from Havana)
Hotel Villa Maria la Gorda is located on the western tip of Cuba, in the remote Guanahacabibes Peninsula, inside the world heritage listed Cabo Corrientes Nature Reserve. It is fronted by a spectacular white-sand beach and surrounded by thick forest, through which some day treks can be made. It has a reputation as the one of the best scuba diving destinations in Cuba, and facilities include 2 boats for diving (with capacity for 28 and 12 divers), experienced instructors with knowledge of English, French, Russian and Italian, and modern equipment for diving lessons, certified by SSI and CMAS. Turtles use the beach as a nesting ground. Click here for more info about the hotel.
Hotel Villa Maria la Gorda - 2.5 stars - consult us for prices and availability.
While the location is fantastic and most of the rooms are new and quite comfortable, the hotel does not rate highly because it is poorly run. Food is average at best and as a measure to control rats, the administration has allowed an alarming number of cats to inhabit the grounds of the hotel. The hungry stares of the felines can be disconcerting for some visitors while dining, and the cats are also a concern for the native birds and rodents that populate the forested surrounds. Being a fairly long trip from Havana (5 hours) or Vinales (4 hours) it's only really worth it if your principal aim is to scuba dive.