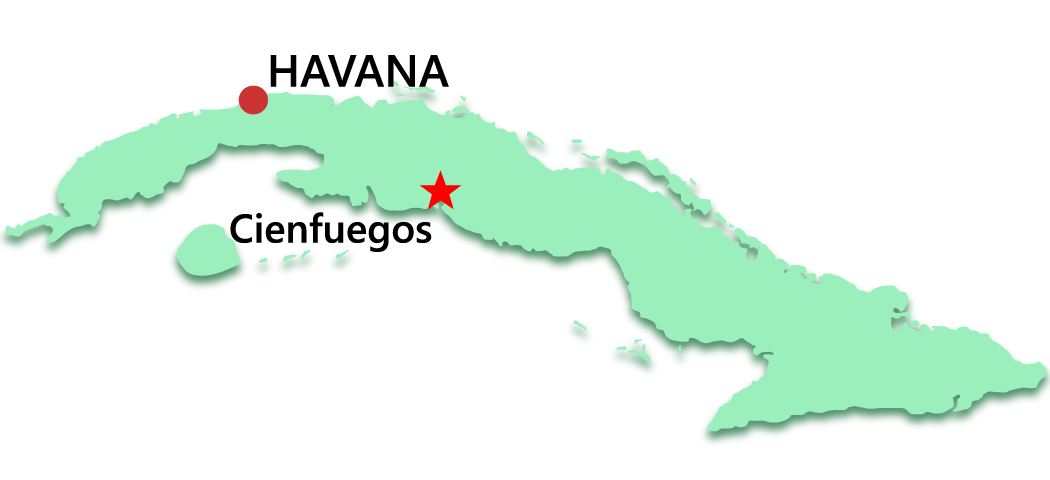 Quick Facts
| | |
| --- | --- |
| Population: | 150,000 |
| Distance from Havana: | 233 km |
| Travel Time: | 5 hours |
Where is Cienfuegos?
Cienfuegos, is a city located on the South coast of Cuba, between the Bay of Pigs and the colonial city of Trinidad.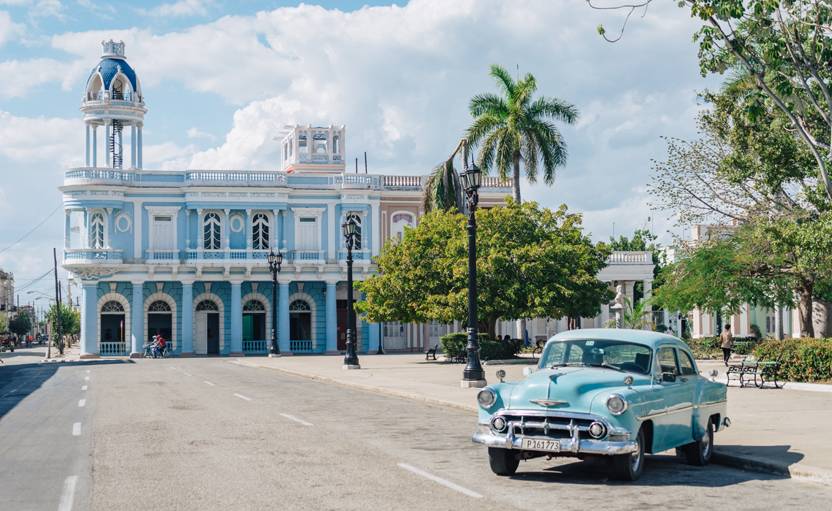 Why Visit Cienfuegos?
Despite its popularity with foreign visitors, Cienfuegos is fairly industrial. The Sierra del Escambray mountains rise as a pretty backdrop to the city scape, and the impressive boulevard that runs along the Jagua Bay, with its quiet waters and easy breeze, is Cienfuegos at its most pleasant.
For some, Cienfuegos is the quirkiest city in Cuba. It was founded by the French who constructed a European style holiday town. However the Caribbean vibe and the lingering Spanish influence are persistent, resulting in an interesting and unique city. Being the most recently founded city in Cuba it has a more clean, modern, and spacious feel, and along with its other attributes this gained the city the nickname The Pearl of the South.
Getting your Bearings
Cienfuegos is fairly easy to wander around due to its simple yet spacious grid structure. The system is either calles (roads/streets) or avenidas (avenues). Calle is for North to South, Avenidas is for East to West directions. Calle 37 is the centre point of whichever direction you choose. Calle 37 is also the wide Prado avenue, which makes it essentially the town centre, and the nearby Jose Marti Park is a focal point.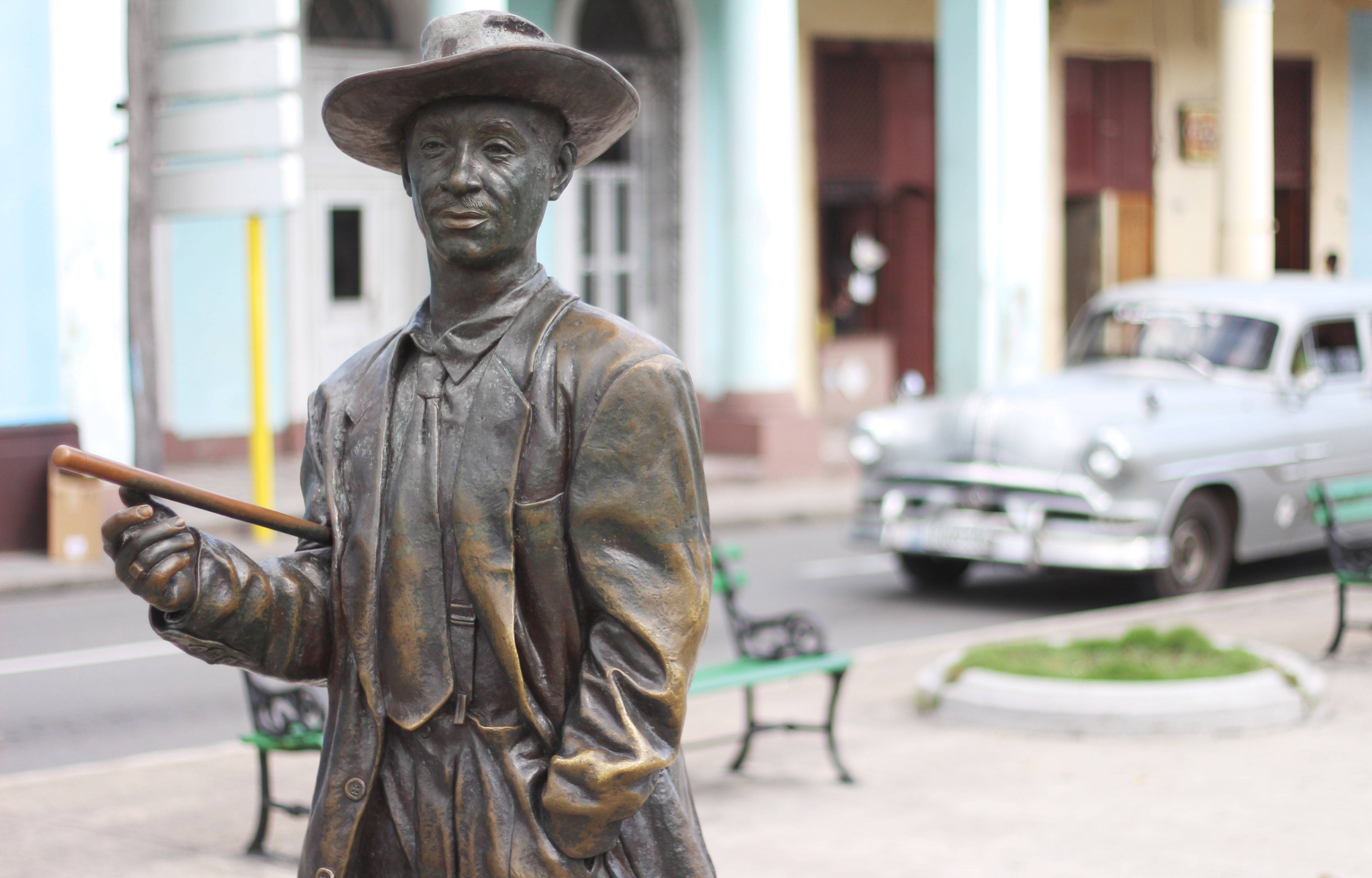 Things to do in Cienfuegos
Wander
The Historic Centre of Cienfuegos is UNESCO Heritage certified. Within this centre you can visit many notable buildings and monuments including Jagua Fort, Jose Marti Park, Cienfuegos Cathedral, Reina Cemetrary. The impressive Botanical Garden just outside of Cienfuegos is known to contain more than 2000 different species of tropical plants, and has ties to Harvard University from as early as the 1920s. You'll understand why the French picked Cienfuegos as their ideal Caribbean retreat if you head over to the breezy and open-spaced Punta Gorda where pretty houses front up directly to the peaceful bay waters, and wandering along the flat bay boulevard makes for an easy stroll to many bars and restaurants.
Indulge
In the historic centre, the Tomas Terry Theatre is a main pull for locals and travellers. At the theatre there are plays, concerts, comedy performances, movies and others shows regularly. In other parts of town, there are popular venues to have a drink and a dance. A Cabaret style music venue such as Costasur makes for an interesting visit. Punta Gorda as mentioned has some bars and clubs to select from too. Around Punta Gorda you'll find affordable and decent food. Calle 37 will give you lots of options too, and more on the fast food side. Like most places in Cuba, the best spots to eat are in casas particulares, as they are home cooked meals in big quantity.
Beach & Diving
Playa Rancho Luna isn't a world beater when it comes to beaches, but it serves a purpose with its 1km stretch despite its dusty white sand and rugged edge. However the weather in summer months in Cienfuegos can be glorious, so its a great place to relax. If you're looking for a bit more of an adventure, scuba diving is available. There are only a couple of dive centres, but whichever you choose, despite the murky waters you'll be treated to cave, tunnels and a variety of shipwrecks to explore. There are also chances to encounter nurse sharks here too. If you head over to Castillo de Jagua via ferry there's some impressive coral dives.
Adventure
If you want to take advantage of that backdrop of the nearby mountains, then Parque El Nicho is a great place to visit. A short hike up through some lush green mountain scape, and you'll find sets of swimming holes, natural pools and a stunning waterfall. It has a reputation as the most beautiful of Cuba's numerous waterfalls. Laguna de Guanaroca is a lake that has been set up as a nature reserve. Bird spotting is popular here, and if you're lucky you might come across an elusive Cuban Tody, a Florida cormorant and pink flamingos.
Cuban Adventures runs tours year round in Cuba, many of these include a stay in Cienfuegos