Cuban Adventures Newsletter
The Cuban Adventures team has grown
The Cuban Adventures story started in 2005, running our small-group grass-roots cultural tours of Cuba with just 2 guides. Increasing popularity and exposure has seen us grow to a team of 10 guides and 4 full-time administration personnel. All of our guides have training in responsible tourism, languages, and guiding, with all but one being a local Cuban.
Despite this expansion of our operations we vow to keep the style of our tours small and intimate, with as much contact and authentic interaction with the Cuban people and their culture as possible.
Special Events - International Workers' Day - 1st of May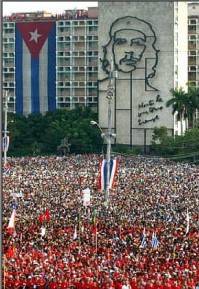 May Day (1st of May) is massively celebrated in Cuba with every worker marching with their colleagues to La Plaza de la Revolucion, where cultural and musical performances are held as well as speeches from leading figures.
This year we are offering 2 tours with a chance to participate in this event in Havana.
May Day in Cuba is a spectacular scene with masses of people dressed in red, waving flags, and displaying banners in support of the Cuban Revolution. Historically, Fidel Castro would address the people with one of his typically lengthy speeches, encouraging and congratulating the workers on their achievements. May Day is celebrated around the world and originally referred to an internationally-celebrated holiday in commemoration of the Haymarket Riot of 1886 in Chicago, Illinois, United States. Today it is more connected with a celebration of the social and economic achievements of the international working class and labour movement. May Day became established as the traditional socialist holiday during the 20th century, and the holiday is often known as International Workers' Day or Labour Day.
In Cuba it is also a time that people express their national pride.
The end of the US Embargo?

News about Cuba never strays far away from politics in the U.S.
The election of Barack Obama has raised hopes among many that relations between the Cuban and the U.S. Governments may improve, paving the way for an end to the 47 year-old tradeembargo that the U.S. government has in place over the island nation.The embargo (called a blockade in Cuba) is the most enduring trade embargo in modern history and has been widely criticised internationally and drawn condemnation from the UN General Assembly, the E.U., and Pope John Paul II.
There is also talk of the possible closure of the highly controversial U.S. Guantanamo Military Base on the island, and the lifting of the restrictions the U.S. Government has on its own citizens from visiting Cuba as tourists.
Limited progress has already been made. Last month, the Obama Administration lifted restrictions on Cuban-Americans who want to travel to Cuba, or send money to their friends and relatives in Cuba. This is a reversal of the 2004 Bush Administration move that had restricted travel to Cuba by immediate family members to 2 weeks every 3 years, and the amount of money they could send, to $300 per quarter.
In a further gesture of openness on Monday, U.S. telecommunications firms were freed to seek business in Cuba.
The broader U.S. trade embargo has for the moment, remained in place.
These moves fall short of more drastic policy changes that many in the U.S. Administration are arguing for, and undoubtedly what Cubans would welcome.
According to a 2002 study by the Brattle Group - economic consultants in Washington - if travel limits were lifted for all U.S. citizens, about 3 million Americans would visit Cuba each year.
To read in more detail about the latest developments click here.
Latest Cuba Tour Testimonial

Laura Leonard, France
I truly loved Cuba, and I would wholeheartedly recommend your organization to others who want to make the trip. Tatiana was fantastic! very reliable, and consistently enthusiastic, engaging, communicative - always pointing out little interesting bits of info and showing us typical Cuban foods, plants, customs, etc., which consistently enriched whatever we were doing. She was unfailingly open to questions and ideas. She arranged for us to attend a baseball game in Camaguey, took us to a few typical farmhouses where the residents graciously fed us and let us see their surroundings, she also brought us to hear local music everywhere. I had brought some medical supplies to donate, and she made sure we stopped at a small-town clinic to see how doctors' offices are set up and for me to leave the donations where it might be needed. She also brought us to visit a well-known local artist's gallery. This is a wonderful experience and truly enables you to connect with the Cuban people in a way that tourists who only go to resorts can never do. Your organization should be a model for other Responsible Tourism efforts - congratulations!
Finally
Thanks for your support!
Kind regards John Ahrens - Manager Big Planet Adventures