Cuban Adventures Newsletter
We've dedicated this edition to explain the new Cuba travel rules that the Trump administration implemented last month. The changes have confused many, however legal travel to this amazing island remains fairly simple!
6 Ways to Travel Cuba Legally
Be a Non-US Person
The USA is the only country with sanctions against Cuba so if you are non-US citizen, it is legal for you to visit Cuba. The only snag is that if you fly directly from the US to Cuba. Strictly speaking, you are then 'under US jurisdiction' and need to follow the laws as a US traveller. It seems weird, we know! But this is the US we are dealing with. In practice however, this rule is difficult and cumbersome for the US authorities to police, and most travellers are just waved through. However you may be asked to state the purpose of your trip to Cuba and asked by the airline to sign an affidavit. Actually as far as we know, no one up until now has had more hassle than that, however it's best to read on if you plan to visit Cuba directly from the US.
​Join a P2P Tour
"People-to-People" tours are escorted groups organized by an American tour agency. They give you the peace of mind of having a fully compliant tour so you can travel legally with confidence. These tours have a reputation of being very expensive, however at around US$2000 for a 1 or 2 week tour, Cuban Adventures USA is one of the very few operators breaking this mould. Apart from the local guide, a US-based chaperone accompanies the group to ensure it sticks to the full schedule of included educational and cultural interaction activities.
​Individual Travel
This CAN still be done, and under a number of different general licence categories (full list here). While the word 'licence' is used, you don't need your trip approved beforehand. You just need to adhere to the rules of your category and keep records for 5 years, that show your trip to Cuba was within the rules. To our knowledge, up until now, no traveler has ever been chased and punished by the OFAC. That said, for peace of mind, it's best to have the minimum paperwork and it is actually not too complicated. There are many categories including "family visit" and "journalism", however the most popular and accessible one to most is "Support for the Cuban People" (SCP). The SCP category requires you to support private businesses in Cuba such as paladar restaurants and private guesthouses, and participate in a full-schedule of activities (6-8 hours per day) that result in meaningful interactions with Cubans.
​A Normal Tour
Legal Cuba travel on a regular Cuban Adventures tour is feasible with a general licence, using for example the SCP category (see "Individual Travel" above). Our regular tours provide a skeleton for meeting the SCP requirements because all the accommodation is in private guesthouses. Our guides can suggest activities and places to eat, however in this case neither our reservations staff nor our guides can provide additional support in meeting license requirements - you would be responsible for your own paperwork and compliance with the law.
​Join a SCP Tour
These are tours specifically designed by Cuban Adventures to help travellers fulfill their legal requirements under the SCP category. All accommodations are private guesthouses and a full schedule of interactive activities is included. These tours are very similar to the the P2P tours, however there is no chaperone, and the tour participants are responsible for keeping their own diary with records of their daily activities. By joining the SCP tours you have the confidence of legal travel without the added costs and restrictions of traveling on a chaperoned tour.
​Book a Private P2P or SCP Tour
If you are a family or a small group of friends or colleagues, and don't want to join a group tour but want to travel to Cuba legally and hassle free, Cuban Adventures USA can arrange a private tour with one of our awesome local guides. You can use one of our tried and tested itineraries, or tailor an itinerary to your particular needs. We include the necessary activities to fulfill the requirements and we can add a chaperone for extra assurance if you want.
The Restricted Entities List!
The US Government has published a list of Cuban business entities with which US travellers are prohibited from making financial transactions. See the full list here! The purpose is to limit the flow of funds to businesses that are controlled by the Cuban military. To make sure your trip to Cuba is legal, you need to avoid the hotels, restaurants, and souvenir shops on this list, which, as a source of amusement for some, also includes specific brands, such as Caney Rum, and Najita Soda.
To be precise, it is not illegal for Americans to drink these brands of rum and soda when they are in Cuba. It is only against the US laws if you buy anything directly from one of those businesses on the "restricted list". Nevertheless, it would be an unnecessary risk to draw further scrutiny to oneself by taking any of these brands back to the US.
Photo competition winner!
The winning entry from our latest photo competition (below), was sent to us by Kathrine Osborne and titled Bici-Taxi. Kathrine won a $100 AUD 'Plant a Tree' gift card. We are receiving entries for our next prize date which is coming up quickly (December 22).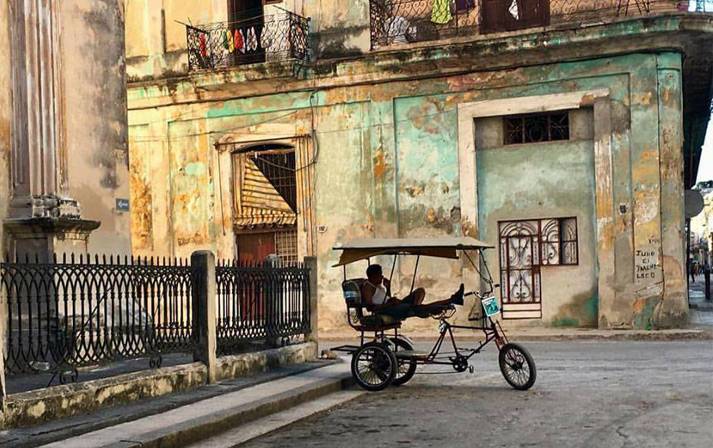 Finally
Merry Christmas and thanks for your support! We hope to see you in Cuba again. Remember that if you have traveled with us, and recommend us to your friends, they can get a 10% discount on our tours! See conditions.
Kind regards
John Ahrens
Director Cuban Adventures