Cuban Adventures Newsletter
Internet access improves in Cuba
In 2011, Cuba was connected to Venezuela via an undersea fibre-optic cable. As a consequence,finally this year, we are starting to see an improvement to internet access in Cuba for travellers and Cubans alike.
A number Government internet centres have been opened around the country and while internet speeds and access are still well behind the rest of the world, this does represent an improvement.
There is still a very long way to go for Cuba to catch up, but prices have come down to as low as 4.50CUC per hour (compared to a previous minimum of 6CUC) and the most encouraging aspect is that there are now seemingly no restrictions on who can use the internet. This has resulted in long queues at the internet centres.
Sales Position Available with Cuban Adventures!
We are pleased to announce that we have a sales position available for person living in the Northern Hemisphere (North & Central America, UK, or Europe). The position involves answering enquiries, assisting travellers in making bookings, and promoting our services. A good knowledge of travel in Cuba is required as well as excellent communication skills. Remuneration is commission based, and the successful applicant can work from home in which-ever country they reside. If you are interested in being part of a dynamic team who love working with travel to Cuba, you can contact Clarita - cubagrouptours@gmail.com for further details. Applications close on September 7.
Our Havana Day Tours
We now run the following "Urban Adventures" day tours in Havana, which we also sell directly to the public:
Old Havana Walking Tour - Wander the labyrinth of streets of Old Havana with an expert local guide to discover the charms and secrets of this living museum.
Classic American Car Tour of Havana - a two hour cruise through the famous Havana suburbs of Miramar, Central Havana, and Vedado, along the Malecon, 5th Avenue, to the Revolution Square, and more. Finshing with a delicious cocktail in the Hotel Nacional, overlooking the Malecon at sunset.
Afro-Cuban Religion Tour - Understand more about the widely practiced Afro-Cuban religions buying visiting the neighbourhoods and private homes of Central Havana with a specialist local guide.
Upcoming special events in Cuba
New features on our Facebook page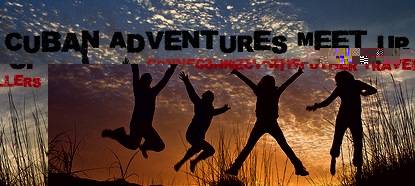 Tour Reviews - a platform where travellers can write and read comments and opinions about our tours.
Tour Meet-up - where you can find others planning a tour and meet before you go!.
Latest Testimonial
Jarod, New Zealand - 8 day Original Cuba Tour
Hi. Just want to pass on my gratitude for a brilliant 8 day tour with our amazing guide Natalia. She made the trip a special experience for the whole group and went out of her way to help us every step of the way (even helping us with transfer issues even after the trip finished). Natalia really knows her stuff and her excellent insider knowledge of Cuba not only saved us money but also gave us a more authentic experience. Thanks again, we will spread the word about Natalia and the excellent tour.
Click here to read more Cuban Adventures reviews.
Newest Member of our Team
Zarelys - Tour Guide
Meet Zarelys, the newest member to our team of Cuban guides. Zarelys majored in English and French at University, and also studied Italian. Before joining Cuban Adventures, she was teaching languages at University. Proudly Cuban, Zarelys' passions are music and dancing. She loves to share her country with her travellers, and to give them an experience of the culture that is as authentic as possible. She has a charming and happy demeanour and loves to meet people and make new friends.
Finally
Thanks for your support!
Kind regards John Ahrens - Manager Big Planet Adventures