Cuban Adventures Newsletter
Edition 7
It's been a long time since our last newsletter and much has happened in Cuba and with our tours in Cuba.
Small Steps to Liberalisation in Cuba Continue
As reported in the 5th Edition of our newsletter back in April 2010, partly due to the change of leadership in Cuba from Fidel to his brother Raul Castro, Cuba is making some small steps to liberalise its economy. This has continued to date and the plan has been to lay off as much as one third of the public sector workers, while at the same time, making available small business licences. Currently there are around 180 different types of licences with which Cubans can legally run their own enterprises. Some of these may seem strange occupations to a foreigner, such as a mattress repairer, an umbrella repairer, or a fruit peeler. While these reforms do not represent a wholesale change to the system, nor a significant increase in the material wealth of the average Cuban, it has improved some services available to tourists in Cuba. The new restaurant licences given out at the start of 2011, means that there is more variety and availablility of private restaurants, and private taxi licences with permission to carry foreigners, means that it's easier and less expensive for tourists to get around.
Cubans Can Now Buy and Sell Houses and Cars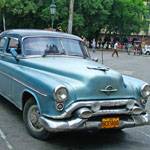 New laws have also been put in place that allow Cubans to buy and sell houses and cars. Previously, for a family to move from one house to another, they needed to do this by directly exchanging their house with the house of another family. Families would include money in the offer to exchange their house, even though this was illegal. Up until these new laws, only the old American cars were able to be bought and sold via a Government agency.
The Pope to Visit Cuba!
Pope Benedict will visit the cities of Santiago de Cuba(March 26) and Havana (from March 27). The visit to Santiago de Cuba coincides with the 400th anniversary of the discovery of Cuba's Virgin of Charity of El Cobre. The country's patron saint is a gold-clothed, doll-like figurine, which, according to legend, was found by three fishermen floating in a bay off the coast of eastern Cuba on March 26, 1612.
The Papa will visit the shrine and preside over an outdoor mass in Santiago's Revolution Square, before going to Havana on March 27. He will be greeted by President Raul Castro in Santiago and hold talks with him in Havana. This follows the visit of Pope John Paul II in 1998 (pictured). There is much interest in the talks due to the tension between the Catholic Church and Cuba's Revolutionary Government. The Church sided with the United States and Miami-based exiles as Fidel Castro transformed Cuba into a communist state that banned Christmas and was openly atheist until the 1990s. Today, the Church is Cuba's most influential institution outside of the Government, and has taken a bigger role since Raul Castro succeeded his older brother Fidel as president almost four years ago. Nevertheless, conflict still exists. The Revolution took ownership of Catholic Churches and buildings in Cuba and has been using them for other purposes such as public education and health care. The Church eventually wants its property back, as well as the right to run religious schools, and more access to the media. The general view of the Revolution Government has been that the Church wants to take more control and eventually run the country.
Upcoming Events in Cuba
We have managed to find out the dates for most of the important events coming up in Cuba this year (never an easy task). Here is a list of some of the more exciting ones, many of which are included on our tours:
Click here to see a full list of events in Cuba this year.
Out Adventures
As well as operating tours for Intrepid Travel, we have also started running tours in Cuba for Out Adventures. Out Adventures is a tour company that specialises in tours for gay and lesbian travellers. So far we have run 4 tours with great success, mainly due to the charms and fantastic efforts of our amazing guide - Natalia, and to the adventurous spirit of the participating travellers. While not gay herself, Natalia has many gay friends in Cuba and knows all the gay night spots.
Recently Cuba has become more Gay friendly and we have had few problems from hotels or homestays in Cuba accommodating gay couples.
Our Listing Removed from Tripadvisor
Unbeknownst to us, our listing on the popular reviews site Tripadvisor.com did not conform with their policy of only listing day tours (not overnight tours). We had received some great reviews (26 in total) from our generous travellers, but unfortunately these have also been removed by tripadvisor administrators from their website, along with the photos our travellers had uploaded. To maintain our exposure, we will continue to use only minimal advertising, and rely on our own website, our Facebook Page, and word of mouth.
Latest Testimonial
Andrea and Charles, USA - Western Cuba Tour
Our week was as near perfect as we can imagine! Your style of travel (very grass roots) is exactly what we were looking for. The Western Tour is perhaps not the best first sample of Cuba, as it misses the colonial towns, but we had a great time in Pinar del Rio province. Nel was well informed and delightful company. The Hotel Nacional is world class and classic. The guest house in Vinales was pleasant and well kept - I just wish the rooster was in the dinner pot and not outside our window! The diving center at Maria La Gorda is a great find - uncrowded, clean, killer view. The pig roast and house party at the farm in Vinales was a wonderful evening. We liked all three places-in-cuba.

Favourite activity - Guided walk through tobacco fields in Vinales.
Least favourite - There was no least favorite excursion.
Best part of tour - Getting to know three of your guides -Nel, Tony, Jorge.
Worst part of tour - One week is not enough time.

We had a great introduction to Cuba, thanks to Nel, and look forward to returning and seeing the rest of the island.
Click here to read more Cuban Adventures reviews
Newest Member of our Team
Diosbel - Tour Guide
Meet Diosbel, the newest member of our team of Cuban guides. Before becoming part of the Cuban Adventures team, Diosbel had a variety of life experiences. These include working as a physical education teacher and a carpenter. After graduating in physical education, he also studied English and German at a languages school in Camaguey.
Finally
Thanks for your support!
Kind regards John Ahrens - Manager Big Planet Adventures