We offer programs of dance classes in Havana of 2 days or more. Students of all levels of ability are welcome at the school. The main dance style taught at the school is salsa, however for advance level students, you can receive instruction in other styles including Son, Rumba, Cuban Folklore, and Cha Cha Cha. Salsa Styling instruction is also included. The classes are held on a 1-on-1 basis (individual). All teachers are professional dancers, and dance-school graduates from a school of arts in Cuba. The dance school is centrally located in the Vedado area of Havana, close the accommodation options we offer.
Weekly Dance Club Outing
Once a week, the dance school students are invited to join the dance teachers go out dancing to a dance club in Havana. More frequent outings to local dance clubs are possible with the dance teachers, however the student would be obliged to pay for the teacher's transport and entry to the dance club.
Levels of ability taught at school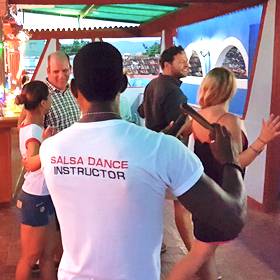 Instruction is provided for all levels of ability at the school:
Beginners - for students who have never danced salsa before, to dancers who are just starting. Basic steps, and fundamentals of dancing solo, and with a partner.
Intermediate - here you start to learn the basic vueltas (or 'turns') used in Cuban salsa dancing plus more development of basic steps and movements, as well as solo dancing.
Advanced - advanced students are provided with the chance to work with professional dancers on salsa styling, advanced vueltas, rueda de casino, as well as the opportunity to learn more in other styles including Son, Rumba, Cuban Folklore, and Cha Cha Cha.
The below prices include:
2 nights accommodation in a standard Havana Guesthouse
Daily afternoon dance class of 90min (2 in total). The dance classes involve 2 x 40 minute sessions with a 10 minute break in the middle, and will start at either 2pm or 3:30pm depending on our teacher availability.
Breakfast everyday (2 in total)
2 nights / 2 days package - USD

add extra nights*

Dates
1 person
2 people
1 person
2 people
Year round
$ 140
$ 205
$ 65
$ 100
* The daily dance class is continued when additional nights are added to the package.
Other Accommodation options
Please CONSULT US for prices using other accommodation.
Spanish language and dance classes combination
If you want to study both Spanish and dance in Havana, you can add Spanish classes to your dance program. See our Combo Package for this option.
Not Included in the packages
Visa and passport fees
Insurance (Travel Medical Insurance is required to participate on the tour)
All meals (except for breakfasts). Lunch and dinner can be provided in the guesthouses at an additional cost (paid to the guesthouse owner).
Drinks
Optional activities / day-tours / excursions
Entry and transport to the once a week dance-club outing
Airport arrival and departure transfers
Interested ?