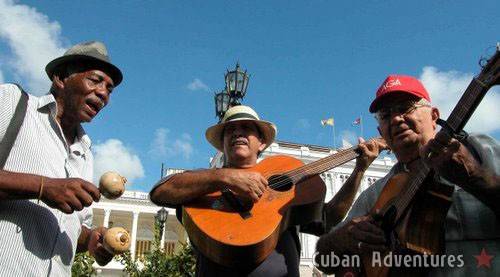 If you are interested in Cuban music or dance, these tours of Cuba are definitely for you!
Cuba is arguably the most musical island on the planet and there are countless opportunities to soak in the unique and intoxicating Caribbean rhythms and be mesmerised at the Cubans' ability to dance. Everywhere you go in Cuba there are small venues with high quality live music and it seems that everybody knows how to dance ridiculously well.
The music in Cuba is rich and varied, and is born from a fertile mixture of African rhythms and percussion, and European melody and verse. Cuban music has been described as the marriage between the African drum and the Spanish guitar.
Cuba definitely feels like the pulsating heart of what it means to be Latino and the music and dance is core to this. Cubans claim to be the creators of some of the more well known Latin musical styles such as Son (which gave birth to Salsa), Mambo, Cha Cha Cha, Guaguanco, Bolero, Latin Jazz, Timba, and many others that are less well known in the 'West'.
Salsa is one of the more popular musical styles and dances in Cuba. The Cubans encourage participation. However, if you are a little shy to take up a Cuban's offer to dance, there is plenty of value in just observing and you can delight in the live music in the music houses of every province we will pass through.
Music and Dance Lessons
On this tour of Cuba, there are numerous opportunitiesto take dance lessons or musical instrument lessons from local professionals. The cost of these never surpasses US$10 an hour, often much less. Salsa dancing (called 'Casino' in Cuba) is the most popular dance style in Cuba, however you can also learn other traditional and contemporary Cuban dances such as Rumba, Cha Cha Cha, and Regueton.
There are also musical instrument lessons available for all levels. Traditional Cuban instruments are percussion instruments (such as Congas, Timbales, Bongoes, Bata, Maracas, Guiro, and Clave), guitar, tres, double bass, and keyboards. The Cuban musicians while extremely talented, are also very friendly and humble people. So if you are a musician, the Cubans will love to jam with you, and may even invite you to perform with them.
During the 15 Day Original Cuban Tour you can participate in a music and dance night with local professionals in Santiago de Cuba. Take the stage with the Cuban Musicians and make the most of our interactive music night!
Suggestions
Whether taking a class package or taking classes during a group tour, you can enjoy these in combination with a Eastern Cuba Extension, or a Beach stay package, a Viñales Extension, or any of our fun, grass roots Cuban Adventures Group Tours.