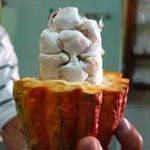 Many travellers are pleasantly surprised at the quality and variety of food that can be found in Cuba. Beans and rice are the staples, with cucumber, tomato and cabbage, conventional ingredients for a Cuban salad. Chicken and pork are the most common meats served in Cuba, however fish and a surprising variety of delicious seafood is also very frequently on offer.
Fresh fruits and vegetables that come and go with the seasons include mouth watering mango, pineapple, papaya, guava, coconut, orange, grapefruit, breadfruit, corn, an assortment of sweet potatoes, bananas, breadfruit, and enormous avocados, as well as many other tropical fruit.
Coffee and chocolate are both produced in large quantities in Cuba and the quality of coffee is generally considered excellent, although some visitors find it too strong.
Breakfast on our tours in Cuba
We include breakfast everyday on all of our tours in Cuba. It is an especially wholesome and filling experience at the guesthouses.
The breakfast varies from house to house, and typically includes coffee, milk, fruit juice, bread, eggs (or omelette), and fresh fruit.
Comments from our travellers about breakfasts on their tours
Staying Vegetarian in Cuba
Cubans are gradually awakening to vegetarianism. Many of them are aware of its existence, however most do not understand its reasoning and the belief that to eat well means eating meat, is still firmly embedded in the nations consciousness. However, through the influence of tourism, more and more vegetarian options are to be found on restaurant menus in Cuba, and the cooks in the guesthouses are now quite accustomed to providing vegetarian meals. Therefore it is not difficult to get a vegetarian meal in Cuba, although you generally won't find much variety and you may get tired being offered the same (ie - rice, beans, omelet and salad) everyday.
A vegetarian dinner in the guesthouses in Cuba isn't much cheaper than a dinner containing meat, and the reason is that vegetables on the free market in Cuba are of similar prices to those of meat.
Keeping away from gluten in Cuba
There is little problem maintaining a strict gluten-free diet in Cuba. This is mainly because the food in Cuba is very natural (there isn't much processed food available in Cuba). This is especially true in the guesthouses where there is also the additional advantage of being able to order specific meals and give the cook instructions about what you can and cannot eat. The guides are informed about gluten intolerance and to know which ingredients to instruct the cooks to avoid.
Cuban Drinks
Rum is the base ingredient for the world famous Cuban cocktails including the Daiquiri, Mojito, Ron Collins, Pina Colada, and Cubata. Excellent draught beer is available everywhere in Cuba as well as local and imported soft drinks.
What our travelers say about food on our tours in Cuba