€1590 EUR
Itinerary Summary
Day 1
Arrival Day Havana

Day 2,3
Viñales
Day 4
Bay of Pigs
Day 5
Trinidad
Day 6
Sierra del Escambray
campsite
Day 7,8
Trinidad
Day 9
Havana
via Santa Clara
Day 10
Departure Day
Tour description
This Cuba multi-sport tour package gives you opportunities to do some bicycling, trekking, diving, and more, while also some free time in cities and towns to check out what Cuba is all about. If you love the outdoors, like to stay active, enjoy immersing yourself in nature, and having some fun with some like-minded travellers, this will be the best Cuba tour package for you!
We've included a half day biking trip through Cuba's spectacular Vinales Valley, and a 2 day trek to find hidden waterfalls in the Cuba's lush Escambray Mountains. Included excursions are easy to intermediate in difficulty level, and suitable for anyone who can ride a bike and has a reasonable level of fitness. However if you do decide to opt out of any included activity, there are some alternatives we can help organise for you in Cuba while the rest of the tour group does the included activity. There is free time to check out the towns, and Cuba's culture and nightlife, as well as opportunities for diving, snorkelling, caving, and even ziplining that the tour guide can arrange for you. The tour is led by one of our energetic adventure guides.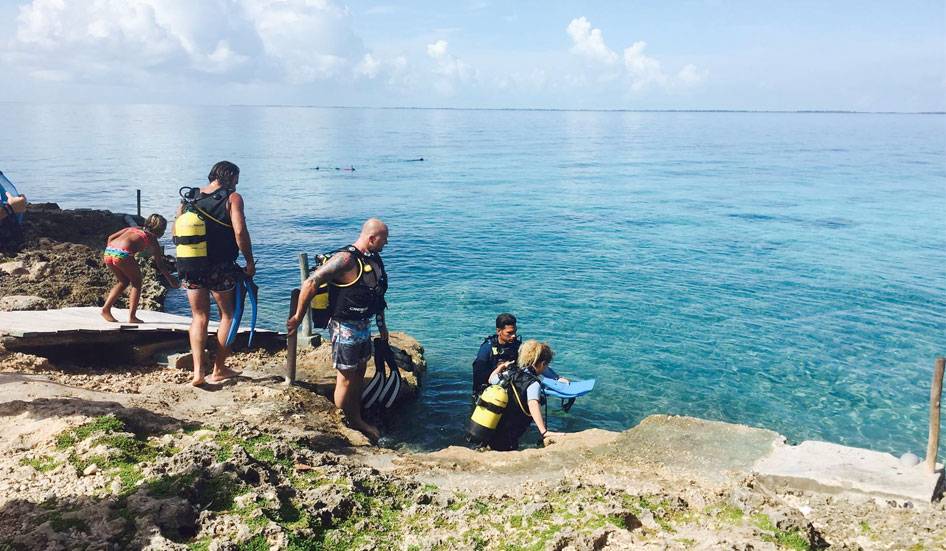 style

Active.

Original. Small groups. Standard guesthouses
Duration:
10 days / 9 nights
Group Size:
Minimum 2 / Maximum 14 / Average 9
Accommodation:
8 nights Guesthouses - air-conditioned rooms with ensuite bathroom. Twin share. 1 night camping in tents.
Single Supplement:
Single Room for the tour - €230 EUR extra (read more)
Transport:
Private air-conditioned minibus, taxi, jeep, open-sided truck.
Activities included:
Half day cycling excursion in Vinales, 2 day trek in Sierra Escambray Mountains. Visit to Che Guevara Memorial
Other Inclusions:
All breakfasts, 1 dinner, 2 lunches, airport arrival transfer, local guide throughout
Suggested combinations:
Combine with the Eastern Cuba Short Stay an Havana Short Stay package, or a Beach Stay package!
Can Americans join this tour?:
Yes! This tour forms a great base for a legal trip to Cuba. Read more about how to make your trip to Cuba legal.
Itinerary Details
Day 1 - Arrive Havana
Today is set aside for participants to join the tour. Some flights to Havana arrive quite late in the evening, so there are no included activities today. Nevertheless, at 7pm, the tour guide will meet with those who have already arrived and go for an optional dinner. We include an airport arrival transfer if you arrive to Havana today. The transfer is also included if you arrive in Cuba before today as long as you arrange pre-tour accommodation through us. Otherwise, we can arrange your included transfer from your place of accommodation in Havana to the starting guesthouse for the tour.
If you arrive earlier in the day, you have time to relax and check out Havana. Our sister company Havana Adventures offers some excellent Havana day tours if you prefer something more organised.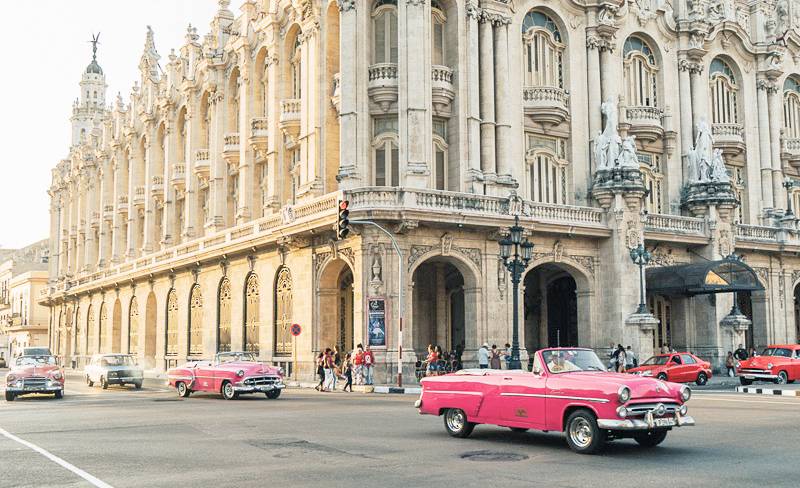 Day 2,3 - Vinales
The road trip to Vinales today takes 3 to 4 hours. If there are 6 or more participants on the tour, the included transport is a private tour bus, otherwise we use a smaller microbus or a private car.
We have 2 nights in the charming town of Vinales where there are an abundance of outdoor activities available. On the morning of Day 3 we include a half day off-road bicycle excursion in the valley, through tobacco fields, meeting locals, and with the wonderful views of the pincushion hills all around us. The difficulty level of the bike trip is medium. If you can ride a bike around town you should be fine. For those that don't like bike riding at all, we can include a walking tour of the valley instead.
In the 2 afternoons we have in Vinales, the options include taking on Cuba's best zipline, exploring the impressive Cuevas Santo Tomas (by far Cuba's largest cave system), learning to salsa with a local teacher, and taking a taxi to Cayo Levisa - a beautiful white sand beach some 40 minutes drive away. Horseriding and rock-climbing can also be done.
Vinales has a great nightlife owing to the fact that there is only 1 bar and all the locals go to dance and listen to live music. It's one of the best places to experience how Cubans enjoy a night out.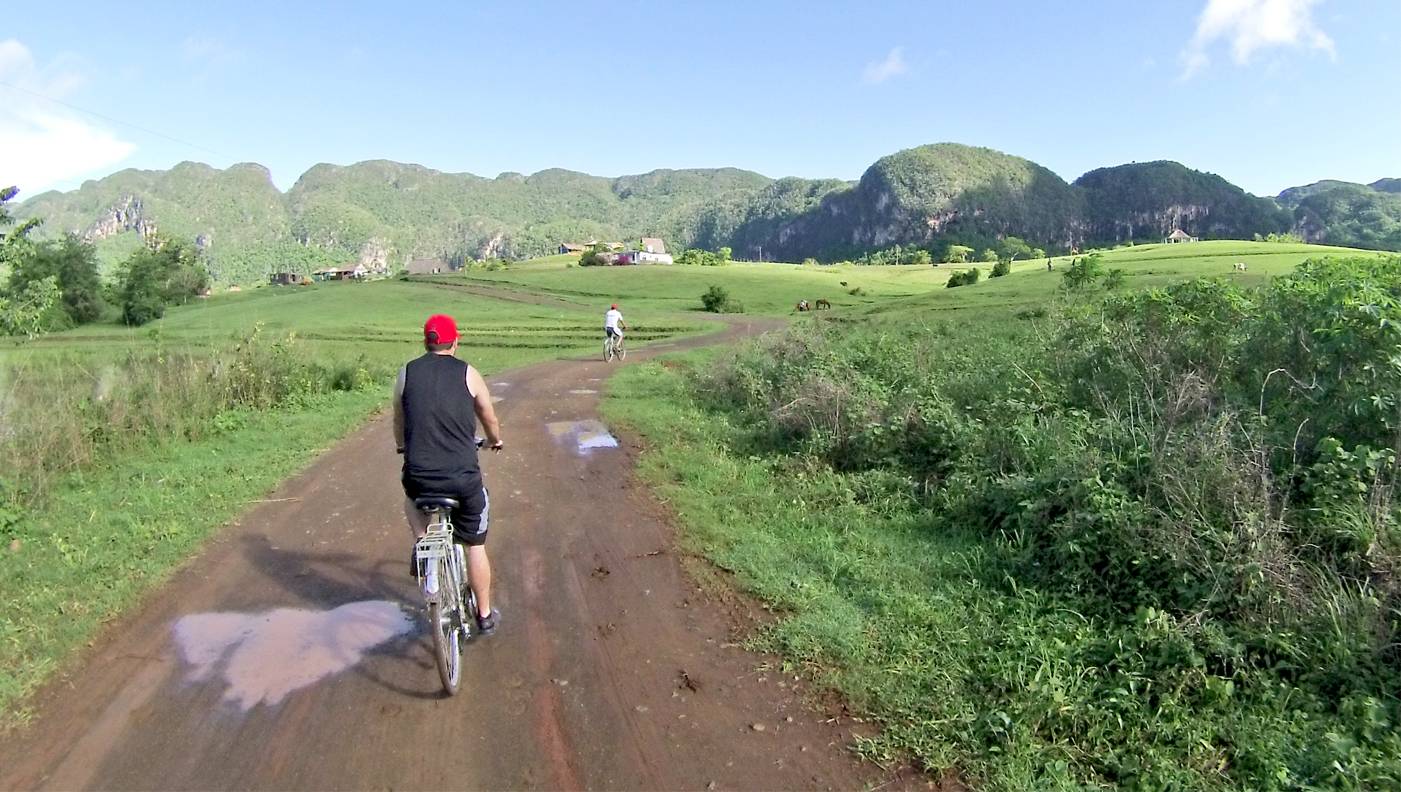 Day 4 - Bay of Pigs
The drive to the Bay of Pigs takes most of the day. On the way however, we stop for a snorkel right off the coast at a beautiful spot along on the bay. Snorkel equipment is available for hire at a low cost. We stay the night in the town of Playa Giron which is one of the beautiful beaches on the Bay of Pigs. It is also on the edge of Cuba's Cienaga de Zapata which is a densely forested area featuring wetlands, swamps, caves, and sinkholes.
Day 5 - Trinidad
We spend the morning in the Bay of Pigs before heading to Trinidad in the afternoon. The activity options for the morning are scuba diving over some of the best coral reefs in Cuba, or taking a trek with a national park guide through the nearby forest to see wildlife, caves, and to a freshwater sinkhole (cenote) where you can snorkel with fish and turtles. If you prefer something more relaxing you can hang out with your guesthouse family or take a short bicycle ride to the beach.
The scuba diving has been described as being as good as anywhere in Cuba. The water is usually very clear and the dive masters are experienced. On the trek through the forest, the guide can find snakes, birds, and cave bats to show you, and swimming in the clean freshwater of the sinkhole is an exhilaratingexperience. In the afternoon we head further along the Cuba's Caribbean coast to the vibrant colonial city of Trinidad.
Day 6,7 - Sierra del Escambray
Our 2 day trek through the mountains near to Trinidad, takes us through valleys, over ridges, along mountain streams, and to secluded waterfalls. You don't need to carry your luggage on this trek and the national park employees take care of the cooking and tents. Meals and camping gear are provided, including sleeping mats and blankets, however it's best if you can bring your own sleeping bag as occasionally we have found that they don't bring along enough blankets, and it can get cold at night in the mountains, especially in the winter months of December through February. If you don't have a sleeping bag, a simple sleeping sheet will make you feel more comfortable.
Other than that you just need to have some good footwear for walking, sunscreen, a hat, your swimwear and a change of clothes for sleeping in. The walk is not particularly difficult, however you need a reasonable level of fitness to be able to cover the distances (about 10km a day) without feelling too exhausted to enjoy the experience. In the event that you prefer to stay in Trinidad, we can provide the extra night of accommodation free of charge as you wait for the rest of the group to return. The night of Day 7 is back in Trinidad.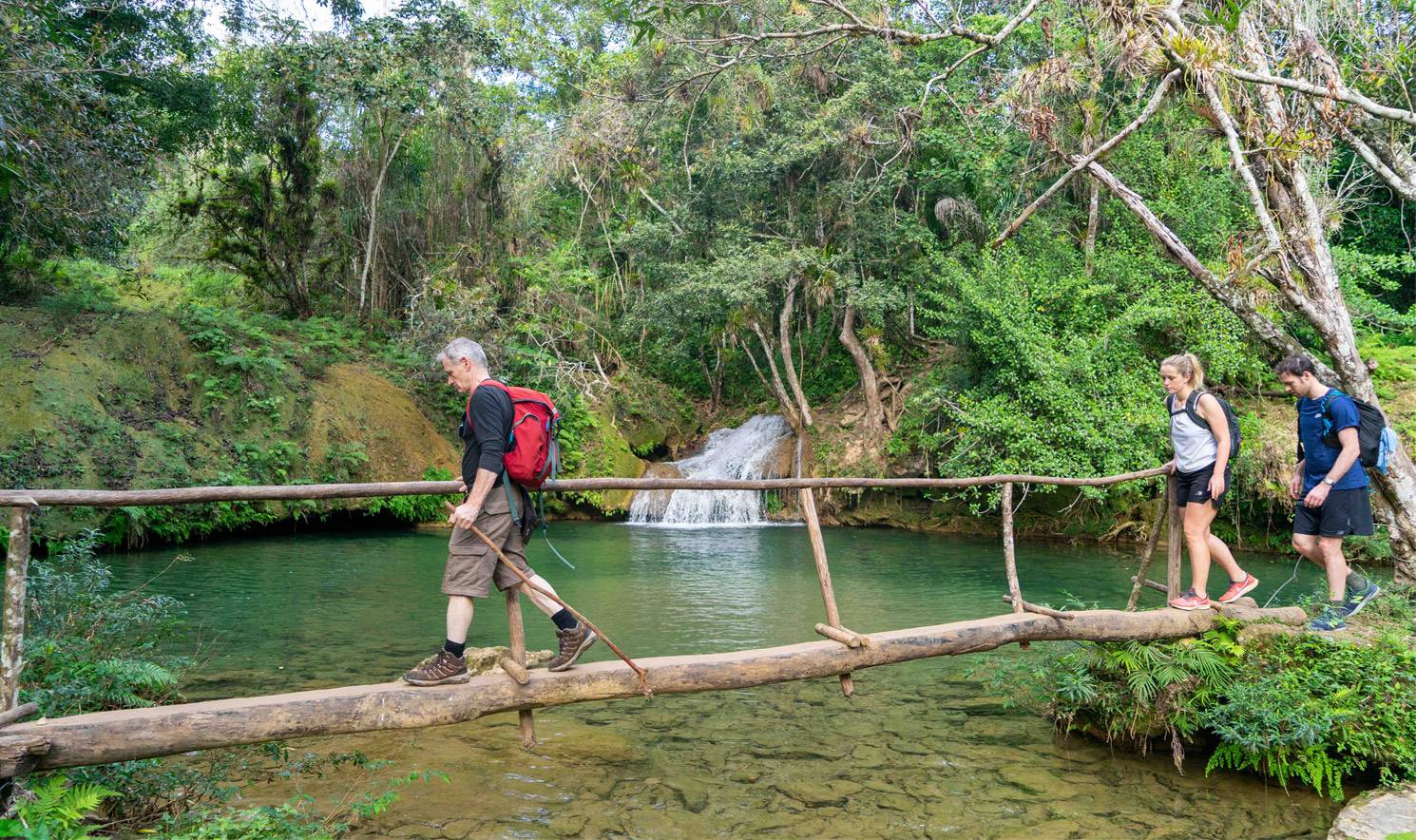 Day 8 - Trinidad
We have a full day in the beautiful city Trinidad. Scuba diving is also possible here so you can indulge in another immersion if that is your thing. There is also a zipline and a very pleasant beach not far away as well as the option of horseriding to a waterfall. The main things that people enjoy about Trinidad are the colonial feel of the city, with its cobblestone streets and old mansions surrounding the town square, and the vibrant live music and dance scene. There are several live music venues within short walking distance in the colonial center near to our guesthouses.
Day 9 - Havana via Santa Clara
On our way back to Havana, we call in on the city of Santa Clara to check out the Che Guevara Museum. This is the only museum visit we subject you to on this tour however we recommend it since Che is such an important figure in Cuba's recent history and its revolution, and his life was such an interesting one.
Eventually we reach Havana and we can celebrate the last night of the tour together as a group. Needless to say, Cuba's capital city has a huge range of colourful nightspots to choose from and experience.
Day 10 - Depart Havana
Today is the departure day of the tour and you are free to depart at anytime. Your guide will be around and available until at least midday. A departure transfer to the airport is not included in the tour, however it is very simple to organise at your guesthouse. It should cost about 20USD per taxi, whether you share that with someone or go by yourself.
We recommend you book a couple of additional nights in Havana at the end of the tour so that you have time to further explore this exciting city.
Summary of Travel Times
Havana to Viñales - 3 hours
Viñales to Bay of Pigs - 7 hours
Bay of Pigs to Trinidad - 3 hours
Trinidad to Havana via Santa Clara - 6 hours
Late arrivals or Early departures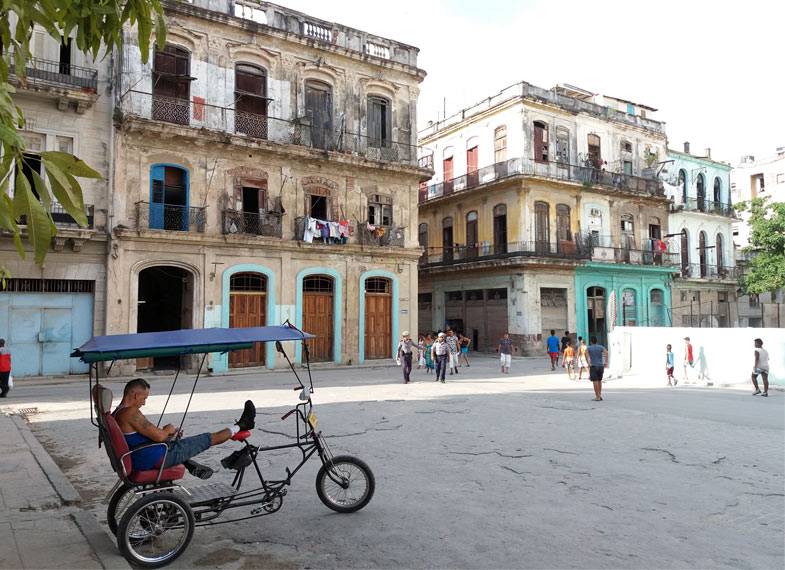 Late Arrival - If you plan to arrive on Day 2 or after, we can arrange for you to catch up to the group. This may involve you paying transport costs to do so.
Early Departure - This tour arrives back in Havana, in the afternoon of Day 9, so a departure from Cuba late in the evening of Day 9 is possible. An earlier departure than this is also possible and may involve you paying transport costs for us to send you back to Havana by yourself.
Spending Money
We estimate you will need between €330 and €470 EUR (€330 and €470 EUR) for local expenses during the tour such food, drinks, and optional activities, but not including souvenirs. Cost of meals can vary greatly (especially in Havana) depending on your restaurant of choice. Click here to see further description and details of expenses you will have while on the tour in Cuba.
Not Included in the Tour
Visa and passport fees
Insurance (Travel Medical Insurance is required to participate on the tour)
All meals (except for 2 lunches, 1 dinner, and 9 breakfasts)
Drinks
Optional activities / day-tours / excursions
Airport departure transfer
Traveller Reviews
Explainer: Why are there no Cuba tours on tourradar?
Flexible Bookings!
With our flexible bookings policy, you can book your place on a tour for only $100 USD and change your departure date anytime at no cost. Read more...
Tour Dates & Availability
Dates open for bookings. No reservations made yet for these departures. Minimum 2 travelers required to guarantee departure
One traveler is booked on the tour, only one more is needed to guarantee.
These tour groups are guaranteed to depart and space is still available.
Group is full, however not all travellers have confirmed, so there is a chance space may become available.
Special Event included in this tour.
Tour Dates
Places
Available
Price EUR
per person

Guaranteed

Dec 19 - Dec 28, 2023

December 19 - December 28, 2023

Guaranteed to depart

9 places

available

€1590

€1590 EUR

Book Now

Available

Mar 5 - Mar 14, 2024

March 5 - March 14, 2024

No bookings yet

10+ places

available

€1590

€1590 EUR

Book Now

Available

Mar 26 - Apr 4, 2024

March 26 - April 4, 2024

No bookings yet

10+ places

available

€1590

€1590 EUR

Book Now

Available

Apr 23 - May 2, 2024

April 23 - May 2, 2024

No bookings yet

10+ places

available

€1590

€1590 EUR

Book Now

Available

May 14 - May 23, 2024

May 14 - May 23, 2024

No bookings yet

10+ places

available

€1590

€1590 EUR

Book Now

Available

Oct 1 - Oct 10, 2024

October 1 - October 10, 2024

No bookings yet

10+ places

available

€1590

€1590 EUR

Book Now

Available

Nov 5 - Nov 14, 2024

November 5 - November 14, 2024

No bookings yet

10+ places

available

€1590

€1590 EUR

Book Now

Available

Nov 26 - Dec 5, 2024

November 26 - December 5, 2024

No bookings yet

10+ places

available

€1590

€1590 EUR

Book Now

Available

Dec 17 - Dec 26, 2024

December 17 - December 26, 2024

No bookings yet

10+ places

available

€1590

€1590 EUR

Book Now
Alternatives
Your travel dates don't match?