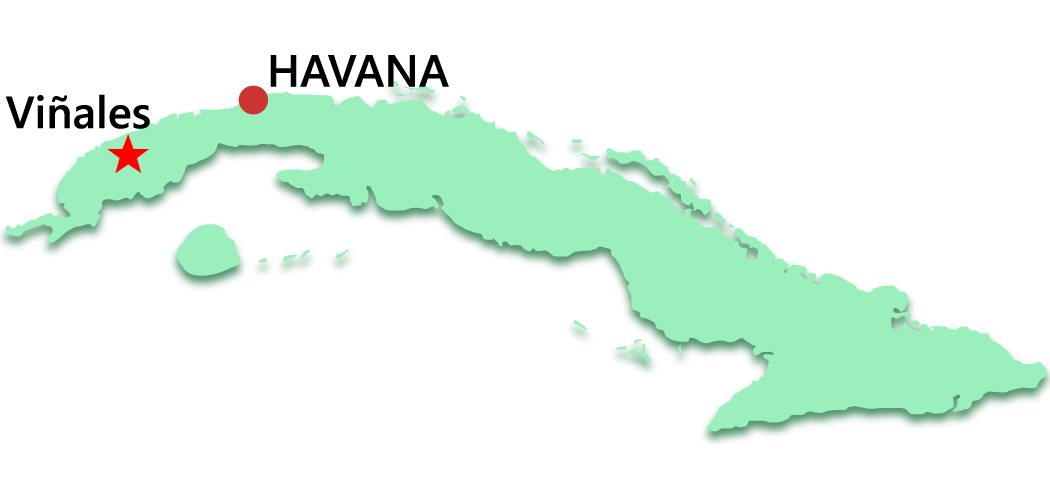 Quick Facts
| | |
| --- | --- |
| Population: | 27,000 |
| Distance from Havana: | 182 km |
| Travel Time: | 3 hours |
Where is Viñales?
Viñales is in the heart of Cuba's Western most province, Pinar del Rio, and 182km from Havana.
Why visit Viñales?
If the gritty environs of Havana, and the Caribbean influence in Trinidad, represent Cuba in many stereotypical ways, then heading to Vinales in Pinar del Rio province will give you a different impression completely. Beautifully rural, Vinales is endowed in mogotes, large limestone cliffs covered with flat flora and plant life over a circular end, something that is very similar in Vietnam, Southeast Asia. Vinales is a national park and the most visited place in the province. Workers will be manning horse and carts as they collect goods whilst house owners far into the rural areas will gently sway back and forth in their rocking chairs whilst on their porch. Vinales is a perfect example of the work 'behind the scenes' that produces Cuba's crops as any farming town would be, but the authentic production of the world famous Cuban cigars gives Vinales a unique selling point.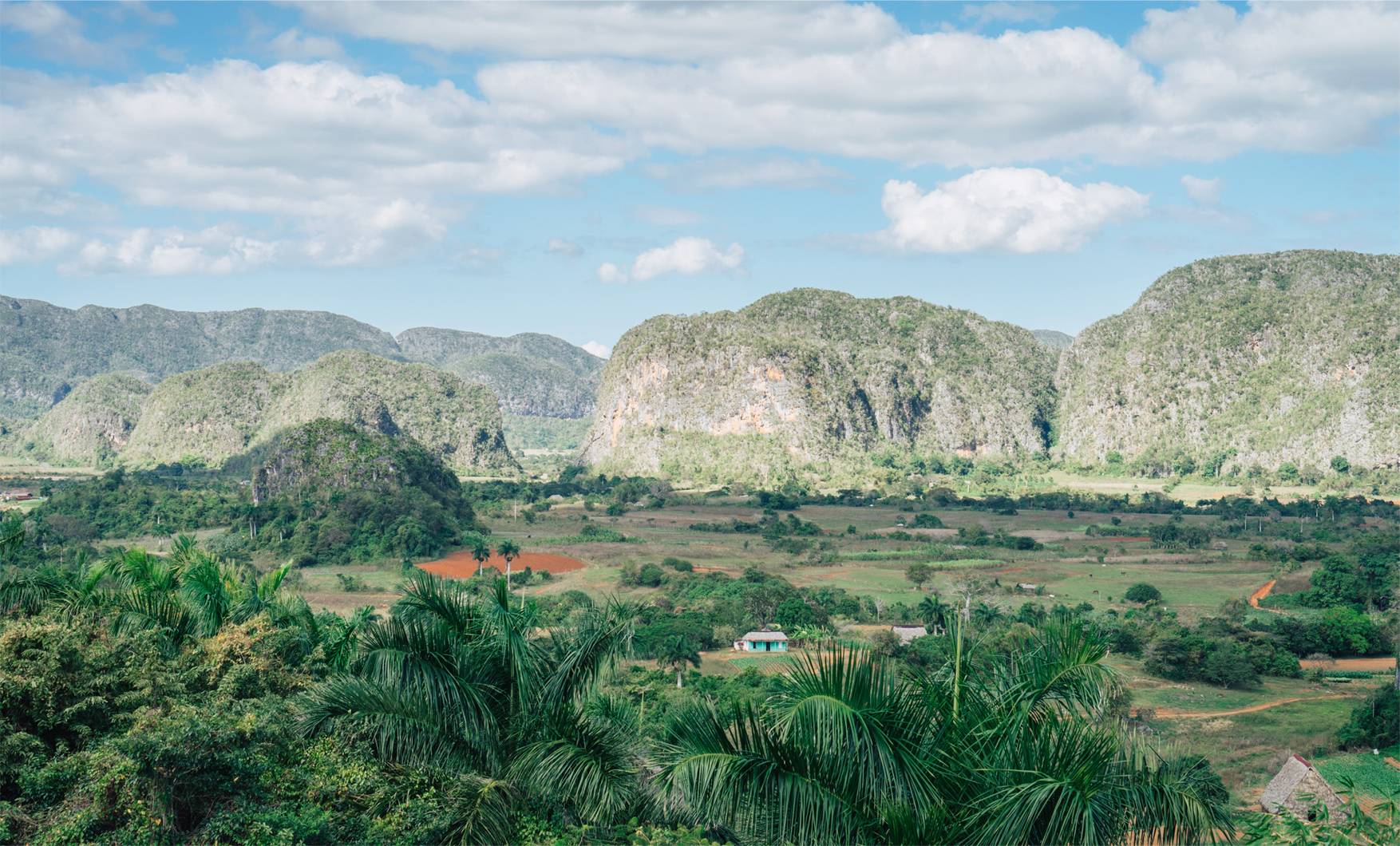 Whilst Viñales is far from derelict with travellers, if you want to see something different in Cuba and well like somewhere a little more scenic, it is a must visit. Cuban Adventures offers a Day Tour to Viñales as well as its regular small group tours of Cuba, many of which include stays Vinales along with other highlight destinations in Cuba.
Things to do in Viñales
Adventure
The Valle de Ancon is a place you will be just itching to explore. A rural setting, littered with Cuban farmers fields, mesmerising mogotes and bush tracks, Vinales makes for the perfect Cuban adventure. Hiking up to the Mirador Viewpoint will show you the valley in all its dramatic glory and will take a couple of hours. Whilst just a short distance further you'll come across a slightly larger than bathtub size cave, hidden from view that provides ice cool water waiting for you to wash off them sweats. As the sun beams down on your humid body, vultures will hover over you in numbers to make the journey just a little more epic. While rock-climbing is still not an officially authorized activity in Cuba, the routes on the hills surrounding Vinales are world-class and over the last few decades the destination has become well known among the rock climbing fraternity.
Wander
It's almost best to leave town trotting down past the rice fields using the giant mogotes as your native map. As you enter their surroundings and edge closer to their base, you'll be able to hear your own eco in a cooler and calmer environment. Come across a mural depicting Dinosaurs made by Fidel Castro's daughter, the size of a block of apartments with colours as bright as a crayon box.
The boulder-like hills made of limestone rock are the most photographed elements of Vinales and make for stunning views. Mogote Dos Hermanas has the same authority as if it were Mount Vesuvuius Volcano in Pompeii, but with no concern of eruption. Despite the popularity, you won't always find hoards of travellers there at the same time, in fact you might wonder why it is only you and one or two local farmers on their horse and cart passing on by.
Mural de la Prehistoria - As you journey into the Valle de Ancon by road, take a sharp left you'll see on the inner side a 180 x 120m painting depicting evolution, commissioned by Fidel Castro himself. The images are multi-colours including small creatures, dinosaur and man – which are hard to miss really. The mural is odd but unique to the Vinales valleys local history and Cuba itself.
Experience Cuban Agriculture
Horseback ride through the vicinities with the sun on your back as you explore the towns inner farming fields. As you do this you'll come across the many tobacco farms and therefore witness the creation of the much-exported Cuban cigars in their infancy. Learn about how they are made and to what cost, and if you please, maybe for the novelty even try one yourself. It isn't just cigars either; rice, sweet potato, beans, corn, and other crops are other commodities made to sell in these parts.
Video footage of an organic farm in Vinales
Explore the Village
The streets of Vinales epitomise the laid back nature of it's surroundings most of the time, but isn't shy of people or tourists. You can have a choice of many restaurants whatever the budget, from local Cuban cuisine to special western delights. There are budget options with sandwiches and small pizza's available for $2 to 3. You'll see people scrolling the internet too, as the public WIFI areas are here, as you'd imagine. At night, there are bars open such as Complejo Recreativo Polo Montanez that has both salsa and other tastes in music. Other amenities such as a bank, an ATM, and currency exchange are available too, but the lines are dreadfully and consistently long.
History and Art
Although there isn't a huge market, Vinales does have some impressive and noteworthy buildings. Galeria da Arte has a small collection of work from local artists that you'll really want in your living room. Next door is Casa de la Cultura, which dates back to the 1830's, and is a small colonial style theatre with still its original furniture in place. Jardin Botanico de Caridad is a charming garden with dozens of trees, shrubs and flowers all jam-packed with one another. Most obviously are the fruit markets with papaya and mangos some of the most notable exotic delights.