Which Tour is best for me
Our Original Cuba Tours
If you are interested in immersing yourself in the 'real' Cuba in 2023 or 2024, and are willing to share your experience with a small group of other like-minded travellers, then we recommend one of our Original tour packages.
Our original Cuba tours don't include many activities. Instead, at each destination in Cuba, you can choose from optional activities that the Cuba tour guide will offer to arrange for you. This means that these original Cuba tour packages are flexible and adaptable in nature and can cater to a wide range of people with diverse interests.
We welcome independence, so while on one of our Cuba tours you are also more than welcome to go off on your own at each destination in Cuba and find your own adventures.
Read more about the freedom and flexibility of our Cuba tours!
We highly recommend one of our 15 day Original Cuba tours, or a 20 day Complete Cuba Tour if you have the time. If you only have 1 week then we've packed as many cultural highlights as possible into the 8 day Original Cuba tour. This is our most popular Cuba tour. It is also a multiple award winner, so this could be the best Cuba tour for you if you only have one week.
The Complete Cuba tour is a combination of the 15 day Original Cuba tour and the 6 day Western Cuba tour.
Something more Comfortable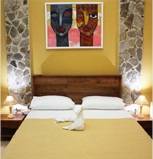 A number of our tours are categorized as "comfort class". This means that the accommodation is in Comfort Guesthouses which are more comfortable than our Original Cuba Tours which use Standard Guesthouses. Once or twice a month we run our 9 day "Comfort Class" Essential Cuba Tour. For this tour package, apart from the comfort category accommodation, we also provide one of our more experienced and better performing tour guides, to further enhance the quality of service provided. If you are looking at a stay in Cuba of this length, are looking to get a taste of the authentic side of Cuba, and are prepared to pay a little bit more for extra comfort, then this could well be the best tour for you.
Best for Americans
Americans can actually join any of our Cuba tours, as long as they take the steps fullfil the requirements for legal travel to Cuba. This involves traveling to Cuba in a way that satisfies conditions for a General License for Cuba. This isn't too difficult, however an even easier way is to join one of our legal Cuba tours for Americans.
Non U.S. citizens can also join these tours. They have a full itinerary of cultural and educational activities included, and use services that support private locally owned businesses in Cuba. Having a full schedule of tour activities included, as well as most meals, these tours represent an alternative to our Original style Cuba tours which involve only essential inclusions, and mostly free time at each destination in Cuba. The accommodation on these Cuba tours for Americans is also more comfortable with the groups being accommodated in Comfort Guesthouses.
Our Active Tours
If you like exploring natural areas, and are keen on staying physically active while traveling in Cuba, you will be well suited to one of our Active Cuba tours. Our Cuba Cycling Tour is highly regarded and was designed by our own team of Cuban cycling guides who have decades of experience taking cycling tour groups around Cuba. Our 10 Day Multi-Sport Cuba Tour package only includes one half-day of cycling (a cross country cycling excursion through the Vinales Valley), however this allows time for a 2 day trek through Cuba's lush Escambray mountains near Trinidad, as well as opportunities for snorkelling & scuba diving, zip-lining, and even caving.
Special Interest Tours
We offer these tours so that you can visit Cuba while continuing to follow your passion for any particular activity or interest including Birdwatching, Cycling, and our Original Tour for Women. If you have a group or club and would like a private tour of Cuba specific to your interest, please don't hesitate to request it from us.
Something more Relaxing
The 6 day Western Cuba tour is a more relaxing alternative to our Original style of Cuba tours. There is still plenty of opportunity to interact with the local Cubans, but the pace of travel of the tour is a little slower, and the travel days shorter. This tour also forms the last segment in the 20 Day Complete Cuba Tour, and is a perfect way to wind down your time in Cuba providing you with time to relax and reflect upon your experiences in Cuba with some stunning scenery along the way.
Short on time?
If you are short on time and can only spend a few days in Cuba, we offer a Havana Short Stay package, which will allow you to explore Havana with one of our local tour guides.
Cuba Tour Extentions
You can add a tour extension, either to the start, or the end of your Cuba tour. You can also add extra days in Havana before or after the tour. We recommend these at the end of your tour in Cuba. This will be better than doing so before the tour, because during the tour you will have learnt how things work in Cuba and you'll have a better idea about what you want to see and how to go about it.