Outside of Havana and Cuba's famous beach resorts, Trinidad is Cuba's most popular destination for travellers. This popularity arises from its location - wedged between beach coastline and scenic mountains, and the fact that the city itself is still greatly preserved from its centuries old beginning. Trinidad is a city with Latin-Caribbean flair but has that natural subdued feel that almost feels like a small village that is perfect to get lost with your camera. In the midst of the streets are colourful rooftops, century old mansions and locals harmlessly chatting away to each other on doorsteps. You might hear a busker playing a tres or the sound of a tricycle's bell but generally the soothing atmosphere here is the reason why many travellers prefer Trinidad. Due to this, Trinidad is year on year the most visited destination in Central Cuba; travellers don't pass through here, they extend for longer.
Wander
Trinidad is undoubtedly the richest when it comes to the colonial architecture and old-fashioned appeal. What is more inspiring is that you'll regularly see locals playing dominos by the curbs of the cobbled streets, oblivious to who comes and takes a peek. Trinidad has a slow pace but easy to go along with. Plaza Mayor is at the centre of the colonial section of Trinidad and is mainly for tourists rather than locals. This place boasts balconies, mansion houses, small gardens, art galleries and museums.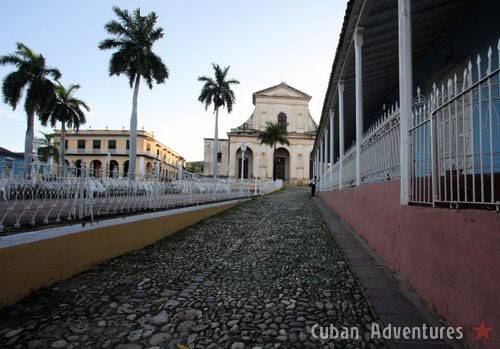 Parque Cespedes however is Trinidad's main city square for Cubans. Locals will gather after work, as will flurries of school children play about during afternoon periods. The town's council HQ is based here as well as churches, schools, cinemas, shops and the Asamlea Municipal building. Plaza Santa Ana is more of a widened area that gets much of its attraction because of the old Royal Prison, or locally known - Carcel Real. Among the places that surround here are local bookstores and shops with cigars and other crafty items available too.
History
If you do want to learn a little more about Trinidad's place in Cuba then there are a selection of museums such as the Romantic Museum, Colonial Architecture Museum, Archaeological Museum, and the Museo de la Lucha Contra Bandidos. Now that maybe too many museums to visit at once in Trinidad, but they are all interesting in their own way. The latter, Museo de la Lucha Contra Bandidos, showcases the struggle both locally and nationally throughout the beginning of the Cuban Revolution in the 1950's and has some compelling photography for all to see.
Indulge
In Trinidad the eating and drinking is a thing they get right. Although the best areas are normally are off the Plaza Mayor historical hub, there are some street food vendors on many corners. Casa de la Musica is vibrant, entertaining and friendly that is perfect for salsa dancing and drinks. Before and after, people tend to enjoy hanging and chatting at the concrete steps leading up to the venue. This is not all, as Trinidad has an actual underground cave bar. Discoteca Ayala is the cave network that has been transformed into a bar with nightclub tendencies. The temperature drops, as you'd imagine making it a real cool oddity that stands out to the rest of Trinidad's nightlife attractions.
Beach
Around 15km away from the centre of Trinidad lays Playa Ancon, a beach with a gorgeous strip of coastline and calm waters. Ancon has that mystical beach feel yet despite it having resorts nearby there are shrubs and trees along the length of it. Many enjoy an even more laid back vibe here than what filters in and around the interiors of Trinidad. Scuba diving, snorkelling and fishing can all be nearby.
Adventure
The diversity of Trinidad expands with the slopes and trails at the Topes de Collantes National Park. There are a number of different hikes available. A popular choice is Parque Caburni for its rugged steep routes and dense forest. Parque Guanayara is spectacular for scenery and Parque El Cubano is possible the most popular and a favourite for its horse riding accessibility. Parque Codina has a ranch and a variety of walks and caves whilst if you love nothing more than seeing a waterfall or two on your way, then Parque Vegas Grandes is the way to go.
How to Visit Trinidad de Cuba
Trinidad is a 5 to 6 hour drive from Havana, and 1 hours East of Cienfuegos. Being one of Cuba's most outstanding cultural destinations, a stay in Trinidad is included in nearly all of Cuban Adventures' regular small group Cuba tours.