Tour Summary
| | |
| --- | --- |
| duration | 6 days / 5 nights |
| group size | minimum 2 / maximum 14 / average 6 |
| accommodation | 5 nights Cuban Guesthouses - air-conditioned rooms with ensuite bathroom. Twinshare. |
| single supplement | Single Room for the tour - US$145 extra (read more) |
| transport | Private air-conditioned transport throughout: mini-bus, micro-bus, or taxi depending on group size |
| activities included | Walking tour of Old Havana, Visit to community art projects of Callejon de Hammel and Fusterlandia, Visit to Tobacco Farmer's house |
| other inclusions | 5 breakfasts, airport arrival transfer, local guide throughout |
| suggested combinations | Combine with an Eastern Cuba Short Stay, or a Beach stay package. |
| Can Americans join this tour? | Yes! This tour forms a great base for a legal trip to Cuba. Read more about how to make your trip to Cuba legal. |

Tour Description
A journey into the Western provinces of Cuba offers a taste of both Cuba's rural and urban life with some spectacular scenery along the way. We visit some community art projects in Havana and then the mountain communities of Las Terrazas and Soroa, that are surrounded by some of Cuba's lush forest. Viñales offers a charming village atmosphere, and some stunning mountainous scenery, sprawling tobacco fields and friendly locals. We include a visit to a tobacco farmer's house and learn how to roll the perfect Cuban cigar. There are also opportunities to experience Cuba's famous white sand beaches of Cayo Levisa and Cayo Jutias near to Vinales.
Itinerary Summary
| | |
| --- | --- |
| Day 1 | Arrival Day Havana |
| Day 2 | Soroa via Las Terrazas |
| Day 3 | Viñales |
| Day 4 | Viñales |
| Day 5 | Havana |
| Day 6 | Departure Day |
PLEASE NOTE: Itineraries for the tours in Cuba can and do change during the course of the year due to a variety of reasons. We are not always able to advise you in advance of these changes. We ask for your understanding and flexibility in these cases.
6 day video
Itinerary Details
Day 1 - Arrive Havana
Day 2 - Soroa vía Las Terrazas
Day 3 - Viñales
Day 4 - Viñales
Day 5 - Havana
Day 6 -Depart Havana
Summary of Travel Times
| | |
| --- | --- |
| Havana to Soroa | 2 hours |
| Soroa to Viñales | 3 hours |
| Viñales to Havana | 4 hours |
Arrival and Departure Accommodation in Havana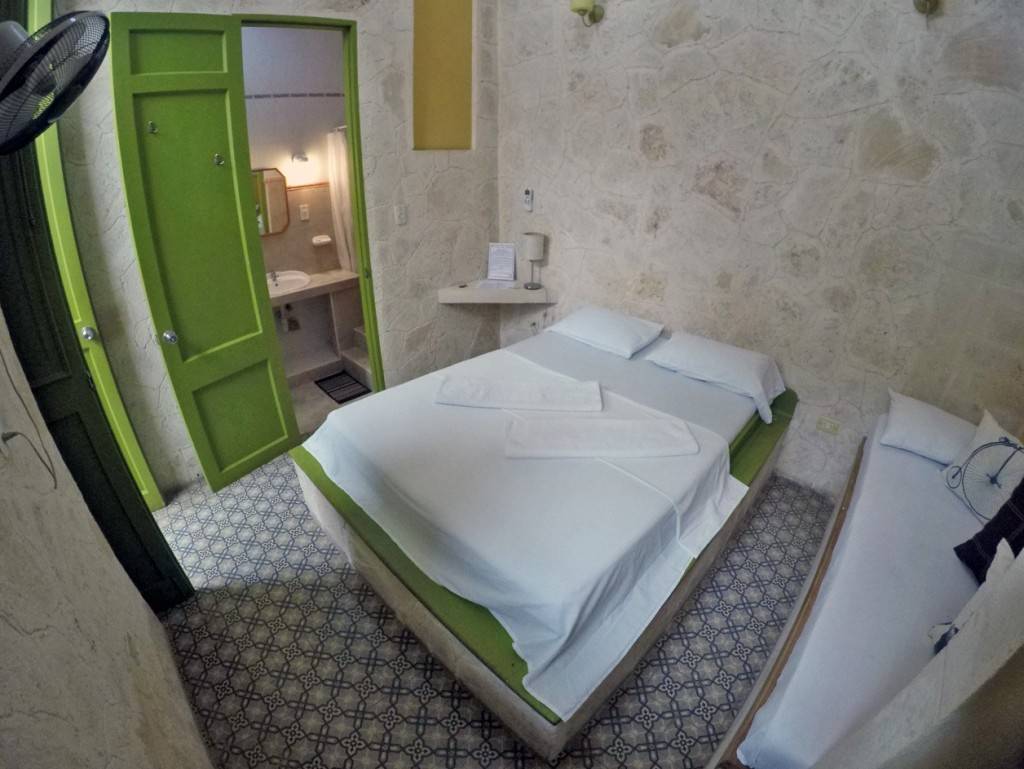 The first and last nights of the tour in Cuba will be in guesthouse accommodation, centrally located in either Old Havana, Central Havana, or Vedado.
We include an arrival transfer from the Havana airport (or from anywhere else in Havana if you are already in Cuba) to the joining guesthouse accommodation.
On the booking form, you can request extra nights before or after the tour in the same guesthouse you will have for the tour. Click here to see prices.
We also offer other accommodation options in Havana for before or after the tour.
Late arrivals or Early departures
Late Arrival - If you plan to arrive on Day 2 or after, we can arrange for you to catch up to the group. This may involve you paying transport costs to do so.
Early Departure - The group will arrive back in Havana, around midday on Day 5, so a departure from Cuba in the evening of Day 5 is possible. An earlier departure than this is also possible and may involve you paying transport costs for us to send you back to Havana by yourself.
Spending money
We estimate you will need between 300 and 500 USD for local expenses during the tour, such food and optional activities (but not including the Local Payment). Click here to see details of expenses you will have while on the tour in Cuba.
Not included in the Tour
Traveller Reviews