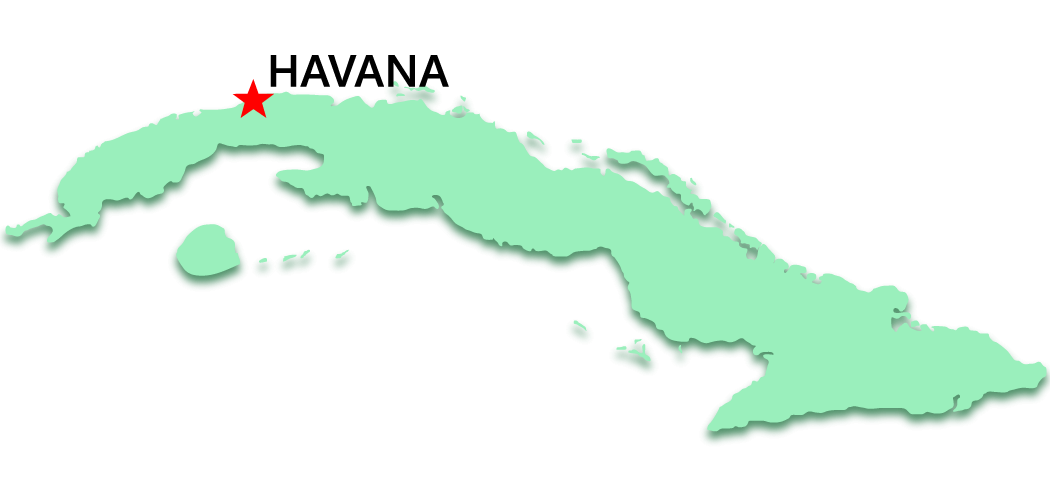 Quick Facts
Capital city of Cuba
Population:
2.3 million
Distance from Miami:
367 km
Cuba has a ton of history that is well known, and without Havana, Cuba would be missing its heart. The first stop in Cuba for the majority of visitors, Havana as a city really sums up where Cuba is right now, stuck in the past but trying to push forward into a city of the present and future. This is emphasised by the hoards of tourists you'll see most notably by the old town (La Habana Vieja).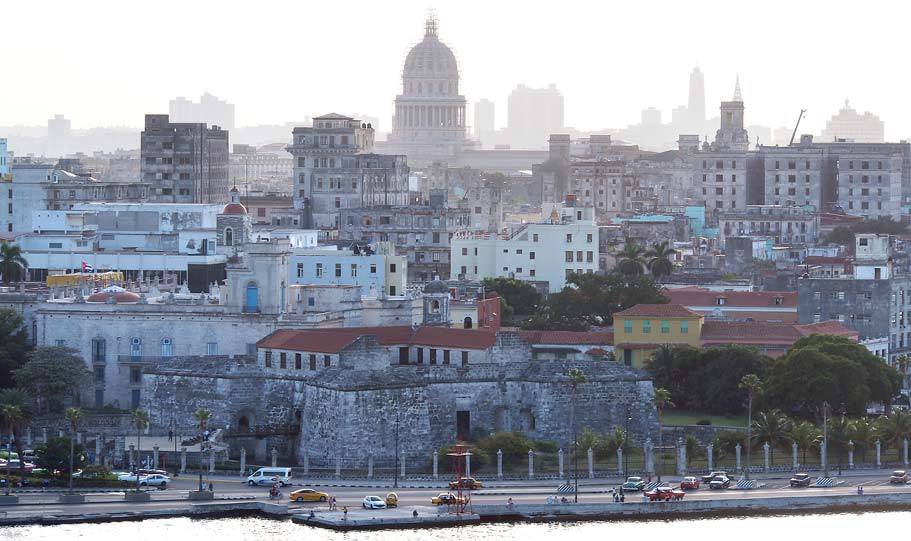 In spite of the crowds of visitor you might encounter, Havana is a place not to miss. It's true you'll do a little walking, but every one of your senses will be alert due to the unique environment around you. From vintage cars to poverty and rugged looking streets. Novelty exists here as well as the reality too. As far as the Cuba you'd probably imagined prior, everything seems to exist in Havana, and whether you're here for a short time or a little while, Havana is the perfect eye opener how far away Cuba feels from the rest of the world.
How to Experience Havana
Wander
Old, authentic and colonial fortifications are scattered throughout the old town of Havana. La Habana Vieja is a perfect place to thrust yourself into the time warp that Havana and Cuba is. You'll come across crumbling buildings, locals who chat away with neighbours, potholed streets and the odd bunch of Cuban kids playing football. You'll no doubt wander down the main pedestrian thoroughfare of Calle Obispo. Here, you'll find bars including La Floridita, cigar shops, novelty stores, food vendors, ATM's and more. Another place to take a good stroll along is the Malecon Seawall. Especially during the evenings, Cubans with their friends and families all hang out here, with music, dancing and street drinking popular. Havana's Carnival runs along here in early August. However regardless of the season, the Malecon is a lively place. You won't see tons of tourists here regardless of how popular Cuba is at the moment, so if you want to be where the locals are, here is one place to hang out.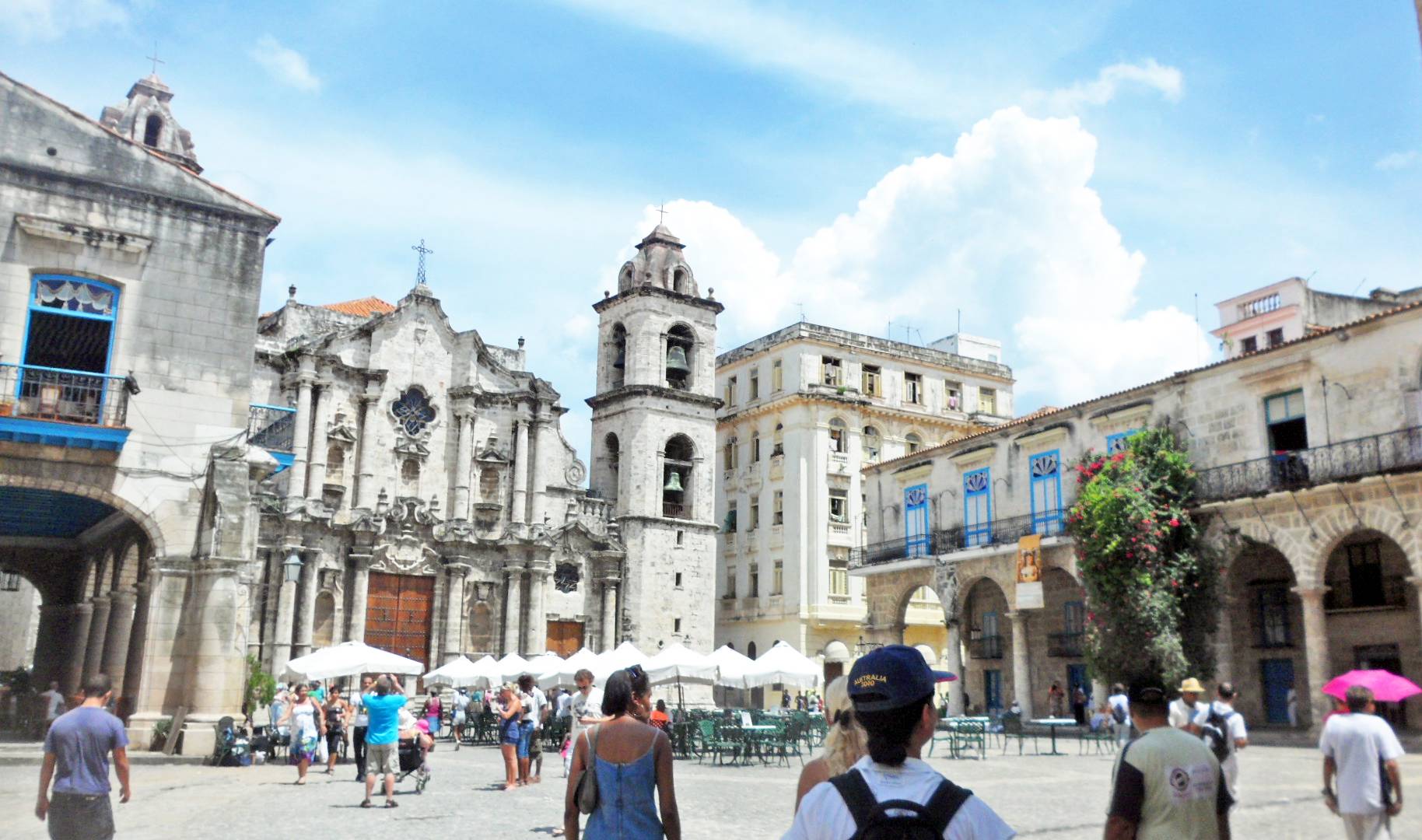 Visit
For history buffs, Havana is essential. Not only does it still look mostly like it was in the 1950's, there is also a selection of museums, buildings and monuments that both tell of Havana's past and present persona. The Revolution Museum was the former presidential palace right up until Fidel marched into Havana with his troops and made it a museum! As you'd expect, most of the museum is devoted to the revolution from the 1950's. Another must visit is El Capitolio, a building that is almost a carbon copy of The Capitol building in Washington, D.C, USA. It was a seat to the Cuban government before the revolution and now used as a Science Academy, but no less it is the principal landmark of the city. Other notable places to visit are the Grand Theatre, the Plaza Vieja, and the Plaza De Armas.
Novelties
Havana is the heartbeat of Cuba, so you know it'll be a great place to indulge. It's thought that there are more Mojito's served on any day in Havana than perhaps in any other city in the world. The birthplace of this refreshing cocktail is known to be Havana's very own La Bodeguita del Medio. This small, tight and crooked restaurant-bar has a feel of typical Cuba. Its guests have included famous writers such as Ernest Hemmingway to the former president of the USA, Barack Obama. You might have noticed that the vintage cars that Cuba is so often associated with aren't just in certain pockets of the country, they are driven literally everywhere. Some are pristinely restored while others look like they are barely holding themselves together. Still, that doesn't prevent you from riding in one of these classic American cars as part of a tour or a taxi.
Indulge
Arguably Cuba's best spot for nightlife, Havana has many areas to eat, drink and of course, dance. The Vedado district is home to swanky clubs, outdoor venues and some dive bars. A popular choice would be Club 1830. In and around La Habana Vieja there are a host of different bars, music clubs, and night spots. El Floridita is a traditional cocktail bar that is on many an organised tour itinerary. Further afield in Miramar you can find the Café Jazz Miramar which is a great new addition to the Havana nightlife, especially for quality of jazz music, modernity and prices. Eating in Havana can be varied. You can easily experience the extremes from eating cheap at a hole-in-the-wall in Centro Havana to being treated with luxurious options in a fine Cuban restaurant.
Stay
Havana offers Cuba's most diverse range of accommodation for visitors. Options include recently constructed 5 star hotels, historic hotels - such as the emblematic Hotel Nacional, and over 1000 privately owned guesthouses. The guesthouses are owned by Cubans and are more basic than the more upscale hotels, however they do provide a more interesting experience for travellers interested in meeting Cubans and seeing how they live. Havana Boutique Hotels is a recommend booking site for these locally owned and operated private guesthouses in Havana.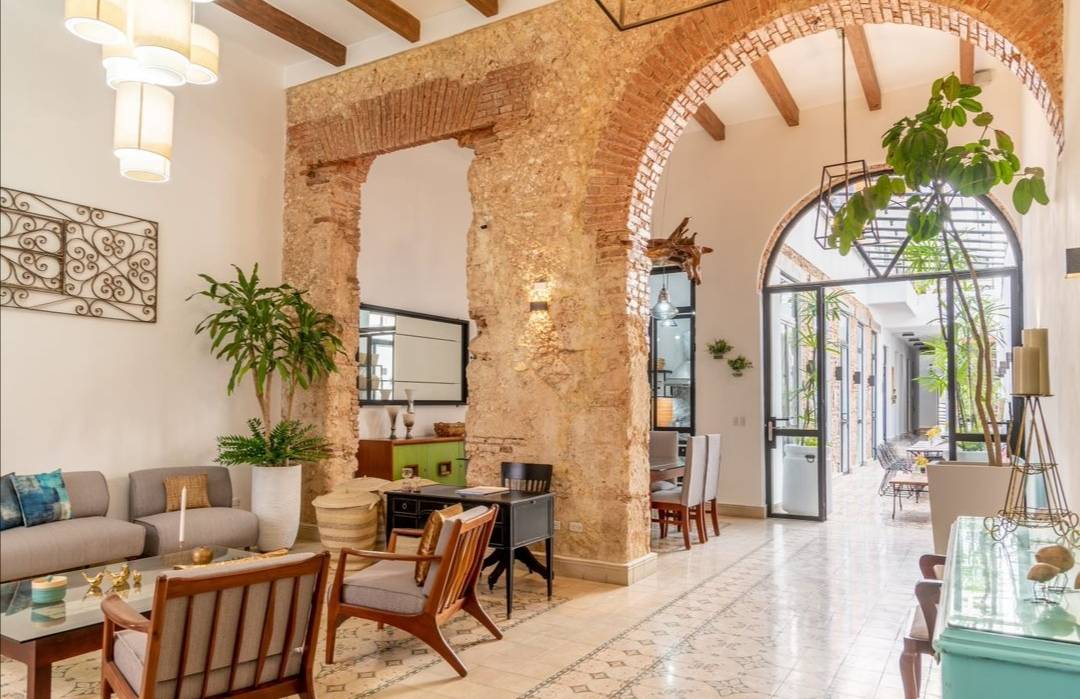 Tours & Experiences
To make it easy for you to discover this unique city, our local Havana team of Cuban Adventures guides have put together a range of Havana Tours. We continue to design and create new packages as we adapt to the changes happening in Havana and in Cuban society.
Zones of Havana
Havana is divided into several distinct zones. Understanding these is an important start to discovering the city and uncovering its mysteries. The zones that are of most interest to the visitor are:
Old Havana - the colonial core
Vedado - the newer centre of business and commerce, since the early 1900's, and residence for some of the wealthier Cubans
Central Havana - the area in between these two that is also framed to the north by the Atlantic ocean
Old Havana
Old Havana (or Havana Vieja as it is known locally), is the main area of interest for most tourists that visit Havana. A majority of the buildings are more than 100 years old and many date from the 18th century when Havana was going through one of its growth spurts. There are said to be more than 900 buildings of historical importance with architectural styles ranging from Baroque to Art Deco. In the colonial days, this part of town was encircled by a 1.5m thick and 10m high wall to protect the residents from attacks from pirates, some of which were sponsored for a time by competing colonial powers such as England and Holland. The impressive wall was built by African slave labour and today there are only a few sections remaining - one of these is near the police station, down into Old Havana from the main steps of the Capitolio, and some better sections are near the main train station on the far south-east edge of the Old Havana.
Today the old part of the city is a pretty happening place. There is a lot of tourism and tourists, but also a large number (about 70,000 at last count) of locals that live in the area. So it's not difficult, nor far, to head away from the main tourist streets (such as Obispo and Mercaderes) and feel like you are in an authentic part of town amongst the locals doing their own thing and going about their daily routines. The streets are narrow and buildings are generally about 3 stories tall, so it's a densely populated and buzzing atmosphere. There isn't much motorised traffic in these streets either - mostly pedestrians and bicycle taxis - so simply going off exploring on foot in a random direction in Old Havana makes for an interesting experience. You will for sure have some unexpected and fascinating experiences and encounters.
The fact that such a large population of locals live in this most popular and central tourist area of town is largely a result of what seems to be a well run, smartly operated, and quite responsible restoration organisation that has a certain autonomy in its own special zone with its own unique rules within Cuba called Habaguanex.
It was led for a long time now by one of Cuba's internally most respected people - the late Eusebio Leal.
The vision this man and his team have been working on is the restoration of the oldest and most important buildings of Old Havana while maintaining an authentic neighbourhood of locals who live and work in this part of the city. It's no small task. It involves temporarily relocating whole buildings of residents in temporary housing so that their building can be restored. You may be able to spot some of this temporary housing (it stands out because of its white, plastic looking, modern style) if you do wander away from the main tourist streets of Old Havana.
What's perhaps even more impressive, is that the money needed to be raised to fund the restoration works of the buildings in Old Havana, comes directly from taxes of local businesses. These taxes also go to funding the schools and aged care facilities, and the like, as well. So in effect, the taxes earned from tourists visiting Old Havana goes pretty much straight back into the restoration works that should (and most likely, will) bring more tourists to Havana, and to fund the community services in the same area of town. The fact that the locals, by large part, haven't been kicked out, means that this development and restoration is carried out in a sustainable way for the benefit of the locals themselves. Some Cubans will tell you that a system such as this that is running efficiently in practice, is by far an exception to the way things normally work in Cuba which is typically characterised by lack of resources, inefficiencies, corruption, and poor organisation and maintenance.
Our walking tour of Old Havana takes you on a 3 hour route passing through 4 of the impressive plazas of the old city - The Cathedral Plaza, The Plaza de Armas, The Plaza de San Francisco, and the Plaza Vieja, as well as visiting some interesting buildings along the way.
Central Havana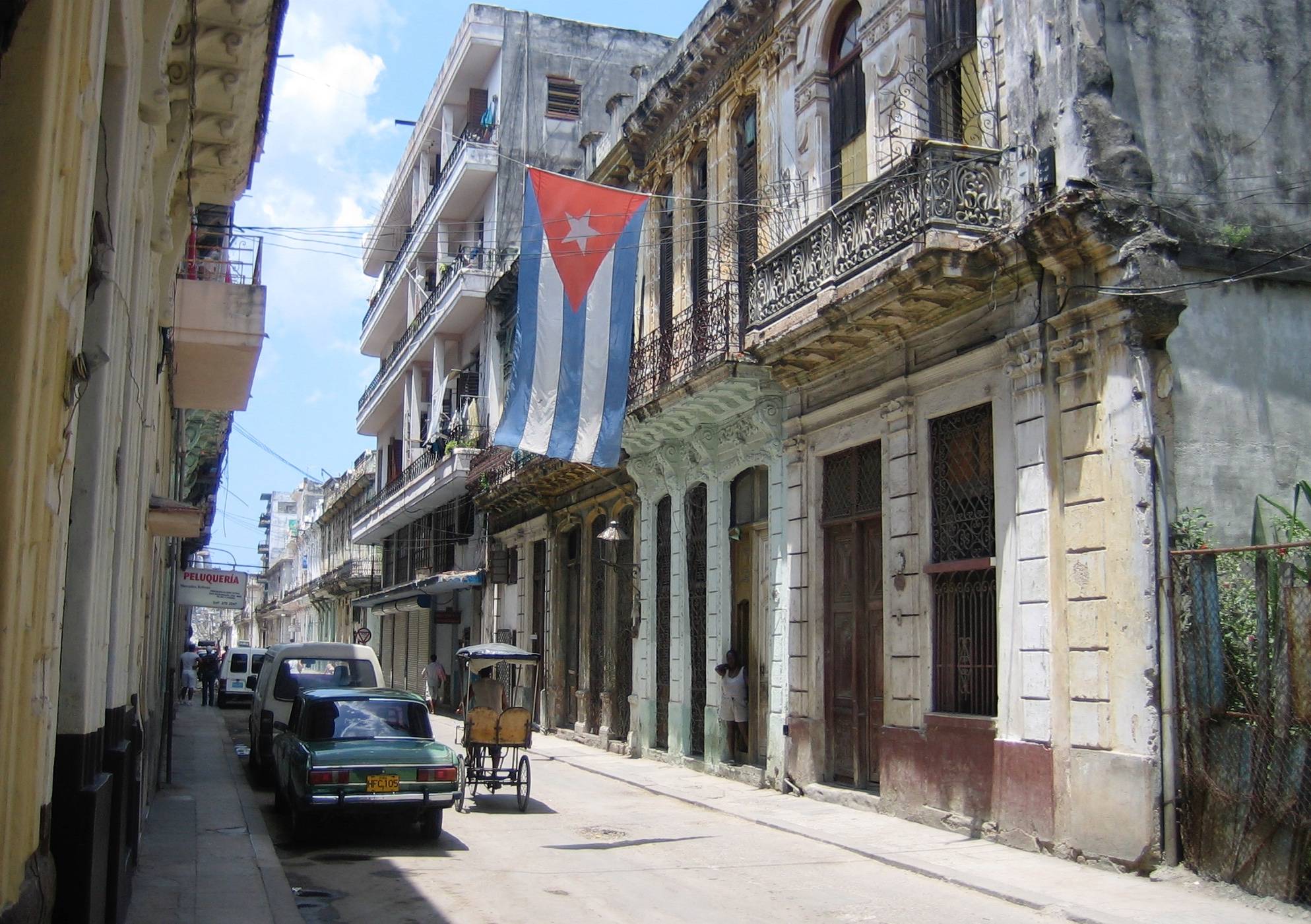 Sandwiched in between the suburbs of Old Havana and Vedado is the area of Havana called Central Havana or Centro Habana. It's the barrio where you will probably feel Cuba at its most intense. It is similar to Old Havana in character and style - most of the buildings here, while not as old as those in Old Havana, are still very old and many of them are of historical interest and heritage value - however there is less glamour and grandeur, and fewer tourists.
For many visitors, this is authentic Havana at its grittiest, and earthiest best - narrow streets with old crumbling buildings and full of locals who are not placed there for tourists, but rather because this is their home. You will see them working, going to school, socialising, and going about their daily lives. Watch out for the old American cars if you need to step off the footpath. Cubans use these big old American cars as a form of collective public transport and many of the set routes that these maquinas (or almendrones, or boteros as they are known locally), run from Old Havana through the narrow streets of Central Havana, through to the further afield suburbs of Vedado, Miramar, Marianao, and La Ceguera.
Wherever you are in Central Havana, the bay of Havana and the sea-side promenade of El Malecon, are never far away. It's a straight, gentle declined stroll down any of the traversing streets to get there, and this is exactly what many of the local residents do on a weekly or daily basis - to breathe some fresh air, socialise, have a romantic encounter, or simply to get away from the cramped living conditions that many of them live in.
Heading away from the Malecon on the South end of Central Havana, towards Old Havana, and behind the Capitolio, you'll find Havana's ChinaTown. The Chinese came to Cuba in the late 1800's and early 1900's as labourers, living on miserly wages, and replacing the African slaves after slavery had finally been abolished. Their settlement concentrated itself in this corner of Havana. Most of the Chinese left with the triumph of the revolution in 1959, and only relatively few people with Chinese facial characteristics are left in the area. However the neighbourhood retained its characteristics and it's here that you can find some of the better economical restaurant options in Havana.
Close to the border between Old Havana and Central Havana is the fetching tree-lined boulevard called "El Prado" which runs all the way from the bay up to Central Park and then past the Capitolio. It was around this Prado that, back in the day, a Sunday evening ritual of horse carriage riding was carried out by the city's richest residents up and down the Prado as a social tradition. The street has retained its charms, and for many (locals and visitors alike) this is a favourite area of Havana - a space in the middle of the city where children play, artists perform all in the shade of some beautiful big trees. The buildings either side are impressive - a ballet school, a Basque cultural centre, a marriage "palace" and an historic hotel once run by the Mafia (the Hotel Sevilla) among them.
At the other end of Central Havana next to Vedado is the neighbourhood of Cayo Hueso, a place mentioned in the songs of the dual Grammy winning Cuban hip hop / rap band Los Orishas. Being traditionally a poorer neighbourhood compared to the adjacent Vedado and Old Havana, Central Havana ended up with a high proportion of Cubans of African descent. It's in this Cayo Hueso corner of Central Havana where the African ancestry is most palpable. Cuba's best rumba music venue - El Palacio de La Rumba - is located here facing Parque de Trillo, and nearby in a small alleyway called Callejon de Hamel, there are rumba dance and drumming sessions every Sunday at 12 noon. This alleyway is nowadays very colourful and highly decorated, and it is here that we provide a guided tour with a local resident who is an expert in the subject of Afro-Cuban religions. These religions of varying levels of syncretism, form an integral part of Cuban culture today, and elements of these religions can be found in wider Cuban society, such as through African words that have found their way into the Cuban colloquial lexicon, or in the particular way Cubans practice Catholicism. A significant proportion of Cubans (about 1 in 10) are thought to be followers of one of the Afro-Cuban religions.
More recently Central Havana has become known as the location of some of Cuba's best and most famous paladares (privately run Cuban restaurants). On their visits to Cuba, both President Obama and Beyonce dined in restaurants in Central Havana. La Guarida, San Cristobal, and Miglis, are some of the most celebrated. Havana's most famous music house - La Casa de La Musica - is also located in Central Havana. In fact there are 2 of these, the other one is located in Vedado.
Being adjacent to both Old Havana and Vedado, and close to the Malecon, Central Havana represents a convenient neighbourhood in which to stay to explore Havana, as well as an interesting choice if you want to have a more intense version of authentic Havana.
Vedado
Vedado is sometimes referred to as "New Havana". There is truth to this moniker as Vedado, compared to Old Havana and Central Havana is a much more recently built suburb and where there was a concentration of commerce and business during the first half of the 20th century. At the same time, Vedado is actually quite old itself, with pretty much all the buildings having been constructed before 1960, and since many of the buildings have been poorly maintained since then, it's appearance, like that of Old Havana and Central Havana, is still one of decay and deterioration and one which transports you to a different era, stimulating the imagination and the senses.
While Old Havana is the principal destination within Havana for most tourists, Vedado is definitely worth spending some time visiting. It's where the Mafia concentrated their investment in Cuba in the 1950's, building casinos and hotels like the bayside Hotel Riviera and the recently renovated Hotel Capri. The most impressive building in Vedado for many visitors to Cuba is the palatial Hotel Nacional. It sits on a high point at the end of Vedado's main street "Calle 23". From the garden at the front of the building there are some great views to contemplate the city of Havana. While you are sipping on a mojito in the garden bar, your eyes will take you along the Malecon all the way to Old Havana, across the harbour to the fortresses across the bay of Havana, then out to sea where you will reflect on the journey that so many Cubans have made (and tried to make) to get to Florida, only 90 miles away from where you sit.
Vedado is the part of Havana that most reminds the visitor of the wealthy areas of the United States in the 1950's. Apart from the classic American 1950's cars like the Chevrolets and Pontiacs cruising the streets, there are 1950's cinemas, theatres, and wandering further into the residential areas, some jaw dropping mansion like houses, complete with Roman and Greek columns, front and back gardens, and large verandahs.
Within Vedado there are several places of interest including: the Colon Cemetery, The Revolution Square, The Coppelia ice cream parlour, John Lennon park, the US Consulate with it's adjoining "protestadrome" plaza - the symbolic epicentre of the conflict between the US and Cuba, and the striking Hotel Habana Libre which in pre-revolutionary days was the Habana Hilton.
Vedado is also where some of the nicer private guesthouses are located. Rooms in such guesthouses are generally a bit more spacious and more likely to have windows to outside areas, than those in the more cramped neighbourhoods of Central Havana and Old Havana. There are also plenty of bars, restaurants, and music clubs (including a couple of excellent live venue Jazz bars). So it's a good choice of suburb to stay in and alternative to the more sought-after Old Havana, especially for those who like a little extra space and more peace and quiet. It's also only a short (10 minutes at the most) taxi drive to Old Havana along the Malecon.