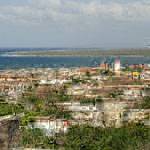 Our Eastern Cuba Tour starts in Holguín and finishes in Gibara (a small town a 45 minute taxi drive from Holguín). So to join the tour you will need to get to and from Holguín.
Travellers arrive from all over the world to go on our tours in Cuba, and as such it is not practical to include international airfare in our prices.
Flights to Holguin
Holguín has an international airport with direct flights from Toronto, Montreal, and Frankfurt. There are also daily domestic flights from Havana and Santiago de Cuba.
Direct flights to Holguin
Direct flights from Holguin
**
This flight (on Sunday) goes via Montego Bay, Jamaica
Bus Services to Holguin
The bus services for tourists in Cuba are provided by the bus company Viazul - www.viazul.com.
Viazul Bus Services to Holguin
| BUS FROM | JOURNEY TIME | PRICE of TICKET | SCHEDULED |
| --- | --- | --- | --- |
| Havana | 12 hours | 25 EUR | Daily |
| Santiago de Cuba | 4 hours | 11 EUR | Daily |
| Camaguey | 3 hours | 11 EUR | Daily |
| Trinidad | 8 hours | 27 EUR | Daily |
| Varadero | 12 hours | 40 EUR | Daily |