Why are so many of Havana's old American cars painted pink? Cuba and in particular Havana, is famous for its 1950s American classic cars seen cruising the streets, many of them taking tourists around. Recently it seems, more and more of them are painted pink! There is more behind the story than just a simple color preference, and the roots can be traced as far back as Graceland in Memphis Tennessee.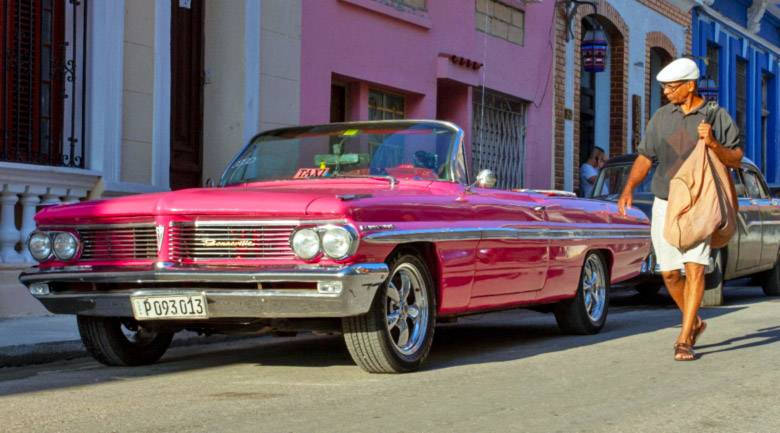 The Short Answer
The simple answer to why there is a pink classic American car fever happening in Havana is that pink is the color most frequently requested by tourists when they get the choice of vehicle for a tour around the city. That's what the drivers of these beautiful machines will tell you, and they would know. Armando Lee Socarras who provides classic car tours of Havana, tells that the first day after he and his father finished painting their 1956 Ford Fairlaine convertible a bright pink color, they picked up more rides than on any other day of work previously when the car was a two-tone blue and white.
Girls get to choose
Armando also notices that if there is a heterosexual couple on holiday, it will almost always be the woman who gets to choose the color of the car they will ride in, and because of this he reasons, pink is the most popular choice.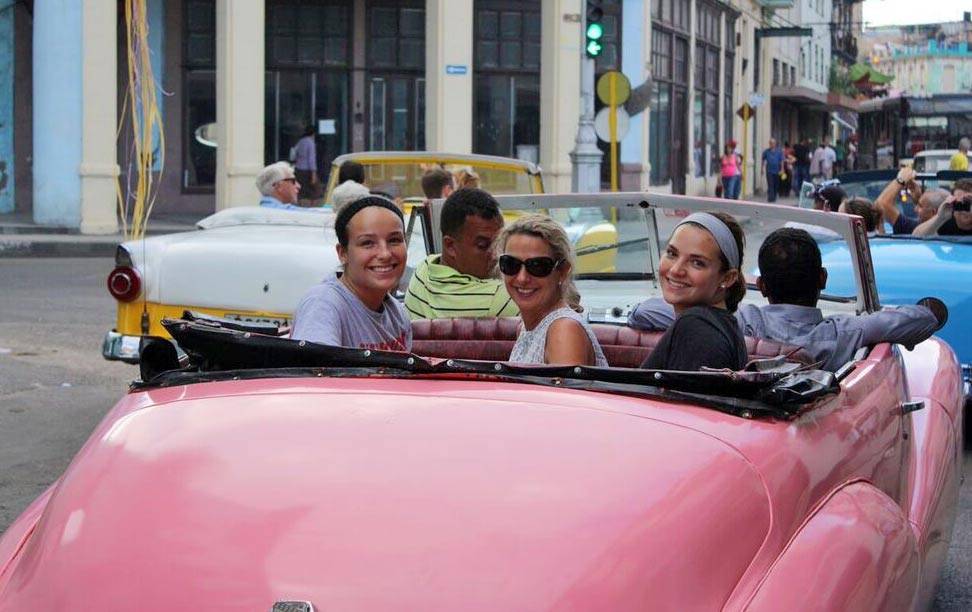 But why do tourists prefer pink cars?
None of the above explains why tourists' most common color preference is pink. The most plausible explanation would seem to be based on the feelings that this color provokes in people. Pink is described as evoking joy, fun, and vivacity and is typically associated with love, romance, kindness, and femininity. One female tourist described the color as "embodying who I try to be as a person".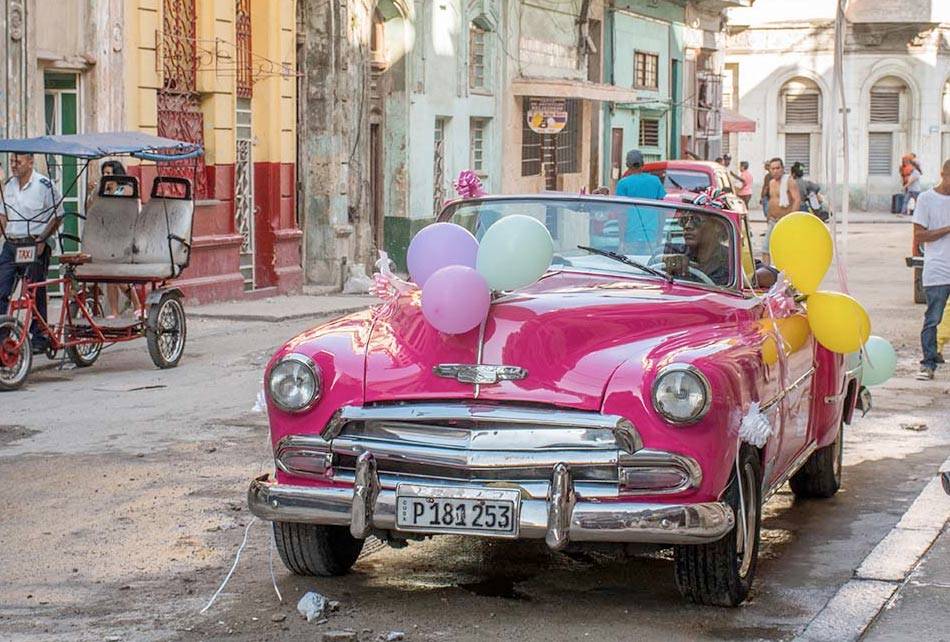 History and Popular Culture
These feelings and emotions that people associate with a particular color, are however, also influenced by the history and popular culture of their country of origin. In the case of Western or American culture, there is a specific historical significance with pink cars, and in particular pink Cadillacs. Without doubt this has contributed (either consciously or subconsciously) to pink being considered a color of preference and in fact prestige by Americans.
Elvis Presley
Elvis was known as having a penchant for pink Cadillacs. He was the owner of 3 such cars - a 1954 Fleetwood, a 1955 Fleetwood, and a 1961 Coupe de Ville - all Cadillacs that were either pink or ended up being painted pink.
His second Cadillac was originally blue and black. However he got it painted a customized pink color, and he actually gave a name to this tone of pink - "Elvis Rose". He must have loved this car so much that as soon as he finished painting it, he gave it to his mother as a gift (even though his mother never had a driver's license). This car is currently on display in the auto museum at Graceland. In his first ever hit song "Baby, Let's Play House", Elvis refers to "a pink Cadillac". This is the first known appearance in a song of "pink Cadillac".
Whether it was a creative marketing ploy to attract female fans, or just a pure personal passion for the color, the mega famous rock star's love of pink Cadillacs started a tradtion and a reference point for style in American popular culture.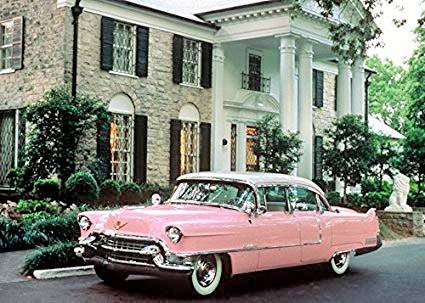 At that time, the only cars that were being produced with pink as one of the standard colors to choose from was Ford Motor Co. However, in 1955 after Elvis' Pink Cadillic became famous, many owners started to paint their cars different shades of pink.
Since then the "Pink Cadillac" theme has been used (and one could say 'abused') repeatedly in American art and culture, including musical works by Bruce Springsteen, John Prine, Natalie Cole, and Aretha Franklin, in a Robert Dunn musical novel, and in a film by Clint Eastwood.
Bruce Springsteen
Bruce Springsteen's 1983 hit song "Pink Cadillac" followed the tradition of cars being used as a sexual metaphor. Other examples of this are Wilson Picket's Mustang Sally and Prince's Little Red Corvette. Springsteen's metaphor is specific to the female genitalia, with the lyrics being "I love you for your Pink Cadillac". This may seem a bit speculative, however giving credence to this is that Springsteen stopped Bette Midler from releasing a recording of the song in 1983 because "it was gender-inappropriate". Nevertheless a few years later Natalie Cole recorded a version of the song and Springsteen expressed that he thought it was "very cool that a woman could sing "Pink Cadillac" and it would come out so great".
Springsteen's metaphor may make you think twice about the symbology around getting inside one of Cuba's pink cars and going for a ride around Havana. However it's likely the mostly male heterosexual drivers of these cars in Havana would absolutely love the idea.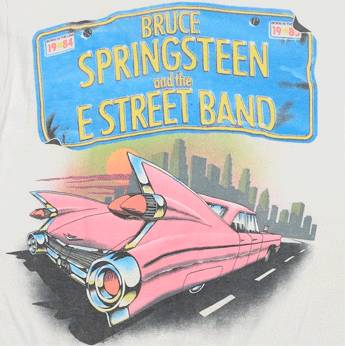 Aretha Franklin
Aretha Franklin's 1985 Freeway of Love smash hit repeatedly refers to a "Pink Cadillac" and an image of the car is splashed across the album cover of the single. This song was one of Aretha's most famous and successful and her funeral procession in 2018 featured more than 100 pink Cadillacs.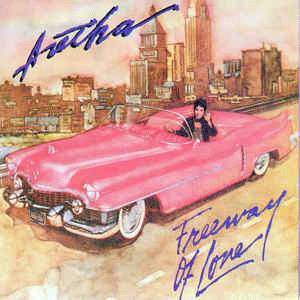 The pink car craze is only recent in Cuba
With American tourists being absent from Cuba from 1960 onwards, and only really starting to arrive again in any significant quantity from 2016 onwards, the realization among Cuban car owners of the advantage in painting their classic American 50's cars pink, is only a very recent one. Nevertheless like many trends in Cuba, the locals have taken to it with great gusto.
Our Conclusion
Since most tourists can't immediately tell the difference between the different American '50's car models, or perhaps because the historical significance of the Pink Cadillac is only present as a vague but powerful influence in their subconscious, a 1950's Pink Buick, or a 1950's Pink Chevy, holds the same appeal to them as an authentic Pink Cadillac. In any case, that is the best explanation we can come up with for the Havana pink car phenomenon. Here are some of the more outstanding examples that can be found on the streets of Havana today. Enjoy!