I always say that for one cigar to be completely done, it must make its long and meticulous way through five different processes. Three of them are related to farming, the fourth is the rolling and the fifth and most pleasurable one: The Tasting. Smoking a Cuban cigar, especially a Habano (premium cigar of the highest quality), goes beyond just putting it to your lips for sucking and blowing. As a Cuban, proud of my history, traditions and culture, I want to share the right way to smoke a Habano. More than focusing on technicalities, my real intention is to explain how to smoke our cigars in a way that maximizes the pleasure and spirituality of the experience, of course in a very Cuban style.
Mysticism
First, we don't say we are just going to smoke a cigar, the real fact is that we are going to savor one of the Cuban identity's finest pieces of handicraft. The act of consuming a Habano is not just something to get done, it is something to delight in. To our ancestors it was more than a source of pleasure. Our first inhabitants were already smoking cigars more than five hundred years ago, but these cigars were also used to aromatize and provide an atmosphere of spiritualism during religious ceremonies. No wonder I think cigars deeply connect you with the elements, natural and mystic ones; they are coming directly from the land, going inside and out of you and finally rising to the sky, a different state of composition at each point of the ascent, like a magical metamorphosis. Connecting earth, your mind, body and soul with heaven.
Setting the environment
A precondition for enjoying a Habano is to consider the environment in which you will be partaking of this Cuban delicacy. You could be alone, a relaxing moment of self-inflicted pleasure. It could be a romantic and bonding moment with your partner, the atmosphere of passion and intimacy enhanced by making a trio with the cigar. But it could also be a full party with your buddies. It doesn't matter who you do it with, the idea here is providing yourself with the right environment to enjoy this spiritual and romantic moment.
Cigar's dancing mates:
In this spiritual party and ideal environment your cigar doesn't need to be alone, a good, strong, Cuban style coffee before or after -as you may prefer- could be included. The flavors of the tobacco and arabica beans dance well together, and this pairing can be done at any time of day. Drinking the coffee after will help you to cleanse your palate of the lingering cigar's flavors. But the optimal companion for a cigar is, without a doubt, a good rum.
The pairing of rum and cigars is known as a "maridaje" (marriage), and as in any good marriage, balance is the key to success. Cigars and rum make harmonious couples based on the equivalence of their flavors. Depending on the strength in the cigar's flavor, we will then choose a rum to match it with: mild cigars go with sweet and/or light rums, middle cigars with dark rums and finally, strong flavors of cigars match perfectly with extra aged rums. The cigar's high temperatures will make the rum smoother, allowing you to avoid the strong flavor of alcohol to taste other aromas like nuts, vanilla, honey and fruits. Whiskies, brandies and wines could also be married with cigars in absence of rum, always combining the equivalent flavors and strengths.
Just as you choose music to connect you with your mood, you can do the same when it comes to cigars, there is not only one brand, type or size to pick, it depends on how you feel. As feelings are several it is a good thing we have many different options: flavors, brands and sizes to pair well your mood. Personally, I pair a lighthearted or celebratory mood with a middle-strong or strong cigar, and if I am feeling melancholy I would go with something smoother, a mild, middle-mild, middle cigar and of course, always with music. If you are craving a long trance or just a quickie, here is when the size matters. The classic vitolas from H. Upman, Romeo y Julieta, Montecristo, Cohiba and Partagas include iconic cigars for each of these different lines of flavor and size.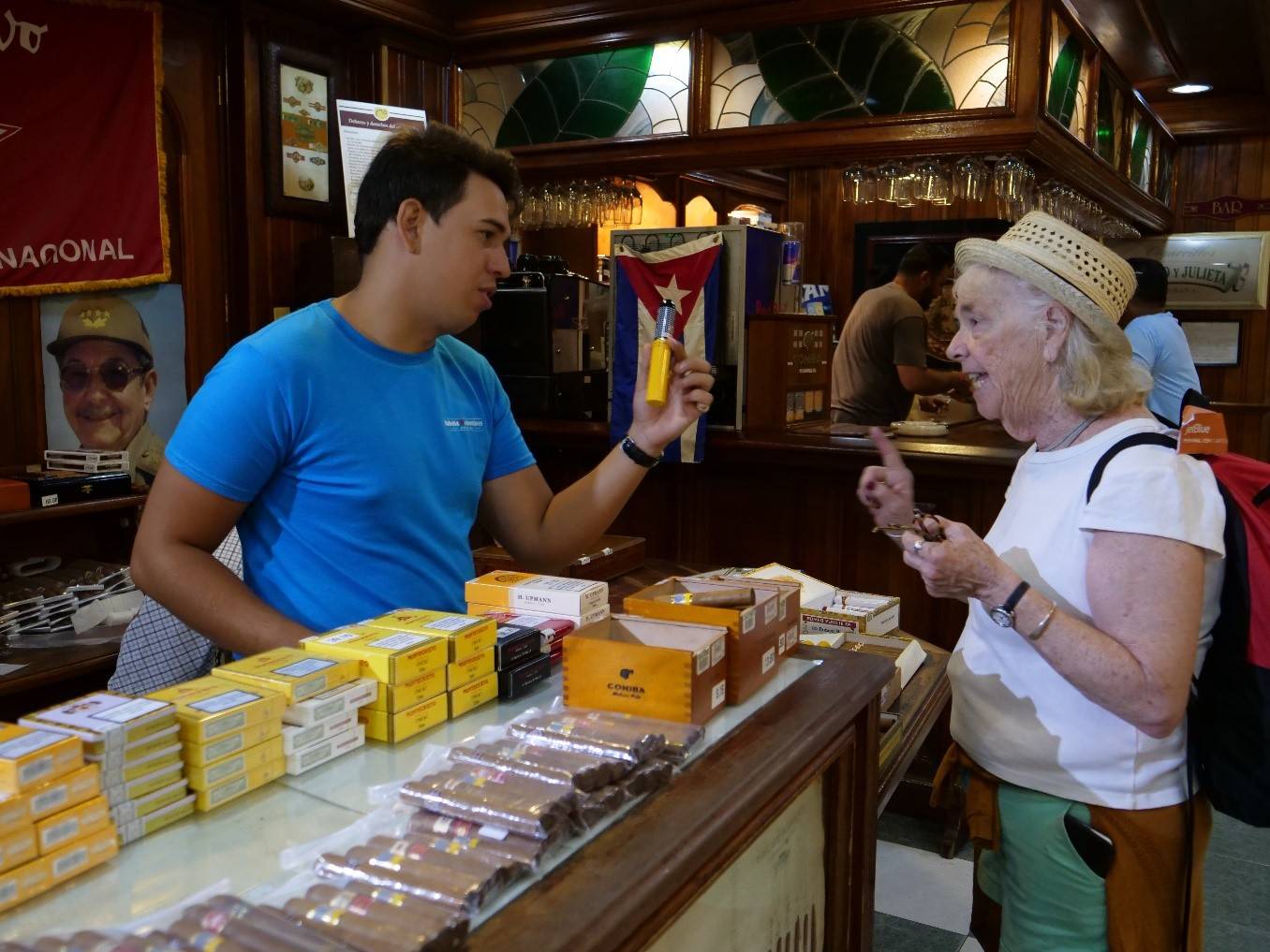 Unboxing
Delight your sight with the beautiful box, here is where your experience begins. Open the box and notice the unwitting stroke of nice aromas from the fine cedar and fresh cigars. Remove a cigar, feeling the very naturally-formed texture and then go for a second, intentional whiff of the cigar's aroma, this moment is priceless.
When the time to smoke arrives
As many hands put great effort in making that fine piece of handicraft for you, it is your duty to honor their work and traditions. The right way to do it is to consume your cigar properly, experiencing all that was meant to be appreciated by your palate. Our Habano is a natural filter that needs to be oxygenated that's why we need to make a cut with the guillotine to its rear tip, about three millimeters from the edge, otherwise smoking will be impossible. Never punch a hole through the cigar, that will cut the leaves inside which were rolled entirely for a better smoking.
Lighting:
Starting with a good lighting is very important. To make it gentle for the cigar and healthy for you, as our Habano is a natural filter that captures all the flavors around, we are going to use a cedar stick or a cedar matchstick. We don't want to contaminate the cigar with the horrible taste of butane from a conventional lighter.
Making an angle of 45 degrees between the stick and the front tip of the cigar, we are going to rotate the Habano in order to burn it evenly until we get a white ring of ash all around the tip. Provide oxygen to the cigar once or twice, by blowing on the tip or waving the cigar in the air in a circular motion.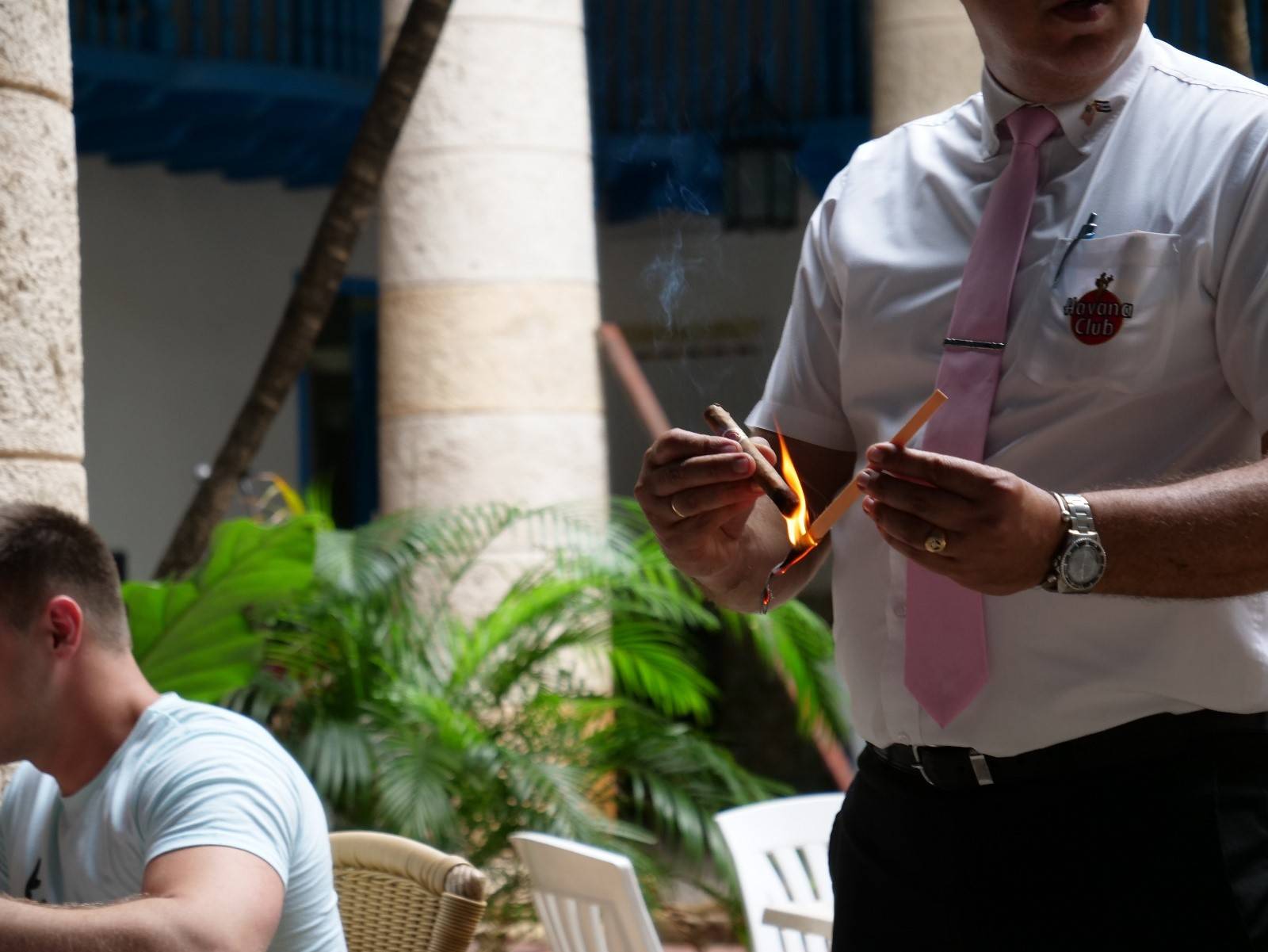 The sweet puff:
Finally, the moment you have been waiting for: the first puff has to be long to fix the lighting, gripping the cigar gently between your teeth you have to suck and blow three times in a row. Unlike a cigarette, when you smoke a cigar you never inhale; keep the smoke inside your mouth long enough to taste the flavor and later blow it out slowly. There are different ways to hold a cigar in your hands, feel free to do it as you may prefer but trying to rotate the cigar as you are smoking to burn it evenly and keep a long ash. This is very important because a compacted ash, stuck to the cigar for at least the whole first third, proves the excellent quality of the piece.
Something important is that you never finish the entire cigar, because the very low amount of nicotine will be concentrated at the end while you smoke. Habanos are made 100% by hand and with natural products, after the natural fermentation processes and extracting the main vein from the leave, a Habano is less than 10% of nicotine but you want to absorb as little as possible. Imagine the cigar split into three parts and you will never smoke the last third. We say that the first third is for us to meet cigar, the second one for getting to know it better and enjoy it, and the last one for letting it die peacefully, never crushing it against the ashtray as some people do very often. This is because a Habano is for us a very old gentleman and as such we owe him respect and consideration.
Smoking a Cuban cigar and especially a Habano is something special, a time to honor yourself and relax, you deserve it. Now you know how to do it in a Cuban way, taking advantage of every benefit from all the Cuban flavors and workmanship that goes into this beloved symbol of national heritage.