Cuban Adventures Newsletter
Hurricane Irma
As you would have seen in the news, earlier this month Hurricane Irma tore through the Caribbean as one of the Atlantic's strongest ever recorded hurricanes. In Cuba in caused severe damage along the northern coast of the central part of the island. Beach resorts such as Playa Santa Lucia, Cayo Coco, and Cayo Santa Maria were very badly damaged. Huge waves and storm surge caused flooding of low lying areas of Havana. It was reported that 10 people died, 7 of which were in Havana. Photo by AFP.
What happened to our tour groups?
We had several tours running in Cuba at the time the hurricane was approaching. Together with help from Cuba's Ministry of Tourism we moved our groups to safer areas of the island, and many of our travellers were able to change their departure flights to leave Cuba before the hurricane hit.
We cancelled tours that were due to start on dates just before, during, and just after the hurricane was due to affect Cuba. These travellers have been, or are currently being refunded for their cancelled tours.
The situation now in Cuba
The beach resorts along the central north coast of Cuba won't be easily accessible for tourism for a while. However the Cuban Government says it will have these resorts repaired in time for the the high season at the end of this year. Flooding in Havana was limited to a few blocks around the Malecon and subsided within 72 hours. Locals that live in these areas have suffered material losses and water damage to their properties.
None of the places we visit on our tours suffered major damage. We expect that there may be slight delays or minor changes to tour itineraries departing in the next two to three weeks, however all our tours are going ahead.
Power that was turned off in most areas of the country as a preventative measure, is still being restored in some places. A few days ago it was reported as being back to more than 70% of the island. As of September 12, all flights (national and international) had been re-established at Havana and Varadero airports.
How can I help?
We've had lots of people show their solidarity and kindness by asking us how they can help Cuba and its people recover.... Read how you can help the Cubans recover
Visit Cuba - Perhaps the most important way to help is to visit. The country is up and running in the nearly all tourist areas and the businesses, and their employees need tourism to help recover. Tourism is very important for the local economy on both macro and micro levels.
Person to person donations - You can also provide materials and gifts directly from person to person. This might be bringing things to Cuba yourself, or giving things to anyone you know who is traveling to Cuba. Suggestions are: Anything for children - clothes, toys, balls (deflated soccer balls, tennis ball etc), shoes, colouring pencils, books; Household items - towels and sheets or anything useful in the home; Old mobile phones; USB memory sticks; Toiletries - makeup, toothpaste, or any personal hygiene items. You can read more about what to take as gifts and donations to Cuba on our website.
Financial donations - The following associations have opened bank accounts in solidarity with Cuba to assist in the process of recuperation:

Asociación Sueco-Cubana (Sweden-Cuba) account "Medicinas para Cuba".
Asociación Valenciana de amistad con Cuba
Asociación Miguel Hernández de Alicante
Plataforma Andaluza - a food donation organisation
Plataforma Defensem Cuba
Cuba's own Banco Financiero Internacional has also opened an account in Cuba to receive donations. Account: HURACAN-DONACIONES Number: 0300000004978829 Branch: Sucursal del Banco Financiero Internacional Address: Calle 18 entre 1ra y 3ra, municipio Playa, La Habana, Cuba.

Support a charity - These reputable organisations have been working with the Cuban government on recovery programs and also provide ongoing help to people in need in Cuba:
New US travel rules to be announced!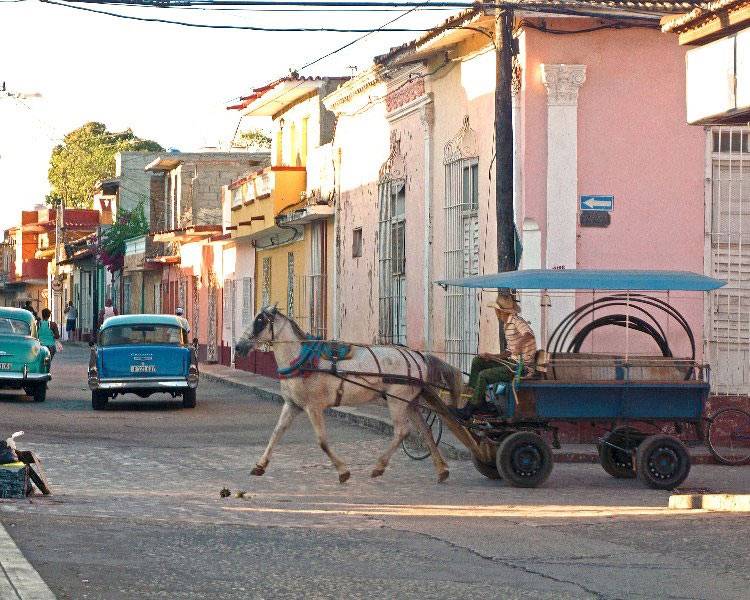 The details of the changes the Trump administration are making to travel rules for U.S. citizens, are due to be released sometime this month. It is expected that legal People-to-People travel for individuals will be eliminated, and that licensed group travel will be maintained, leaving the way open for US citizens to legally visit Cuba and for us to continue offering our Cuban Adventures USA tours.
We will be explaining the changes in the next edition of our newsletter as soon as they are announced.
Photo competition winner!
The winning entry from our latest photo competition (above), was sent to us by Scott Pederson and titled Morning rush hour Trinidad. Scott won a $100 AUD 'Plant a Tree' gift card. We are receiving entries now for our next prize date which is coming up quickly (September 29).
New tour!
Through the Havana Adventures arm of our operations in Cuba, we are now offering a full day Havana tour for US$105 per person. It's a combination package of our 3 regular Havana group tours - our Old Havana Walking Tour, Afro-Cuban religion tour, and our Classic Car Tour, and includes lunch and a sunset cocktail at the Hotel National garden bar.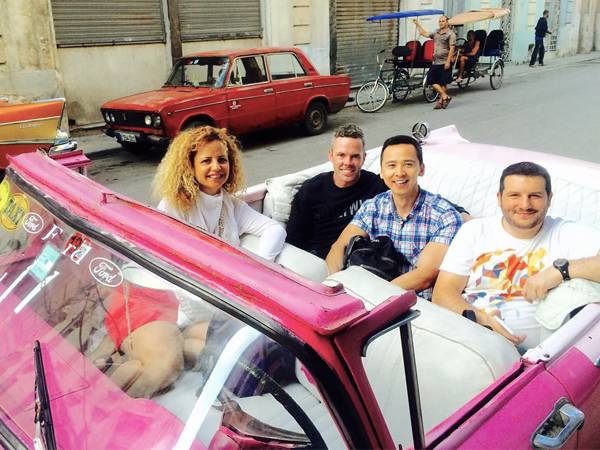 Latest Cuba tour testimonial

Darren, Australia - 15 Day Original Cuba Tour
It was one the most enjoyable and thought-provoking holidays I have ever experienced and the quality of our guide was what made that possible. Without Yanni, there is no way I could have gained anywhere near the level of understanding of Cuban society and love for its unique culture. Yanni was always enthusiastic, attentive to the needs of individuals and the group and he was always very professional. His obvious love for his country combined with his openness about the positives and the downsides of life for Cubans gave me a real insight into what makes Cuba so fascinating and loveable.
Just one example of Yanni`s professionalism was his insistence on completing our tour`s scheduled activities even though the category 5 Hurricane Irma was only days from Cuba, he had family to protect and we were willing to skip our Havana walking tour to give him more time to make hurricane preparations.
The standard of accommodation exceeded my expectations. It was all of a good, very good, or excellent standard considering the cost of the tour. All had air conditioning whereas I had been bracing myself for some hot sleepless nights under a fan. I am glad we arrived in Havana several days before the tour. We did Spanish & dance classes over 2 days & it gave us time to explore Verdado and Central Havana. I could spend weeks getting to know Havana, so many layers and things to do.
Finally
Thanks for your support! We hope to see you in Cuba again. Remember that if you have traveled with us, and recommend us to your friends, they can get a 10% discount on our tours! See conditions.
Kind regards
John Ahrens
Director Cuban Adventures