Cuban Adventures Newsletter
July 11 Protests - #SOSCuba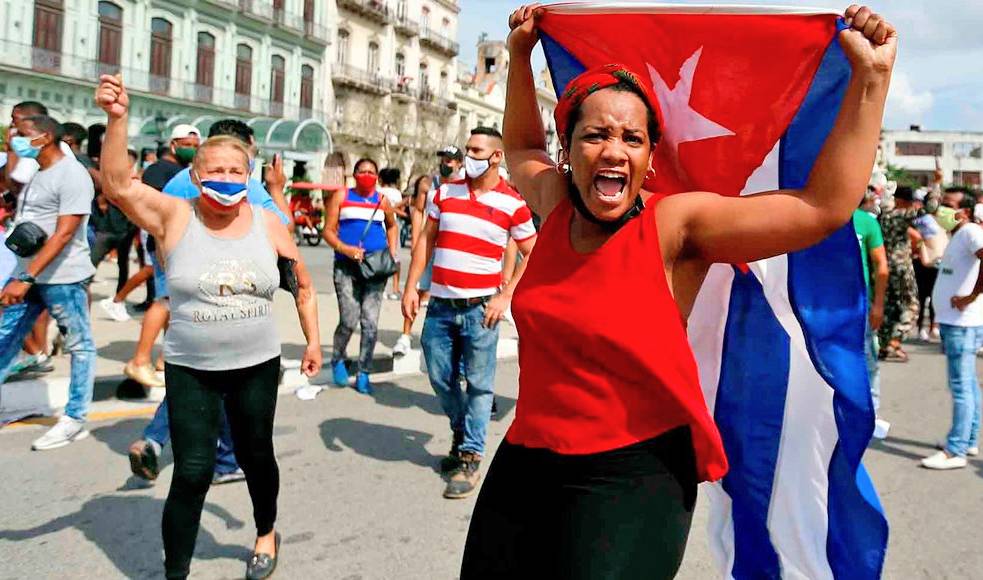 Thousands of Cubans took to the streets in cities across Cuba on Sunday, July 11, 2021, in an unprecedented show of discontent. The protests are the largest seen in Cuba in over 60 years, surpassing the August 5 protests in 1994. Cuban Adventures supports the people and their right to freely express themselves and to peacefully protest without interference. What are the Cubans protesting about? Why now? We've listed some of the factors below that have contributed to the unrest.
THE ECONOMIC SITUATION
With tourism - one of the engines of the Cuban economy - practically paralysed, the coronavirus pandemic has had a profound impact on the economic and social life of the island. This has been compounded by growing inflation, blackouts, and shortages of food, medicine and basic products.
Cuba imports about 70 percent of its food, and rising global food costs, especially during Covid-19, are restraining its buying power. Cuba has also traditionally depended on Venezuela, but Venezuela's own collapse has impacted on the country's supply of cheap fuel.
At the beginning of the year, the government proposed a new package of economic reforms that, while increasing wages, triggered a spike in prices. It is estimated that prices could rise between 500% and 900% in the next few months.
Since last year, the government has opened shops where Cubans can buy food and basic necessities in foreign currencies, which there is a shortage of on the island, but the shops have angered the majority of locals, who are paid in Cuban pesos, the national currency.
Long lines of Cubans queuing up to buy goods such as oil, soaps or chicken have become commonplace during the pandemic. Basic medicines have become scarce in both pharmacies and hospitals and in many provinces they have begun to sell pumpkin-based bread due to the lack of wheat flour.
Last month, the government said it would temporarily stop banks accepting cash deposits in dollars, the main currency that Cubans receive in remittances from abroad, this move was seen by some economists as the most severe restriction imposed on the US currency since the government of the late president, Fidel Castro. The government attributed the decision to tighter US sanctions that are restricting its ability to use the currency abroad.
THE U.S BLOCKADE
In 2014 Obama engaged in a historic diplomatic opening with Cuba rolling back some economic restrictions from the Cold War-era US embargo and opened up travel. Trump, as president reversed many of those policies (200 signed directives targeting the Cuban economy) and in his last days of the presidency implemented further sanctions that limited remittances to the island.
Eighty House Democrats told President Biden at the start of this year, "with the stroke of a pen," he could undo Trump's actions and "assist struggling Cuban families and promote a more constructive approach by promptly returning to the Obama-Biden administration policy of engagement and normalisation of relations." The Biden administration states that its Cuba policy is still "under review".
The U.S. embargo is obviously not responsible for all of Cuba's problems however these sanctions contribute to the stifling of the Cuban economy and in turn the ability of Cubans to buy food and other necessities, and for the government to provide health services and medication.
Cuban Adventures and many of our partners and affiliates are calling on the U.S. to: lift all restrictions on sending remittances to Cuba; resume flights from the U.S., not only to Havana but to all major Cuban cities; reopen a fully staffed U.S. Embassy and Consulate in Havana instead of the skeletal staff that exists now; restart the program of family reunification that Trump suspended in 2017; and grant U.S. citizens the right to travel freely to Cuba.
THE SAN ISIDRO MOVEMENT
The San Isidro Movement was formed in 2018 to protest against the government's increased censorship of artistic expression. San Isidro is a neighbourhood in Old Havana which raised its profile over the last few years as a street art destination, quickly becoming one of Havana's most colourful neighbourhoods. The Cuban Government brought in a new law requiring that graffiti works obtain prior authorisation, even if done on a wall with permission from the owner. The harsh way the government cracked down on protestors drew the attention of Cubans both inside Cuba and around the world, and acted as a sort of seed for this wave of protests ongoing in Cuba.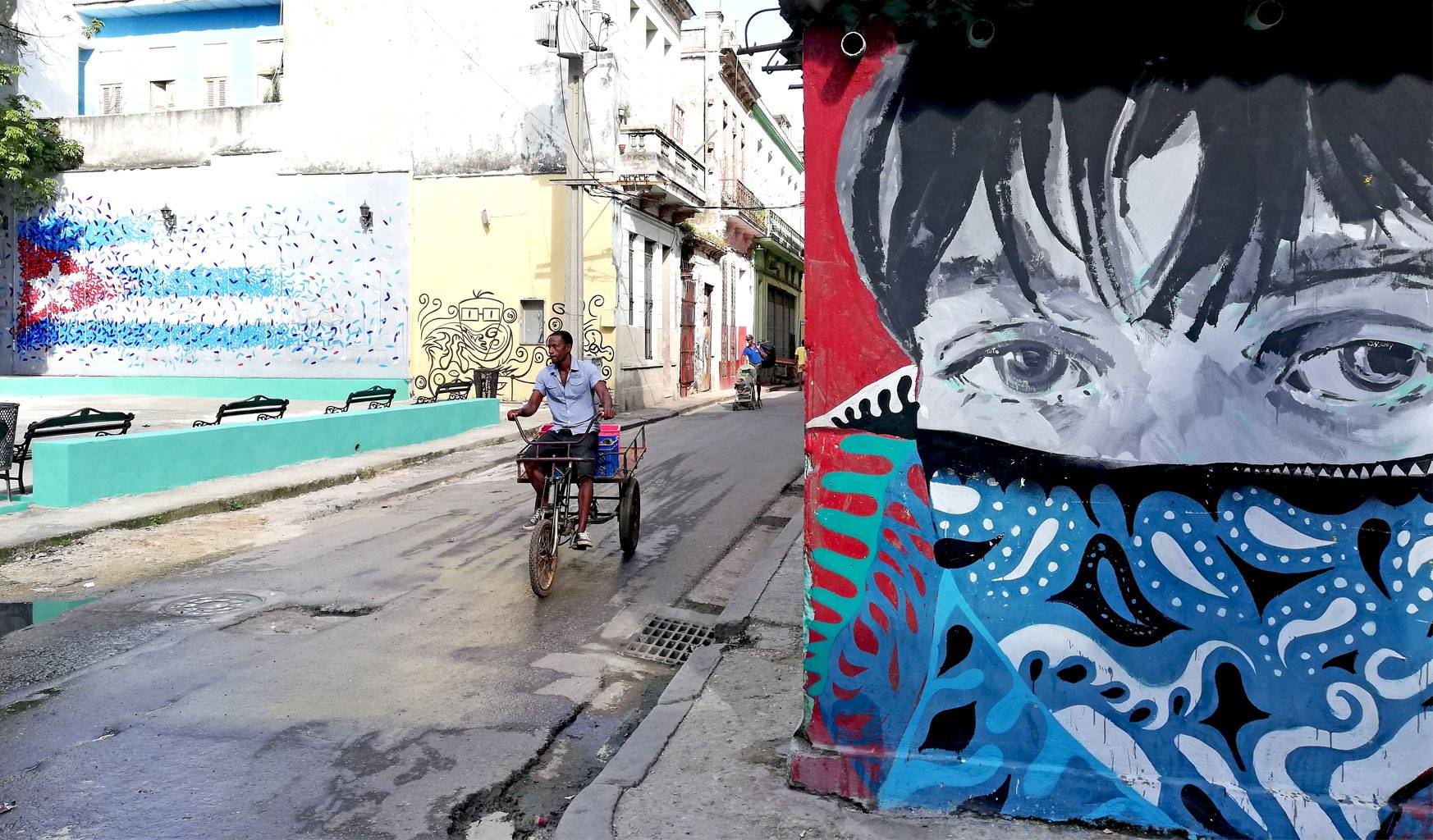 WHAT CAN YOU DO?
If you are in the USA one of the most critical things you can do is write to your senators, congressmen, and congresswomen about the current situation in Cuba. You can find your representatives by using this link
Also visit: https://www.facebook.com/EndtheEmbargo/
Donate to Global Health Partners to get much-needed syringes to Cuba to expedite the room out of the vaccine. https://ghpartners.org/syringes4cuba/
Donate to the Cuba Solidarity Campaign has launched an appeal to help Cuba access the vital medical supplies and raw materials it needs to treat COVID-19 patients and vaccinate its population. https://cuba-solidarity.org.uk/emergency-appeal-for-cuba/
Donate recharges to cell phones: Internet in Cuba is extremely expensive for the average Cuban and is controlled by the government. Providing citizens with internet is essential to getting their stories out. Cubanos Pa'lante has been on a recharge (recarga) campaign that you can donate to here.
There are others arranging donation for the Cuban people to help them through this difficult time
Canada: https://friendstocuba.com
Spain: https://ko-fi.com/corredorhumanitario
Cuba: http://www.amigoskate.com
(Cuban Adventures is not affiliated with any of the above mentioned organisations).
TO LEARN MORE
Listen to this excellent BBC podcast: https://www.bbc.co.uk/sounds/play/w3ct1hsn
CoronaVirus in Cuba
CORONAVIRUS & THE VACCINE
At the time of writing Cuba had reported 288,392 confirmed Coronavirus cases and 1,966 deaths. You can keep watch of the numbers here.
Cuba has produced two homegrown COVID-19 vaccines that have shown to be safe and effective: Abdala and Soberana 02 (Sovereign 02). Cuban scientists began by vaccinating 141,000 healthcare workers in March and in June expanded the program to its general population. It was on track to inoculate 70% of its 11 million population as early as August, however Cuba is suffering from a dire shortage of syringes (since both the vaccines require 3 doses) and the fast roll out has now been severely impeded.
Right now Cuba is now seeing the highest COVID caseloads in Latin America, this is after having had the lowest rate per capita for the region in 2020. If the target of August was achieved Cuba would have become the first country in the world to immunise its entire population with its own vaccine.
Relevant Articles:
https://www.aljazeera.com/news/2021/6/29/cuba-accelerates-covid-vaccine-roll-out-amid-rise-in-cases
https://www.abc.net.au/news/2021-05-22/cuba-homegrown-covid-vaccine-curb-crisis-revive-economy/100153042
TRAVEL TO CUBA
General: The airports are ready to welcome the commercial flights but with a temporary reduction in the frequency of flights from some countries. Excursions and tours are not yet permitted and movement between provinces is suspended. A PCR test 72 hours before arrival, then on arrival, and again 5 days after arrival are also required. Mandatory quarantine in selected hotels is required and is purchased as a quarantine package.
As of July 19: Duty free importation of food, hygiene products, and medicines in passengers' luggage has been temporarily authorised until December 31, 2021. The only limits applied to this are those of the airline carrier.
As of June 29: Officials declared that the country is under a Community Transmission Phase due to an increase in COVID-19 cases and the presence of highly contagious variants. Authorities announced that they would strengthen measures, mainly restrictions on interprovincial travel. The government also sent officials to oversee the situation in some of the most affected provinces, including Camaguey, Ciego de Avila, Matanzas, Mayabeque, Pinar del Rio, and Santiago de Cuba.
Our Company
SUPPORTING OUR STAFF
Most of our team in Cuba has been without work since the start of the pandemic. We've been supporting these people with retainer and assistance wage packages to help them and their families survive this period.
OUR TOURS
You can find our tour departure dates on our website. Decisions on whether to run or cancel individual tour departures is based on the advice provided to us by the Cuban government and when it is deemed safe to travel in Cuba.
WHAT ARE WE DOING IN THE DOWNTIME?
We are concentrating our efforts on a new and improved website, booking system, and designing new tour products that will be launched when the virus has passed and we can resume normal operations.
READ
Our tour guides are continuing to write articles about Cuban society, history and culture. Check out some of the article here in the blog section of our website.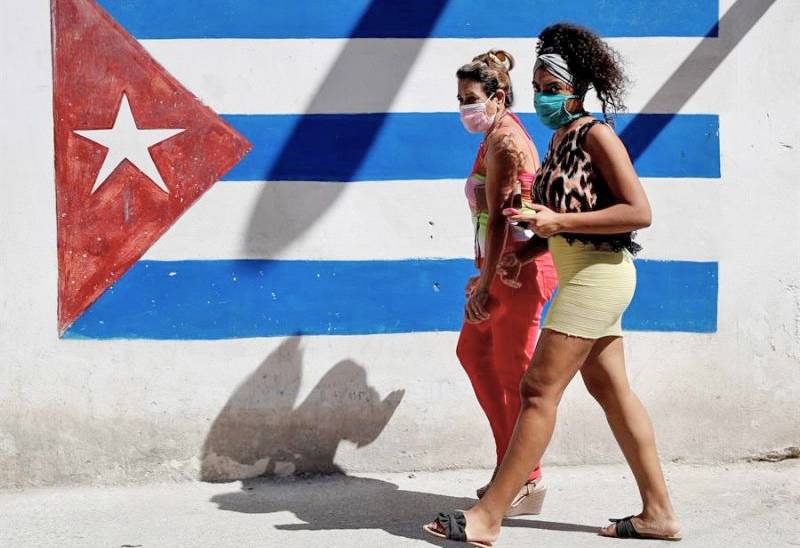 Discount Code for our Tours!
Don't forget that anyone can get a 10% discount on our Cuba tours using the code YUMAFRIENDS. Tell your amigos, so they don't miss out! Read the T&C's and more information here.
A message from Team Cuban Adventures
Our team in Cuba really appreciate your comments on social media, your photos, sharing memories, the friendship packages that have been gratefully received, and your ongoing support at this turbulent time.
A Tour Leader is a friend for life!
See you soon in Cuba!