Recommended Accommodation in Havana
If you are an independent traveller and not taking one of our multi-night Cuba tours we highly recommend Havana Boutique Hotels to book your Havana Accommodation. This site has an excellent selection of Havana private guesthouses with real-time availability and instant booking by credit card.
Unlike Airbnb and booking.com, Havana Boutique Hotels does not charge booking fees nor credit card fees. Neither does it charge commission to the guesthouse.
Extra nights of B&B Guesthouse accommodation in Havana!
If you are doing one of our tours, you can request extra nights of Guesthouse accommodation in Havana before or after your tour, on your tour booking form.
Our Havana Guesthouse Prices - breakfast included
Standard Guesthouses
2.5 stars
Prices in AUD
Dates
Extra night Single
Extra night Twin
Extra night Triple
May to Oct
$93 AUD
$107 AUD
$121 AUD
Nov to Apr
$103 AUD
$117 AUD
$131 AUD
Comfort Guesthouses
3/3.5 stars
Prices in AUD
Dates
Extra night Single
Extra night Twin
Extra night Triple
May to Oct
$123 AUD
$137 AUD
$151 AUD
Nov to Apr
$134 AUD
$146 AUD
$160 AUD
Premium Guesthouses
4/5 stars
Prices in AUD
Dates
Extra night Single
Extra night Twin
Extra night Triple
May to Oct
$209 AUD
$218 AUD
$229 AUD
Nov to Apr
$218 AUD
$229 AUD
$238 AUD
Book Havana hotel accommodation
If you are thinking of staying in a hotel in Havana instead of a private guesthouse, here is some food for thought.
The vast majority of travellers who have been to Cuba and experienced both hotel accommodation in Havana and private guesthouse accommodation (also called casas particulares) will tell you that it is better to stay in a casa rather than a hotel. There are quite a few reasons for this including:
Lower price for better service - Havana Guesthouse prices range from about US$25 to US$150 a night for a room, whereas hotels start at about US$100 a night. However only hotels above about US$150 a night provide decent service. Contrastingly you can get excellent service in guesthouses of all prices and comfort levels, and Guesthouses can be of quite a good comfort level from about US$40 a night upwards. To verify this all you need to do is check tripadvisor reviews.
Cultural Experience - Most travellers visiting Cuba a looking to experience the Cuban culture and meet the Cubans. The often family run guesthouses beat the government owned hotels hands down in this aspect.
Stimulating the private economy - If you are keen to support privately run businesses in Cuba, owned by the Cuban people, staying in a casa particular guesthouse will do just that. The casas are legal privately owned businesses in Cuba and they pay taxes to the government, however by providing business to them, you are effectively empowering them and helping money circulate directly among the people in Cuba, rather than the government controling the flow of this money.
Making your trip to Cuba legal - If you are U.S. citizen, staying in a casa particular guesthouse in Havana will help you meet the requirements for the Support for the Cuban People General Licence category for legal travel to Cuba.
Some interesting Havana hotels
Here is a sample of some of the hotels in Havana worth considering if you prefer staying in a hotel. Even if you stay in a casa paticular, some of these hotels are worth visiting to check out the architecture, views, the hotel bar, or maybe even pay to use the pool.
Hotel Victoria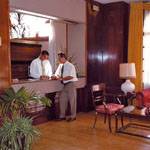 Calle 19 y M
Vedado, Havana
Tel/Fax: + 537-833-3510
The hotel Victora is a small friendly and cosy (31 room) hotel that is centrally situated in Havana's vibrant district of Vedado just a few blocks up from the Hotel Nacional, and close to the main street of Vedado (Calle 23), which has many points of interest including Cuba's largest ice-cream parlour - La Coppelia. Vedado is also known as "New Havana" as many of Havana's newer hotels, business and government offices, restaurants, and bars are found there. The hotel is also just a few blocks from the Malecon, which is the scenic walkway along the bay of Havana and a thriving center of Havana social life.
The Hotel Victoria has been recently renovated with the help on an Italian investor. It is smaller than most hotels in Havana, and has more of an intimate atmosphere. However like in most hotels in Cuba, the service can at times be a bit lacking in enthusiasm.
Hotel Presidente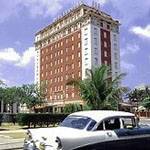 Calle Cazada #110 esquina G
Vedado, Havana
Tel/Fax: + 53-7-8381801
Originally built between 1925 and 1927, the Hotel Presidente was completely rebuilt in the year 2000. It has managed to keep pretty much all of its original grandeur and style, with plenty of marble cladded surfaces in the lobby, which also features some antique objects and furniture, some chandeliers pieces of art, and a baby grand piano.
The hotel is located a couple of blocks from the famous Malecón on the impressive boulevard Avenida de los Presidentes, otherwise known as Calle G, which is a main axis of the Vedado neighbourhood of Havana. The hotel has a couple of decent restaurants and an elegant swimming pool which looks particularly pretty when floodlit at night.
Hotel Nacional
Calle 21 y O,
Vedado, Havana
Tel: +53(7)8363564
A grand and beautiful building with an elegant ambience, the Hotel Nacional is Havana's premier and most sought after hotel. This is not so much due to the hotel's level of service but rather its immortal status in Cuba's history. There is a room dedicated to all the celebrity guests that have stayed here since the 1930s. Its enviable location is on a rocky outcrop looking over the Bay of Havana.
While never owned by the Mafia, the hotel's casino in the 1950's was one of the Mafia's most prized and lucrative. Some of the famous guests that have stayed at the Hotel Nacional, include Winston Churchhill, Frank Sinatra, Ava Gardner, Marlon Brando and Ernest Hemingway. The hotel has 457 rooms and 15 suites. Rooms typically have air conditioning, marble bathroom, a mini bar, safe, and some nice views.
Hotel Havana Libre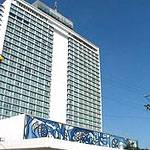 Calle L e/ 23 y 25
Vedado
Tel: +53(7)8384011
Originally the Habana Hilton, this building was at one stage Latin America's tallest and largest hotel. It was famously taken over by Castro and his triumphant revolutionaries in 1959, just nine months after it had opened, and promptly renamed the Habana Libre. The revolutionary army used it as a kind of base in Havana for the first days after their arrival in Havana, and there are some fascinating photos of these scenes in the lobby. It was renovated between 1996 and 1997, and while it represents the center-point of the Vedado district of Havana, and the rooms boast some spectacular views of the city and beyond, it has for some time now sadly deteriorated to an embarrassing level and is badly in need of repair and renovation.
Hotel El Tejadillo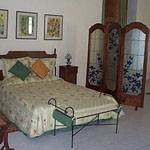 Tejadillo, 12, e/ San Ignacio
La Havana Vieja
Tel: +53(7)8637283
The Hotel El Tejadillo is situated in the heart the historic center of Old Havana, on a street next to the Cathedral.
The hotel has 38 rooms and dates from the eighteenth century. It's quite a pretty place inside with a light filled courtyard and features tall windows, and traditional colonial window grilles. While the rooms have impressively high ceilings due to the original colonial architectural style being preserved, that also means that some of the ground floor rooms don't have windows and suffer from poor airflow which leads to some rooms having issues with dampness.
Hotel Los Frailes
Calle Teniente Rey 8 Between Calles Mercaderes and Oficios
La Havana Vieja
Tel: +53(7)8609530
Along a narrow alley of Old Havana, down from the fetching Plaza Vieja you can find the Hotel Los Frailes. Apparently it used to be the stately mansion of a Frenchman. It has only 22-rooms and considering the bustling foot traffic of the street it is located on, its inner courtyard is impressively tranquil. The unique feature of this hotel is that the staff are all dressed as Franciscan monks and during the day there is an excellent 4 piece woodwind orchestra that plays in the lobby. The rooms are pretty dark and uninspiring, but this hotel represents some of the best value for money for state run boutique hotels in Old Havana. Los Frailes Hotel has no restaurant, so its guests usually take breakfast in the café on the corner a few steps from the hotel.
Hotel Ambos Mundos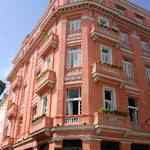 Calle Obispo No. 153 esq. a Mercaderes
La Havana Vieja
Tel: +53(7)8609530
The claim to fame of the Hotel Ambos Mundos is that Ernest Hemingway wrote parts of For Whom the Bell Tolls in room (no. 511). This room has been set aside by the hotel as a museum piece that can be visited by guests and non-guests alike, and they have on display some photocopies of his hand-written scribbles and one of his trusted typewriters. The hotel is located on the pedestrian and main street of Old Havana - Calle Obispo. This is also the street that almost symmetrically bisects the colonial part of Havana, so its location can be rightfully claimed as being truly "central".
The rooms are relatively simple and mid-priced. One of the coolest features for some is the compact old, iron-grated elevator, and there are some large black and white prints of Mr Hemingway during his time in Cuba in the lobby. Breakfast is served on the leafy rooftop which is also a good place for lunch as it has a nice view over the harbour and Old Havana.
Hotel Parque Central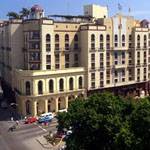 Calle Obispo No. 153 esq. a Mercaderes
La Havana Vieja
Tel: +53(7)8609530
Consistently rated among Havana's best hotels by independent reviews, the Hotel Parque Central is a modern hotel in both style and structure. Facing Havana's central park, with views of the Gran Teatro and the Capitolio, its location at the doorway to Old Havana, is hard to beat. The hotel is run by a Dutch owned management company, and the service is reported to be excellent.
Sites for booking Havana Hotels