Cuban Adventures Newsletter
Win a Trip to Cuba!
Cuban Adventures has teamed up with Virgin Atlantic to give you the chance to blog your way to Cuba! All you need to do to be in with a chance of winning is blog 10 reasons as to why you should travel to Cuba for 3-weeks.
The prize includes 2 return tickets from London to Havana with Virgin Atlantic airlines, and 2 tour places on a departure of our Cuban Adventures 20 day Complete Cuba Tour.
This is a great opportunity to win a 3 week trip to Cuba worth over US$6000 in total. Check the competition web page for details. Entries close October 31.
Is Fidel Still Alive?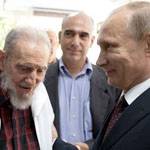 One of the questions we most commonly get from people is if Fidel Castro is still actually alive. The answer at the moment is a resounding yes. Photos of Fidel were all over the international press in July this year, when he met with Russian president Vladimir Putin in Havana.
Cuba Helps Russia Spy on the US
Once again Cuba has found itself (some would say by choice) caught between the two world superpowers of the USA and Russia. As part of the downward spiralling relationship between the US and Russia, Cuba has agreed to reopen a so-called listening post on its territory, some 150 miles from mainland USA, so that Russia can spy on its counterpart.
The deal between Cuba and Russia was struck during Vladimir Putin's recent visit to Cuba. The Cuban listening post had been closed by Russia in 2001 as a move to help cooperation between the two superpowers. Now that the idea of being superpower friends has gone out the window, the cold-war style spying seems to be back on the agenda.
Cuba's part of the deal is that Russia has written off 90 per cent of its financial debt with Moscow, which had blown out to US$35 billion (£20 billion).
Upcoming Special Events in Cuba
Tour Discounts $$
We are now offering discounts on our tours for travellers who are quoted a cheaper price for a tour package that is similar to ours by one of our competitors. See more about this special offer here.
Latest Cuba Tour Testimonial
Joel & Stephen, USA - 15 day Original Cuba Tour
Overall, the entire experience was simply amazing. Tony is the consummate professional tour guide. He worked like the devil, but everything appeared seamless. He was up before everyone, and never went to bed until everyone was back. Absolutely fluent in English, and had a sense of humor that kept us entertained without ever offending, he always made it a point to seek cultural interaction with the local people.

The homestay's were very roomy with private bath and air-conditioning. The rooms were modest, clean and comfortable (as advertised on your website). Homestays are absolutely the way to go!

Transport: We had a 16-passenger Mercedes mini-van for 9 people plus driver, so we had plenty of room to stretch out and relax. The van was clean and appeared to be very well maintained. Our driver, Soto, was a hoot, he had an excellent sense of humor and took good care of us.

I was so inspired that I produced the following material about the trip.

We've traveled quite a bit over the years, and would rank Tony as possibly the best tour guide we˙ve ever had.

Newest Member of our Team

Alan - Sales Representative - AUS

Alan and his wife Virginia live in South Australia. In 2012 a trip to Cuba with Cuban Adventures, guided by Ossie, introduced them to the richness of the Cuban culture and way of life. Then came the opportunity to work for the company promoting Cuba and helping clients with questions about Cuban travel. Alan was so enthusiastic we couldn't turn him down. His working life was mostly spent as a teacher and education administrator and then as owner / operator with Virginia of a beachfront cafe / restaurant in South Australia. His interests are travel, travel planning, cooking and sport, and he has since established a boutique travel agency called Please Yourself Travel, which offers personalized holiday planning services for travel worldwide.

Finally

Thanks for your support!

Kind regards John Ahrens - Manager Big Planet Adventures