By Natalia C. F-Coronado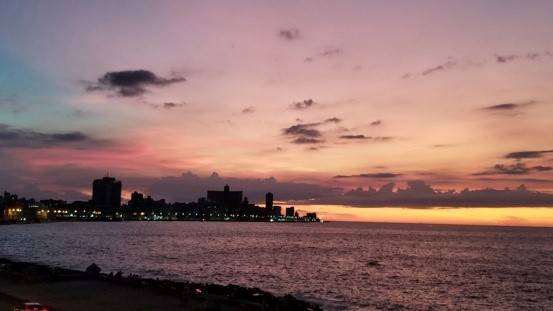 Cuba is a captivating country that attracts visitors from all over the world for different reasons: its fascinating history, charming colonial towns, heavenly beaches, fantastic music, salsa dancing… it is a mysterious country full of contradictions. Many travellers want to visit Cuba "before it changes." So close, yet so far from United States, Cuba remains a unique and astonishing destination.
From world-class snorkeling to exhilarating hikes, Cuba has a lot to offer. Here are 6 cool things that you can only do in Cuba!
1. HAVANA - FACTORY OF CUBAN ART (FAC)
FAC is probably the best place to visit in Havana when it comes to the art scene and nightlife.
FAC is in an old factory that was transformed into a hub of Cuban arts by X Alfonso, a renowned Cuban musician. Its purpose is to promote the work of Cuban artists from different disciplines of art. It opens from Thursday through Sunday. Inside you will find two floors of concert stages, three terraces and areas with photography and art exhibits from cutting edge Cuban artists.
You may find a play, a fashion show or a music concert taking place. There are areas to chill out and areas to party and dance, as well as cafés, bars and a restaurant. FAC opened in 2014 and has become a world-renowned venue. If you are interested in an innovative artistic project, you won't want to miss FAC! Address: Calle 26, Esquina 11, Vedado. La Habana, Cuba
2. TAKE A CAR RIDE IN A VINTAGE CAR AT SUNSET ON THE MALECON
When we think of Cuba, we often think of those colorful convertible cars that were brought from United States in the 1950's when Havana was a "tropical Las Vegas". These iconic cars are still cruising throughout the city. You can hire one with a driver, it is a definite must do in Havana as you will discover many attractive areas of the city other than Old Havana. The best time to take a cruise is towards sunset, finishing off at the Malecon with a spectacular sunset view. Taking a walk afterwards on the traditional part of the Malecon is also a photogenic highlight. The Malecon is a promenade that hugs the harbor where everyone from young people to families gather, where musicians stroll playing music, and Cuban snacks are sold. This is a unique Cuban experience you must enjoy while visiting Havana.
3. LEARNING ABOUT TOBACCO WHILE HIKING THE VIÑALES VALLEY
The valley of Viñales is a magical place where you can take different hikes and learn about tobacco growing, typical Cuban crops, and the Cuban way of life in the countryside. The valley maintains its traditional lifestyle where peasants still work the land with oxen and plows. Families in the valley have been growing tobacco for generations and they will happily explain to you the tobacco process, show you how they roll cigars, and offer them for you to try!
Interesting crops like tropical fruits and coffee are also grown in Viñales. Hiking around the valley with its limestone mountains along the tobacco fields and traditional drying tobacco houses is almost a spiritual experience. Meeting some of the Cuban farmers on these walks could be one of your most inspiring experiences!
4. SNORKELING/DIVING THE PRISTINE WATERS OF BAY OF PIGS
Bay of Pigs is not only a historical site, it is home to some of the prettiest coral reefs and clearest water in Cuba. Caribbean waters are warm and there is a wide variety of marine life and coral close to shore.
Stopping by the Fish Cave or Caleta Buena to snorkel or dive will certainly be an unforgettable experience. If you just want to take a dip in refreshing waters, you can do so in the Fish Cave, a 70 meters deep sinkhole surrounded by limestone and stunning nature!
5. DANCING WITH LOCALS IN TRINIDAD
Trinidad is a favorite among Cuban towns. It is the colonial jewel of Cuba, a UNESCO world heritage site with colorful buildings, cobblestone streets, surrounded by gorgeous mountains. Music flows from street corners during the day and at different venues during the afternoon and at night. It is a wonderful place to go bar-hopping, listening to different bands while dancing salsa with locals from place to place.
Don't miss the Cave Nightclub for a great way to finish the night! Just ten minutes from the main square, you will find the cave where you can dance among stalactites and stalagmites. It is worth a visit simply to have a look at the club Trinitariants are most proud of.
6. ROAST PORK PARTY BY DUABA RIVER IN BARACOA AFTER HIKING TO THE YUNQUE WATERFALL.
Baracoa, the best kept secret in Cuba, was isolated until the 1960's from the rest of the island, being surrounded by lush mountains, national parks and clear rivers.
Its location at the hard to reach eastern tip of Cuba is one of the reasons that it so special - not everyone makes it there! A paradise for nature lovers (and foodies), you could spend weeks hiking in its national parks, enjoying its clear, freshwater rivers, and beautiful beaches. There are caves, waterfalls, cocoa farms, coffee plantations, and coconut groves to explore, making this destination a hidden gem for travellers and a veritable paradise for nature lovers. In the Yunque mountains, you can hike along the river and visit local farmers to learn about their crops, all while enjoying the view of the Yunque mountains. Once you reach the waterfall there is a natural pool where you can swim. It is also a great location for a pork roast and traditional Cuban food by the bed of the river after your hike.
Join us on our day tours and multi-day tours which visit Viñales, Bay of Pigs, and Baracoa.