Festival del Caribe (Fiesta del Fuego)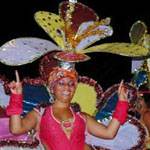 The Fiesta del Fuego is officially known as the Festival del Caribe and takes places each year in the first weeks of July in the city of Santiago de Cuba. Santiago was for a time Cuba's capital. It is situated on the eastern end of the island and is said to be the geographical heart of the Caribbean.
An exciting array of performances, exhibitions, workshops and street activities take place throughout Santiago de Cuba during this festival.
With vibrant costumes and enthusiastic participants from all over the world, this is a celebration not to be missed.
Visitors can immerse themselves in the street parades and traditional congas (see a video of a traditional conga), and these can be heard reverberating along the streets even before the festival proper begins.
See this festival!
See: Tour availability to find tour dates that coincide with these festivals

History - Fiesta del Fuego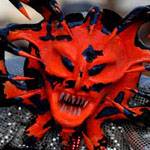 Every July, the notorious heat of Santiago de Cuba is tripled. Added to the warm hospitality of the people of Santiago, and the high temperatures normally felt in this city at this time of year, is the high energy of the Fiesta del Fuego.
Initiated in 1981, the Fire Festival, or the Caribbean Festival, pays tribute to a different country, or group of countries, each year from around the region. It is one of the most important cultural events for Cuba's Ministry of Culture.
It involves the participation of over 2 thousand artists and intellectuals from approximately 18 countries, as well as a similar number of national participants. Up to 40 different spaces around the city are utilised and there are countless peformances including - music, dance, magic, religious ceremony, painting, sculpture and theatre. The themes center around the history, religion and culture of the Caribbean region. There is an abundance of opportunity for academic discourse, and the event attracts people from as far away as Australia, Hungary, Holland and Israel.
The most traditional and anticipated part of the festival is the Fire Parade on the final evening. This begins with a ritual salute to Nzambi Congo - a chief entity in the Palo Monte religion, and ends with a burning of a huge effigy of the Devil, accompanied by a raging storm of drums.