by Margarita H. King
Cubans' weakness for dessert is probably linked to our long history of sugar production which was introduced by the Spaniards back in the 1500s. It was also the industry that boosted and dominated the country since the late 18th century and for almost two hundred years. Although nowadays sugar production is no longer at its highest peak, it is still of tremendous importance for the island's economy and an essential part of our everyday life. Therefore, it would not be unusual to assert that a proper Cuban meal is never complete without a dessert. We especially enjoy the homemade after-dinner treats prepared by our moms and grandmas. The gamut of the Cuban cuisine is limitless, colourful and eclectic and it boasts a wide variety of traditional desserts that I guarantee you will love.
Let's start with what is probably the most classic of Cuban sweet delicacies:
1. Cuban Flan
In all fairness, flan cannot be claimed to be exclusively Cuban since you can find similar versions of it in several places in Latin America and even France with the French Crème Caramel. But we all prepare it in different ways. Fresh milk is one of the main ingredients for this caramel custard in various countries. In Cuba, however, it is usually prepared with eggs, sugar, vanilla extract, a pinch of salt, caramel sauce, and the mixture of evaporated and condensed milks.This version has great popularity among locals and visitors due to its creamy consistency and beautiful flavor. Flan is offered in most restaurant menus around the island. But if you have the chance to taste a homemade one, it would make the entire difference. No doubt, this is a must-try one!
2. Arroz con Leche
Arroz con leche, which translates to "rice pudding", is an easy one to make and was also inherited from the Spanish cuisine. Variations of rice pudding are found almost everywhere in the world, particularly in those countries where rice is an essential staple. Of course, we locals have our own Cuban-style arroz con leche and within it there are several versions too. One of the most popular recipes includes rice, water, condensed and evaporated milks, sugar, a piece of lemon peel, a cinnamon stick, and a pinch of salt. All ingredients are mixed, boiled and lastly topped with a sprinkling of cinnamon. Condensed milk is one of the key ingredients here because it enhances the flavor and provides a more comforting texture. Sometimes fruits such as coconut or pineapple are also used. This avoids blandness by adding a more tropical taste to it. It can be served cold or hot. But it is definitely a very pleasant nutritious dessert which always goes well after a nice Creole meal.
Recommendation: Try it at Vista Gourmet restaurant in Trinidad. You will not be dissapointed!
3. Merenguitos
Cuban merenguitos or merengues consist only of two main ingredients: well-beaten egg whites and sugar. This mixture is baked in the oven for about an hour. The result is a crunchy dessert which not only brings us incredible memories from our childhood, but it is also the perfect treat for an afternoon snack. Without being overly sweet, they go really well with a Cuban black coffee. Although they are sometimes tricky to find on the island, you can surely purchase them from street vendors or at the small local pastries and bakeries. Merenguitos are both simple and subtle and their simplicity is exactly where their beauty lies. My 10-year-old sister says that eating merenguitos is pretty much like eating sweet clouds and I 100% agree. This treat is certainly a nice hit!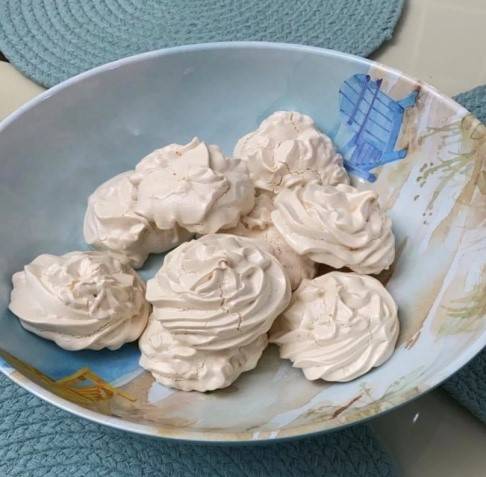 4. Cremitas de leche
Cremitas de leche are pure yumminess! A Cuban homemade dessert that appears to have real success with both kids and adults. This sweet is very popular around the island, especially in the central-eastern province of Camaguey. Camagueyan cremitas have been acknowledged to be the best ones in the whole country and this recognition might be to an extent related to the high-quality milk produced there. Milk, water, sugar and a pinch of salt is all you need to prepare this appetizing dessert. Cremitas have a very smooth texture which almost melts in your mouth as you taste them.
So, where can we get these sweets? They are a little bit harder to find since restaurants typically do not offer them. Hence, street vendors are your best option here. You might probably bump into them while doing our walking tours or simply by wandering the streets of most cities in the country. Occasionally, I've seen some people selling them outside their homes too. Stop by and enjoy this local délice. They are unquestionably worth trying!
5. Buñuelos
This Latin American version of the doughnut is a traditional sweet that is mainly served in Cuban homes during Christmas time. It is currently more popular in rural areas where farmers can grow their own fruits and veggies. In fact, the base ingredients for the confection of this lovely fried pastry are cassava and taro roots which are widely available in the Cuban countryside. Both root vegetables are boiled and blended with lemon peel, salt, egg yolks, anise and flour. The dough is then shaped into figure 8, fried and later served with special anise syrup. Buñuelos are not only a feast for the palate, but they are also one of those desserts you can easily fall in love with. So if you ever visit us on Christmas time, do not miss the chance to taste this local delicacy and have a real authentic Cuban experience.
I trust you guys enjoyed this insight into some of our most beloved local treats. Cuban dessert cuisine is as delectable as it is rich and versatile. When we dine together on one of my tours, you can bet I will order dessert. I might even let you have a bite! Have a sweet and nice trip. Bon Appétit! Or, as we Cubans say it, buen provecho!