Sierra Maestra Trek Information
Sierra Maestra Treks - Overview
There are 3 options available on our Eastern Cuba Short Stay for activities in the Sierra Maestra mountains. Going on either trek or day hike is an optional activity and is not included in the Eastern Cuba Short Stay price and access to the National Park is seasonal and regulated by the Cuban State.
When booking on the Eastern Cuba Short Stay we will need an indication from you if you are interested in the overnight treks. This will help us make sure we can get a place for you in the appropriate campsite, as these places are very limited.
The options currently available are:
Pico Turquino - Overnight | grade difficult | 2 days |
Comandancia de la Plata - Overnight | grade moderate | 2 days |
Comandancia de la Plata - Day Hike | grade easy/moderate | 1 day |
Ask us about taking these treks as an optional activity on your Multi Night Tour, on a Short Stay, or as a Santiago Day Tour.
Pico Turquino - Overnight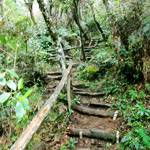 The trek to Pico Turquino is the more physically demanding of the 2 trekking options. This trek is suited to those who enjoy some prolonged physical exertion in challenging conditions. The trail is well maintained with rudimentary steps and handrails made from wood installed along sections of the trail where this is helpful. Nevertheless, the trail can be slippery and steep in some parts. However the element that makes this trek the most challenging is the number of hours per day required to complete it. We estimate about 16.5 hours over the 2 days. The round trip distance is only 26km in total, however the steepness of the trail makes the going slow. When it is not raining, the conditions are hot and humid, and being mostly cloud forest, rain showers are frequent. The altitude of the peak (1974 m or 6,476 ft) doesn't present a risk of altitude sickness, however it may make you feel more short of breath than normal.
Apart from the achievement of reaching the peak of the highest mountain in Cuba, the rewards on this trek are great. At clear moments, the views of Sierra Maestra mountain range are nothing short of spectacular, and walking through the upper reaches of the cloud forest, with its entanglement of vines, abundance of colourful epiphytes such as orchids and bromeliads, and strange looking mosses and fungi, can be a magical experience. The cloud forest seems to only get denser and more humid the higher you go.
The 1 night of accommodation during the trek is at the campsite La Aguada. When the clouds clear, the views from here are stunning, and you can get a good sight of the mountain peak that is your goal. Click here to read more about the accommodation conditions while on the trek.
| | |
| --- | --- |
| Grade | difficult |
| Total trekking time | 16.5 hours |
| Duration | 2 days / 1 night |
| Total trekking distance | 26km |
| Maximum altitude reached | 1974m / 6.476ft |
| Terrain | undulating, steep in parts, with lots of steps |
| Trail condition | well maintained with steps and handrails where needed, some rocky and muddy sections |
| Campsite | La Aguada |
| Guide | local trekking guide |
Comandancia de la Plata - Overnight
The second of the 2 trekking options is the hike to the Comandancia de la Plata. Now a museum, this was the head-quarters of the revolutionary army for nearly 2 years during the early days of the war against the Batista government. The trek includes visiting some of the several buildings at the Comandancia, including the medical hut where Che Guevara treated farmers and injured revolutionary fighters, as well as the building that was Fidel's private quarters.
This trekking option is less difficult than the trek to Pico Turquino, however the mountain views and scenery are just as breathtaking. With the visit to the Comandancia and the explanations and stories provided by the local guide, this trekking option is more interesting from an educational and historical perspective. While not as extreme as the Pico Turquino option, this trek is by no means an easy walk and still presents a substantial physical challenge, especially for those who do not lead a particularly active physical lifestyle. Despite tree cover for much of the hike, the humidity levels make for very sweaty conditions, and being in a sub-tropical cloud forest, rain showers are frequent.
The accommodation for the 1 night during the trek is at the campsite La Platica. Please click here to read more about the accommodation conditions while on the trek.
| | |
| --- | --- |
| Grade | easy / moderate |
| Total trekking time | 8 hours |
| Duration | 2 days / 1 night |
| Total trekking distance | 11km |
| Maximum altitude reached | 1500m / 4,920ft |
| Terrain | undulating |
| Trail condition | well maintained, some rocky and muddy sections |
| Campsite | La Platica |
| Guide | local trekking guide |
Comandancia de la Plata - One Day Hike
We start in Bayamo (or in Santiago) from your accommodation and drive about 1.5 hours to Santo Domingo. When we arrive at the entrance to the Turquino National park we meet our National Park local guide and take a 4WD to Alto del Naranjo. The walk is not very steep nor difficult for someone of average fitness level and it is a 1.5 km walk through lush green foothills to a small farm. Approximately 1 mile further past the farmers house is La Comandancia de la Plata.
Visiting Fidel Castro's rebel basecamp is a fascinating experience. Among the huts is a model of the mountain headquarters, the checkpoint control, the museum, various other items like medical equipment, pictures, maps and some other things.
Located up a very steep incline and an extra 40min return hike (optional), is Alto de Medina, and a small wooden house where Fidel lived with Celia Sánchez, his partner. Fidel never allowed anyone but Celia inside the shack. Here the Radio Rebelde broadcasting station transmitted from the cover of thick forest vegetation.
| | |
| --- | --- |
| Grade | easy / moderate |
| Total hiking time | 3 hours |
| Tour Duration | 1 days (6-7 hours in total) |
| Total trekking distance | 6 km return |
| Maximum altitude reached | 1500m / 4,920ft |
| Terrain | undulating |
| Trail condition | well maintained, some rocky and muddy sections |
| Guide | local trekking guide |
Campsites
Trekking Huts
Both trekking options involve staying for one night in one of the national park's campsites in trekking huts. These huts are simple multi-share wooden buildings, with up to 6 bunk beds per room. The capacity at each campsite is strictly controlled by the national park, and is 20 tourists per campsite. Each campsite has a team of staff including a cook and other park employees who work on trail and hut maintenance. These park employees stay in a separate hut. We share the huts with other hikers of both sexes and from different countries.
Bedding
Each of the bunk beds has a simple mattress. No pillows or sheets are provided, and only a few blankets are available. Considering the cool night time temperatures, which can reach as low as 5 degrees Celsius (40 degrees Fahrenheit), it is advisable to bring your own sleeping bag that is adequate for these temperatures, otherwise a sleeping sheet and a good blanket. There are no double / matrimonial beds - only single bunk beds.
Bathroom Facilities
There are basic toilet and washroom facilities at the campsites. These are in separate mini wooden shacks with cement floors. There is no running water, however there are fresh rainwater tanks from which you can fill buckets of water to bathe with. The toilets are long-drop design.
Meals at the Campsites
The meals provided by the campsite chef are served in a dining room with tables and chairs. The food is basic but fresh, fulfilling, natural, and made from local ingredients. Typically the meals consist of soups, pasta, rice and beans, fried plantains, and stewed meat. Jars of herb tea are also provided. The trekking organisation provides a total of 3 bottles of mineral water (600mL each bottle) per person during the trek. These will be supplied systematically at different times during the trek so that the trekkers don't have to carry more water than is necessary.
What you will need to bring for overnight treks
The following items are what we recommend you take with you on the trek. It's best to take as little as possible, and you will be able to safely leave behind another bag in Santo Domingo with your other belongings you have brought with you to Cuba.
Checklist
Sleeping bag, or sleeping sheet plus a blanket. The campsites do not have enough blankets for the capacity number of trekkers. Due to the cold night-time temperatures (down to as low as 5 degrees Celsius (40 degrees Fahrenheit), it is advisable to bring your own adequate sleeping bag, or an extra blanket. The campsites do not provide pillows, sheets, towels, soap, nor toilet paper.
Rain-jacket, rain-poncho, umbrella, or plastic sheet - to use while trekking during the day to protect yourself from the occasional but inevitable rain-shower. It is possible to use an umbrella, however this will make it more complicated for you to balance, support yourself, and negotiate the more difficult sections of the trek, since you need to use one hand to hold the umbrella. You will find that you use your hands quite a bit on the tricky sections to support yourself on the tree trunks and handrails, and even to grab exposed tree roots to help you get up and down the steep parts.
Warm clothes - to use during the afternoon and evening after you have finished trekking. Especially important is a thick dry pair of socks. You need to protect these clothes in a plastic bag within your backpack to ensure they don't get wet during the day.
A set of trekking clothes - shorts and t-shirt are appropriate as, on a fine day, you will feel hot and sweaty while trekking. These can be the same clothes for each day.
Walking shoes - hiking boots or running shoes can be used. Sandals and flip-flops (or thongs) are not recommended. If you use running or tennis shoes you must be prepared for these to become wet and muddy. It is not recommended to wear a new pair of shoes as these often cause problems with the feet not being used to them.
Snacks - You will be provided with main meals during the trek (breakfast, lunch, and dinner) however you will benefit from some extra food (or snacks) that you can eat while walking, to keep your energy levels up. In Cuba, there are limited options for this sort of food, so it will be easier if you buy this before you arrive in Cuba.
Small towel. The guest houses during the tour provide towels, however the campsite on the trek does not. It's important to bathe after finishing trekking for the day, and to get dry before going to bed.
Toiletry items. Since you will be carrying all your own belongings, it's best to bring as little as possible and share items if possible (such as soap, deodorant, toilet paper and toothpaste) with a travelling companion.
Sun protection - hat, sunglasses, and sunscreen. Much of the trail is in the shade of the forest, however there are some sections where you can get sunburnt on a fine day, if you don't take the necessary precautions.
Flashlight or torch. There is only limited electric lighting at the campsites.
Simple first aid kit. With essential items for things like foot blisters.
Good backpack. You will need to carry all of the above items by yourself on the trek. The national park has mules, however these are used to transport food and supplies to the campsites and there are not enough of these to be able to offer the service of carrying people's luggage. We recommend a backpack that has a waist strap that supports the weight of the pack. This will lesson the strain on your back.
Optional
Camera - either a water resistant camera, or protected by carrying it in a plastic bag.
Binoculars
Insect repellant. If you are particularly sensitive to mosquito bites you can bring some repellant. Since we will be trekking in the winter, there are less mosquitos.The mosquitos are also less active during the day when you will be wearing less clothing and more of your skin is exposed. Usually the only time mosquitoes are a factor is when you take a rest stop from trekking during the day in a heavily forested area. While you are on the move, the mosquitoes seem to find it harder to land on you.
Cover for your backpack. An impermeable layer that can cover your backpack will be useful to ensure the contents of your backpack don't get wet.
Cash. A small amount of money to be able to tip the trekking guide and the campsite chef if they provide excellent service.