Our Accommodation in Cuba
For our small group Cuba tours, we use private guesthouse accommodation almost all of the time. On some specific tours we also use a hotel on some nights.
Guesthouses in Cuba ("casas particulares")
Guesthouses, Bed and Breakfast, B&B, casas, casas particulares, family stays, and homestays - these are all names for the same type of accommodation in Cuba.
Many travellers discover that the guesthouse accommodation is a major highlight of their visit to Cuba. This is not just because of comfort levels, but also because the casas are generally run by local families and located in residential neigbourhoods, so they provide a great opportunity for travellers to interact with everyday Cubans.
Better than Cuban Hotels?
Guesthouse rooms are generally quite basic but reasonably comfortable and very clean, and the families in Cuba will try to make you feel at home as much as possible.
They are usually not as roomy as typical hotel rooms, however the casas are consistently rated by travellers, as more enjoyable than staying in hotels and about the same comfort level as perhaps a 3 star Cuban hotel. It's the level of service and personal attention in the casas that is generally far superior to the hotels in Cuba. This is because the casas are privately run, profit making enterprises that rely on word-of-mouth recommendations among travellers, so the owners and staff are highly motivated to provide the best service possible and the families take pride in their work. This is in contrast to government run hotels where the staff are State employees on a fairly low wage - the consequence of which is low staff morale, poor maintenance, inefficiencies, and generally poor service.
Variety is the Spice...
While every family and every casa in Cuba is unique, with slightly different levels of comfort, the guesthouses we use in Cuba on our tours are much nicer than the average Cuban dwelling. The casas particulares are a form of accommodation for foreigners in Cuba that is legal and formalised, and the rooms for guests are required to meet a certain standard of comfort for the house to obtain a State licence to rent. The owners pay a fee to the government for this licence and they also pay tax on their income.
Our guesthouse categories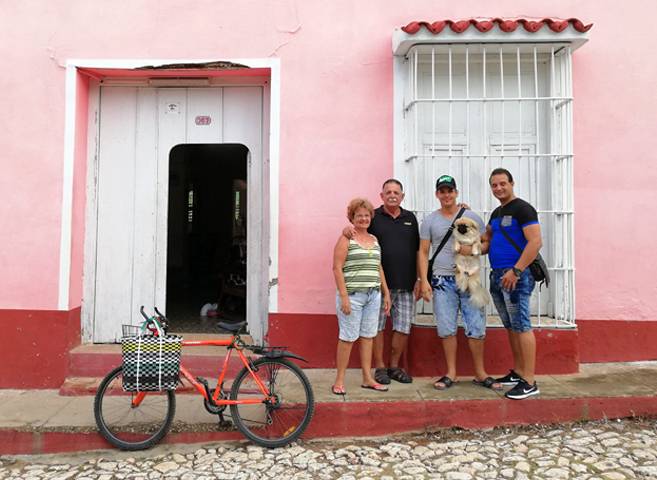 Standard Guesthouses - We use these on a majority of our regular tour departures. Within this category, the style and comfort levels can vary, however each room will have air-conditioning and an ensuite bathroom. We make ongoing efforts to select the best casas available, with every house and every room being unique. Our standard guesthouses are more likely to be run by a family, where the family members provide the services to the guests, therefore depending on the family and the province the standard will vary a great deal. Standard guesthouses & rooms in Cuba provide simple & safe, no frills style accommodation.
Comfort Guesthouses - This category is only slightly more comfortable than the Standard Guesthouses. They are still B&B in style, and cannot compare to the comfort levels of a modern western hotel. However every Comfort room has modern air-conditioning, an en suite bathroom, a window to the outside or to an interior courtyard with natural light, it also includes modern imported mattresses, and cold and hot water. While these are our minimum requirements for Comfort rooms, every Comfort casa is different, and has its own unique charms. Many rooms (but not all) have a security box, mini-bar fridge, and hair dryer.  We use these guesthouses for our Licensed tours for Americans and for our "Comfort Class" 9 Day Essential Cuba tour. Comfort Guesthouses are also an option for the private and custom tours we offer.
Premium Guesthouses - These are very stylish private guesthouses in Cuba, mostly in Havana. These properties benefit from a larger private investment and have interiors that sit far above the vast majority of private guesthouses in Cuba. Each of these properties is unique and the characteristics cannot be easily generalized. Premium guesthouses are obviously superior to the two above categories of standard & comfort style guesthouses and include as minimum all that a comfort guesthouse would provide plus good quality cotton linen, larger rooms with ample space, and modern appliances. Some of these places are truly inspiring in their decoration and levels of artistic charm. Since each of these places is different, their costs vary and are generally much higher than the other categories. 
We include these accommodations on private and custom tour packages and our Havana Short Stay packages. Here is a sample of casas in this category in Cuba to give you an idea of what we can provide, availability of premium guesthouses is limited.
Features of different guesthouse categories
| | | | |
| --- | --- | --- | --- |
| GUESTHOUSE CATEGORY | Standard | Comfort | Premium |
| Room size | Small / Medium | Medium | Unique medium to large rooms |
| Bathroom | En suite | En suite | En suite |
| Air-conditioning | Aircon units can sometimes be of the older variety which are not as silent. | Modern "splitter" type unit (quiet) | Modern ac unit (quiet) |
| Windows | Yes. However occasionally the only window is a small one and can sometimes be in the bathroom | At least 1 in every room – natural light | Yes, ample natural light |
| Hot water shower | Yes. Often this is with a system where the water is heated by an electric element in shower head. Sometimes medium to low water pressure | Modern hot water heater. Medium to high pressure | Modern hot water heater. Medium to high pressure |
| Stairs / access | Sometimes rooms are on upper floors where up to 3 floors of (sometimes narrow) stairs need to be climbed | On ground or first floor if no elevator access | On ground or first floor if no elevator access or a Porter is provided to assist guests |
| Towels | Provided, sometimes quite small | Provided, medium or large. Usually hotel grade | Top quality linen provided including towels and sheets. |
| Soap | Usually provided | Provided | Provided |
| Toilet Seat | Yes | Yes | Yes |
| Mattresses | Often Cuban made. Might be firmer or softer than your ideal. | Modern, imported | Good quality imported |
| Ownership / Staff | More likely to be run by a local family whose family members provide the services. Because of this, some travellers prefer standard casas to the comfort ones. | A few of these are run more like mini-boutique hotels where staff wear uniforms and interaction is more formal than in the standard guesthouses. | Similar to a boutique hotels where staff wear uniforms and interaction is more formal. |
Meals in the Guesthouses
Most guesthouses outside of Havana offer dinner for their guests at an extra cost. If it is a family run guesthouse, the guests are generally served meals separately to the family.
Language Barriers
Most Cubans are very friendly and love to talk to you. In some casas the family members speak quite good English, while in others they are practiced at communicating with their non-Spanish speaking guests simply by gesturing and smiling. Overcoming these communication challenges is seen by most as part of the fun!
Our Network of Guesthouses
With our experience using casas particulares on our tours in Cuba since 2005, we have developed a network of houses with excellent levels of comfort and service. These have been carefully selected over time taking into account our traveller feedback.
The Base House - explained
For the nights on our tours where guesthouse accommodation is included, we will most likely use a number of different houses depending on the group size. Most guesthouses have 2-4 rooms for guests. However with the recent change in laws, some homes now have up to 10 rooms.
For our tour groups, we chose one of the houses as a "Base House" or (central house) which typically has more rooms and a nice area for the group to meet. We use this house as an arrival and departure point for the group, and as a meeting point for any excursions or activities with the tour guide. Tour participants are distributed to different casas situated within a short walking distance of the Base House. Family members from those houses collect tour participants from the Base House. Typically between 1 and 4 group members will stay in each casa.
Sharing Arrangements on our Tours in Cuba
All accommodation on our tours in Cuba is based on a twin-share arrangement. This means two people per room, and if you join the tour as an individual, you may be sharing a room of two beds, with another member of the same sex from the group.
If there is no one to share with, and you end up with a room to yourself, you do not have to pay a single supplement.
If you would like to guarantee yourself a single room throughout your tour, you can purchase the single supplement.
If you do not purchase the single supplement but at some stage during the tour you decide you want to have a room to yourself, your guide may be able to arrange this for you at a cost of 25-50 EUR / night (paid locally) depending on the type of accommodation. However, this is subject to availability at the time of your request.
Tour Single Supplement Prices
See the individual tour pages for more information.
Travellers' comments about guesthouse accommodation on our tours in Cuba
You can see actual comments from our travellers about their experiences staying in guesthouse accommodation in Cuba while on one of our tours. Please visit our travellers comments page.
Joining and Departure Accommodation for Your Tour
You can see details of the joining and departure accommodation for each tour on each individual tour page.