€1330 EUR
Itinerary Summary
December 22
Arrival Day Havana

December 23
walking tour of Old Havana
December 24
Santa Clara
evening at the
Parrandas de Remedios
December
25, 26, 27
Trinidad
Christmas group dinner party
December 28
Cienfuegos
December 29
Viñales
via Bay of Pigs
December 30
Viñales
December 31
Havana
via Soroa
New Years Eve party
January 1
Departure Day
Tour Description
Among other things, "Rumba" in Cuba means party, and this tour is the best way to party in Cuba over the festival period. It includes one of the Cuba's most lively and traditional festivals - the Parandas de Remedios, a Christmas feast in the beautiful city of Trinidad, and a special night in Havana for New Years Eve, with a spectacular non-stop immersion in Cuba's music, dance, and carnival spirit.
Tour Summary
Itinerary Details
December 22 - Arrival Havana
Today is the arrival day of the tour, and participants are free to arrive any time. Check-in to your Havana guesthouse, go and explore the city, and socialize with the colourful and friendly Habaneros. There are no planned activities until the evening when the tour guide will meet with those who have already arrived, and from there go out to dinner and beyond.
December 23 - Havana
Today we include a walking tour of the historic center of Old Havana. The afternoon is free time for you to chose one of the optional activities, or to do some of your own adventuring.
December 24 - Santa Clara/Remedios
The Parrandas de Remedios festival is the oldest and one of the most lively traditional festivals in Cuba. Anyone who has seen it can tell you just how crazy it is! We arrive here just in time for the big finale night of celebrations, which are late at night on Christmas Eve.
The celebrations center around a traditional rivalry between 2 carnival groups that try to outdo each other with their music, dance, song, float display and fireworks display. The streets can get quite crowded, so we provide the option of watching on from the roof terrace of a house that we hire for the night. From Havana it's a 4 hour ride on our private tour bus to Santa Clara. We stay here in a simple hotel on the outskirts of the city, and from here it is about 40 minutes to Remedios. Before going to the festival, we should have time in the afternoon for a rest or a quick walk around Santa Clara, where there is a huge statue of Ernesto Ché Guevara.
December 25, 26, 27 - Trinidad
Trinidad is famous for its beautiful historical town center with cobblestone streets and many beautiful colonial buildings. Nearby is the Valley of the Sugar Mills and quite a nice Caribbean beach called Playa Ancón. Scuba diving, snorkeling, swimming in waterfalls and horse-riding are other optional activities.
The nightlife in Trinidad is probably one of the most enjoyable things about Trinidad for many visitors. There are plenty of small venue live music venues with some excellent traditional Cuban music on offer. There are also dance peformances of varying quality everyday of the week. One of the best venues is a disco in a cave on a nearby hillside.
We include a special Christmas group dinner lovingly prepared by our guesthouse hosts.
December 28 - Cienfuegos
A couple of hours scenic drive along the Caribbean coast brings us to Cienfuegos, which is known in Cuba as La Perla del Sur ("the pearl of the south"). It's a French founded city with a wide Parisian-style boulevard and elegant colonnades, giving it a European flavor. There is an ambience to inspire Cuba's most celebrate Son singer to write the words "Cienfuegos is the city I like best". He was born nearby so I guess that helped. The spectacular peninsula that protects the bay is a great place to try the local public transport - horse carriage - and to stroll and meet the locals. Again, there is plenty of nightlife within a short walk of our centrally located accommodation.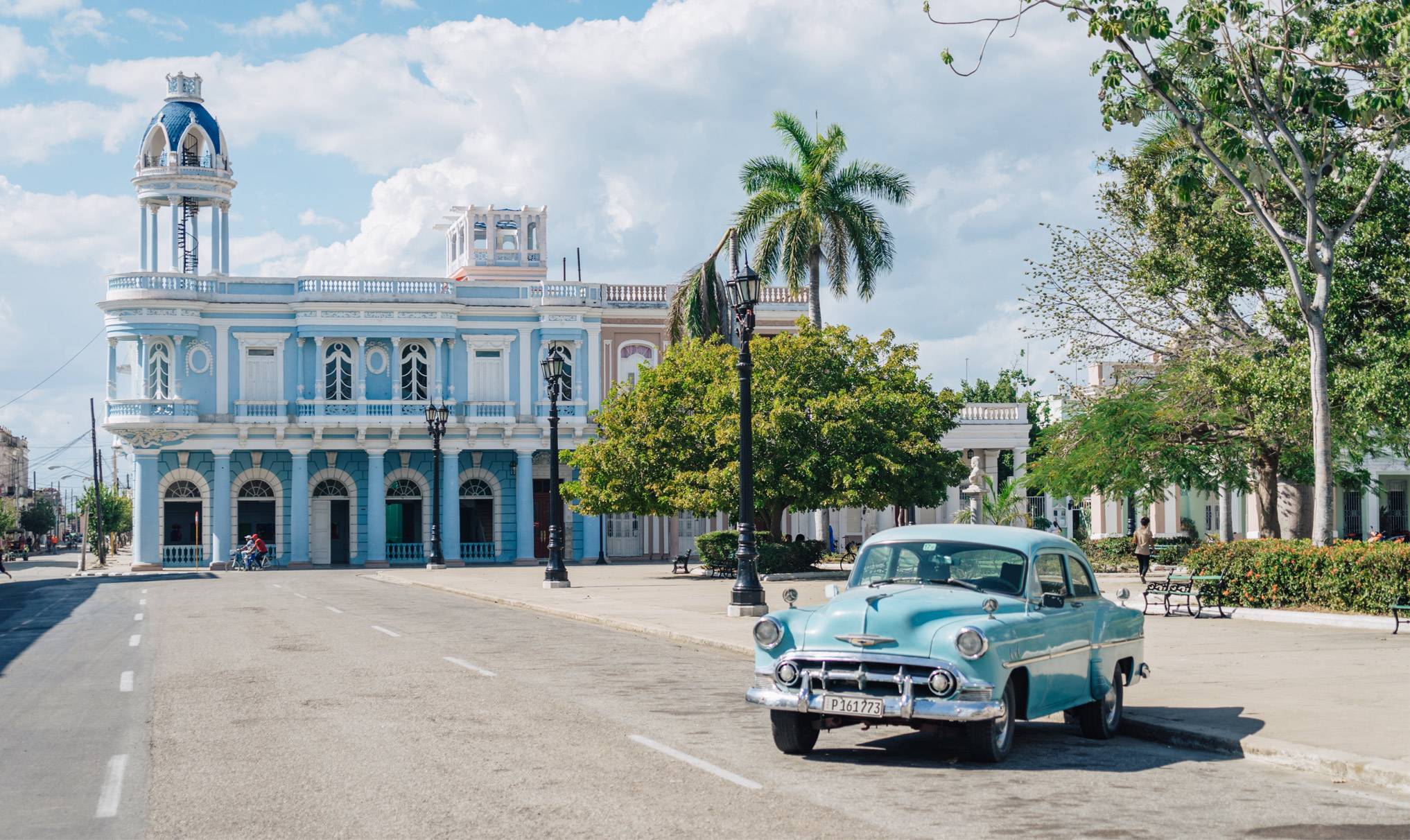 December 29, 30 - Viñales
It's a day-long bus ride to Viñales. En route we drive along the Bay of Pigs, the scene of the CIA backed military attack on Cuba's Revolution in 1961. There are some great places for snorkelling we can stop at along the way. Upon reaching Viñales you find yourself surrounded by picturesque limestone pincushion hills ("mogotes"). This small and culturally rich village, offers friendly and welcoming residents, and wide variety of outdoor activities including: caving; hiking; cycling through the valley; and horseriding. Vinales has a lot of small organic farms, and the local produce from these is very fresh and tasty, such as mangoes, avocados, pineapples, papayas, guavas, taro and other type of sweet potato called boniato. There is a pretty lively tapas bar that is new to Vinales, but the main night spot where all the locals go is right on the main square of the town. There is a live band as well as dance performances every night. It's one of the best spots in Cuba to join in and dance with the locals who are very friendly and happy to meet visitors.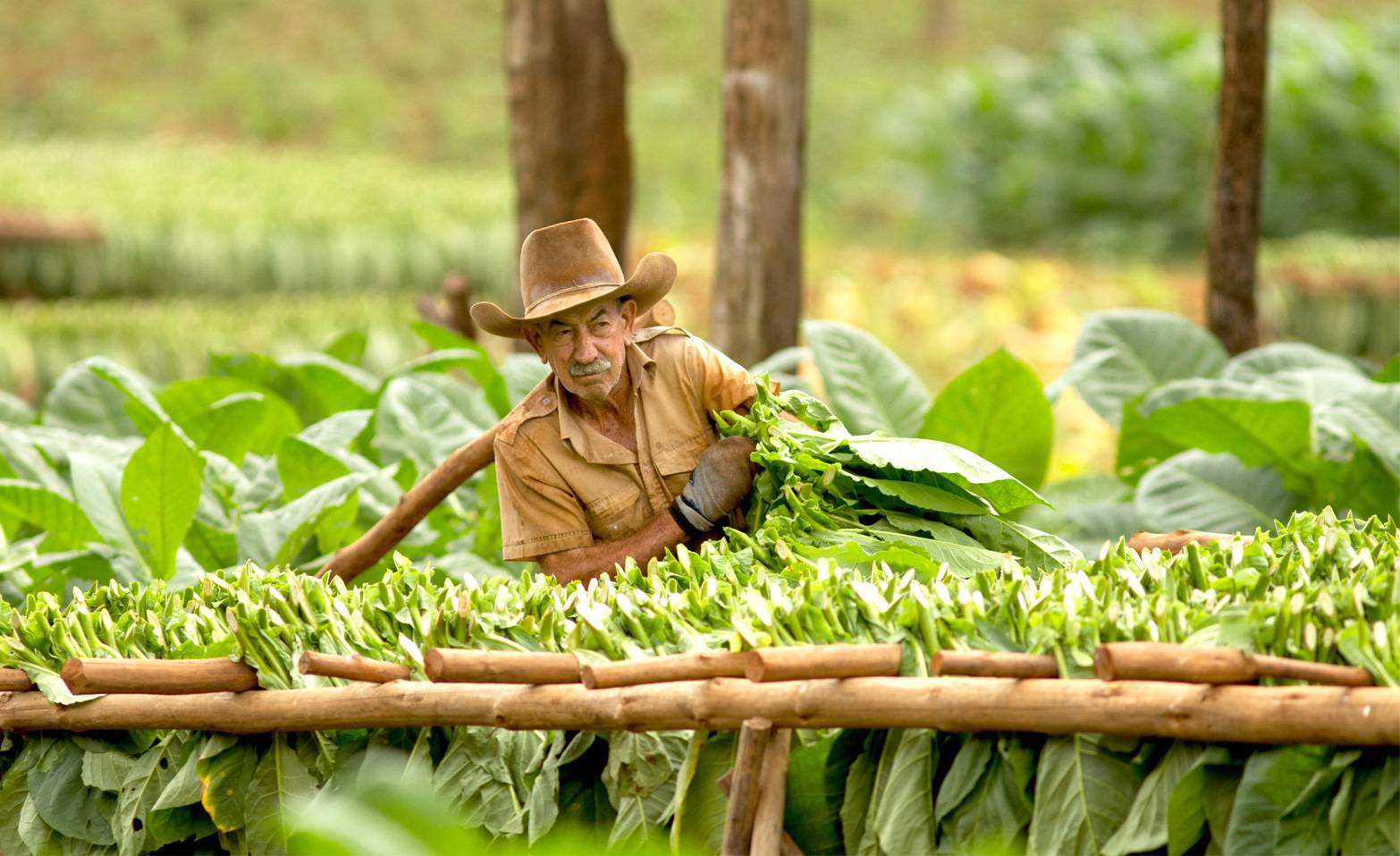 December 31 - Havana
On our way back to Havana we will stop off at the mountain resort town of Soroa where you can check out the orchid garden, hike to a waterfall, or climb up a steep hill for a great view of the surrounding forested area.
On arriving in Havana, you'll have time to freshen up before attending the included New Year's Eve event, which is the large official dinner party in the Cathedral square in the heart of Old Havana. The dinner includes an open bar and a cabaret style dance and music show performed on a purpose built stage for the event. After the show there is more music, dancing and general revelry, and of course the count down to midnight.
Here are some Photos of the NYE party in the Cathedral square from previous years.
January 1 - Departure
Today you are free to depart at anytime.
Summary of Travel Times
| | |
| --- | --- |
| Havana to Santa Clara | 4 hours |
| Santa Clara to Remedios | 40 minutes |
| Santa Clara to Trinidad | 4 hours |
| Trinidad to Cienfuegos | 2 hours |
| Cienfuegos to Viñales | 9 hours |
| Viñales to Havana | 4 hours |
Arrival and departure accomodation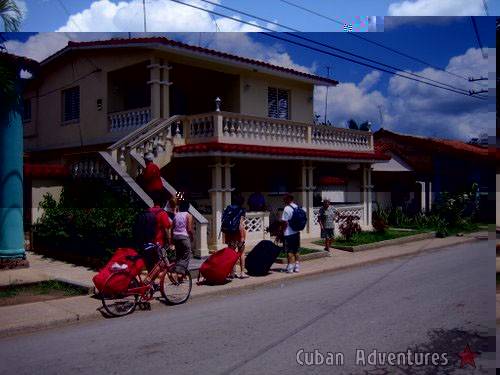 The first and last nights of the tour in Cuba are programmed in centrally located guesthouse accommodation. You can request extra nights after the tour in the same guesthouse, on the booking form. Click here to see prices.
Click here to see other accommodation options we offer in Havana for before or after the tour.
Spending money
We estimate you will need between €420 and €700 EUR (€420 and €700 EUR) for local expenses during the tour, such food and optional activities. Click here to see details of expenses you will have while on the tour in Cuba.
Not included in the tour
Visa and passport fees
Insurance (Travel Medical Insurance is required to participate on the tour)
All meals (except for 2 dinners and 10 breakfasts)
Drinks
Optional activities / day-tours / excursions
Airport departure transfer
Traveller Reviews
Explainer: Why are there no Cuba tours on tourradar?
Flexible Bookings!
With our flexible bookings policy, you can book your place on a tour for only $100 USD and change your departure date anytime at no cost. Read more...
Tour Dates & Availability
Dates open for bookings. No reservations made yet for these departures. Minimum 2 travelers required to guarantee departure
One traveler is booked on the tour, only one more is needed to guarantee.
These tour groups are guaranteed to depart and space is still available.
Group is full, however not all travellers have confirmed, so there is a chance space may become available.
Special Event included in this tour.
Tour Dates
Places
Available
Price EUR
per person

Guaranteed

Dec 22 - Jan 1, 2024

December 22 - January 1, 2024

Guaranteed to depart

8 places

available

€1330

€1330 EUR

Book Now

Available

Dec 22 - Jan 1, 2025

December 22 - January 1, 2025

No bookings yet

10+ places

available

€1330

€1330 EUR

Book Now
Alternatives
Your travel dates don't match?