Blog your way to Cuba competition
The competition has been concluded - The winner's have been announced!. Click here to see who has won the 3-week trip to Cuba.
Cuban Adventures has teamed up with Virgin Atlantic to give you, and one friend or partner, the chance to blog your way to Cuba! If you've always wanted to visit Cuba (or if you've already been there but are itching to go back) here's the perfect opportunity to jump on a 3 week trip worth over US$6000 that will take you all over the Caribbean's most exciting island.
Tell us why you want to go to Cuba and win a trip that will take you the length of Cuba, from the fascinatingmetropolis of Havana, to Cuba's music capital of Santiago, to the beautiful nature that surrounds Baracoa and Viñales. Plus experience a whole host of unique and unexpected encounters that are part and parcel of every one of our tours in Cuba.
How Do I Win?
All you need to do to be in with a chance of winning, is blog 10 reasons as to why you and your blogging partner should travel to Cuba for 3 weeks.
You can use, photos, videos, words, or anything inventive and interesting that you think will catch the attention of judges. Once you've published your blog, mail the link of your entry to cuban.adventures@gmail.com, between now and October 31, 2014 for a chance to win.
What Do I Win?
The overall Winner will receive:
2 Return Tickets - from London to Havana economy class with Virgin Atlantic airlines.
2 tour places - on a departure of the Cuban Adventures 20 day Complete Cuba Tour.
2 nights of extra accommodation - (either on Cayo Levisa, or in homestay in Havana, or a combination of both) to complete the 3 weeks experience.
2 Cuban Tourist Cards - for entry to Cuba ('visas').
Airport arrival and departure transfers - to/from Havana airport to join and depart the tour.
What is a Blog?
A blog is like a web page that you publish yourself. It can be just one page or a series of pages, like a travel journal where you make a post for every day of your trip. Here is an example of my blog about my trek to Cuba's highest mountain - Trekking to Pico Turquino. If you have never done a blog before, it is quite simple to learn. Here is a instructional guide I made - Beginners Guide to Blogging.
What are the key dates?
Entries close - Friday 31 October, 2014
Finalists announced / Facebook voting commences - Wednesday 5 November, 2014
Voting closes - Friday November 14, 2014
Winners announced - Monday 17 November, 2014
How does the judging work?
The management team at Cuban Adventures will read all the blog entries and create a "long list". After lengthy discussion, debate (perhaps even heated argument) and re-reading, the finalists will be selected. The finalists will be asked to submit their post-trip content proposal to Cuban Adventures. The blog entries that are selected as finalists, will be loaded into a poll application on the Cuban Adventures Facebook page. The public will be asked to vote for their favourite blog entry. The results of the public poll and the strength of the post-trip content proposal will be taken into account by Cuban Adventures management to decide the overall Winner.
Competition Terms and Conditions
Entry into the competition is deemed acceptance of these conditions of entry.
This competition is open to people of all nationalities that can legally travel to Cuba, and are able to get to London to fly from London to Havana return, see Travel Visas for Cuba information for information regarding this. If the Prize Winner choses to forfeit the flights from London to Havana and just accept the tour prize, this is allowed, however the value of the flights is not redeemable.
Competition entries close on Friday 31 October 2014. The finalists will be announced Wednesday 5 November 2014. The voting period for the finalists will run from Thursday November 6 until Friday November 14. The winning blog will be announced on Monday 17 November 2014.
To accept their prize, the Winners will need to be available to travel to Cuba for 3 weeks sometime during 2015, and within 1 year of being announced as the Prize Winner of the competition.
Flight tickets are economy class and cannot be upgraded to any other class. The flight tickets need to be redeemed within 12 months.
The flights and tour package are subject to availability (peak seasons such and Christmas holidays and bank holidays must be avoided) and the dates of travel must be arranged at least 14 days prior to travel - the longer notice you give us the more chance we are able to claim space on the Virgin Atlantic flights and on the tour in Cuba.
The flight tickets are only valid for the London to Havana route with Virgin Atlantic and are non transferable to any other airline, including any of Virgin Atlantic's partners.
Where travel dates have been finalised and a flight cancelled by Virgin Atlantic for any reason, the flight will be re-credited. However any extention on the period of use will be at the sole discretion of Virgin Atlantic.
All flight taxes and surcharges are inclusive.
A blog may be deemed inappropriate or not eligible to enter due to inappropriate content.
Finalists will be selected subjectively by Cuban Adventures management, and judging will be primarily based on the quality and content of the blog entry, and the entrant's social media presence.
Finalists will be asked to submit a proposal as to what they will provide for us, in terms of web and social media content after the trip (photos, videos, blogs, etc).
The overall Prize Winner, will be selected subjectively by Cuban Adventures' management. Selection factors include the result of the voting poll hosted on the Cuban Adventures Facebook page, and the value of the entrants' post-trip content proposal.
The decisions made by the judges are final, and there will be no revision of this decision.
Cuban Adventures' management will not enter into discussion around why a blog didn't qualify as a finalist, or win.
If you enter the competition, you allow Cuban Adventures the right to use any or all of your entry submission in any of its publications, websites and/or in any promotional material connected to this competition or future competitions, without rights of payment to the entrant.
The overall Winner will receive: 2 places on a departure of the Cuban Adventures 20 day Complete Cuba Tour (the standard Local Payments totaling 450cuc per person are not payable)*; 2 nights of extra accommodation (either on Cayo Levisa, or in homestay in Havana, or a combination of both) to complete the 3 weeks experience; 2 return economy class tickets from London to Havana with Virgin Atlantic; 2 Cuban Tourist Cards for entry to Cuba ('visas'); Airport arrival and departure transfers from Havana airport to join and depart the tour. *Not included are passport fees, travel insurance, meals (apart from all breakfasts), drinks, tips, optional activities/day-tours/excursions, airport departure taxes (25CUC/person), and excess baggage fees.
If you are the Winner, you must take out your own travel insurance for the trip.
The Winner and their companion are entirely responsible for their own passport and insurance requirements.
If the prize is not redeemed, no alternative flight tickets will be issued and no compensation will be provided
The Prize Winner must travel on the same flights and on the same dates as their companion. If the Prize Winner wishes to travel alone, the companion flight ticket and tour space will be forfeited
The Winner assumes the risks of the trip and releases Cuban Adventures from any liability for any damage, loss, death, injury or cost sustained by the Winner in relation to the trip including during the trip and agrees to the Cuban Adventures tour terms and conditions.
Competition Terms and Conditions may be modified or updated at any time. Any alteration to the Competition Terms and Conditions can be found on the this web page.
Winners will need to provide Cuban Adventures with their personal details, including their postal address so that they can receive their Cuban Tourist Cards
The prize is not exchangeable nor transferable, and cannot be redeemed for cash.
Employees, contractors, service providers, or anybody directly involved, or previously involved or engaged with Cuban Adventures in providing services, is not eligible for entry. However travellers who have participated in a Cuban Adventures tour in the past as clients, and who wish to return to Cuba, are eligible for entry.
If for any reason the competition does not run as planned, including due to infection by computer virus, bugs, tampering, unauthorised intervention, fraud, technical failures or any other causes beyond the control of Cuban Adventures, which corrupt or affect the administration security, fairness or integrity or proper conduct of this promotion, the promoter reserves the right in its sole discretion to disqualify any individual who tampers with the entry process, take any action that may be available, and to cancel, terminate, modify or suspend the competition. In the case of the intervention of any outside agent or event, which naturally changes the result or prevents or hinders its determination, including but not limited to vandalism, power failures, tempests, natural disasters, acts of God, civil unrest, strikes; Cuban Adventures may in its absolute discretion cancel the event and recommence it from the start on the same conditions.
Important note about the style of our tours - Our tours use mostly homestay accommodation. While this means that the trip is not a luxury experience, it does provide you an unmatched opportunity to meet everyday Cuban's and learn about their culture and the unique society they live in. Competition entrants and Prize Winners are aware of our grass-roots style of travel and recognize that we do not provide luxury style accommodation or transport.
If the Prize Winner prefers only a 2 or 1 week trip to Cuba, this will be allowed, however there will be no refund for missed services, or difference in prize value.
The Competition Entrants
We received a number of high quality entries to the blog competition, and many of the below entries can be considered quite unlucky not to go further in the competition. Unfortunately we couldn't give first prize to all the entrants, however consolation prizes, consisting of tour discounts, were offered to the below blog entries that we considered to be very impressive (in random order).
We are very grateful to everyone who participated in the competition, especially those who went to a great deal of effort and didn't come away with a prize. We hope you enjoyed the process and if you haven't yet visited Cuba we hope you get the opportunity one day soon.
For you all to enjoy, here is a nice poem that was included in a blog entry by Huascar
I love to scuba in Cuba
its sea shining like a tuba
and onshore when it is fiesta
I go to party after a nice siesta.
The Winners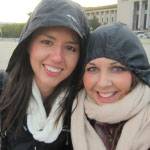 Cuban Adventures is pleased to announce the winners of the Blog your way to Cuba Competition in this 2014 edition. Congratulations Maria and Petra!
The winners prize is a 3-week trip for 2 to Cuba. They will join one of our 20 day Complete Cuba Tour departures, and receive return flights from London to Havana with Virgin Atlantic airlines.
In their post-trip online content proposal, Maria and Petra came up with a very promising idea that we expect will raise the profile of our business and give us big gains in market exposure. The details of the project are under wraps for the moment, however if you stay tuned to our social media channels, you will surely hear about it in the coming months.