8 Day Original Tour for Women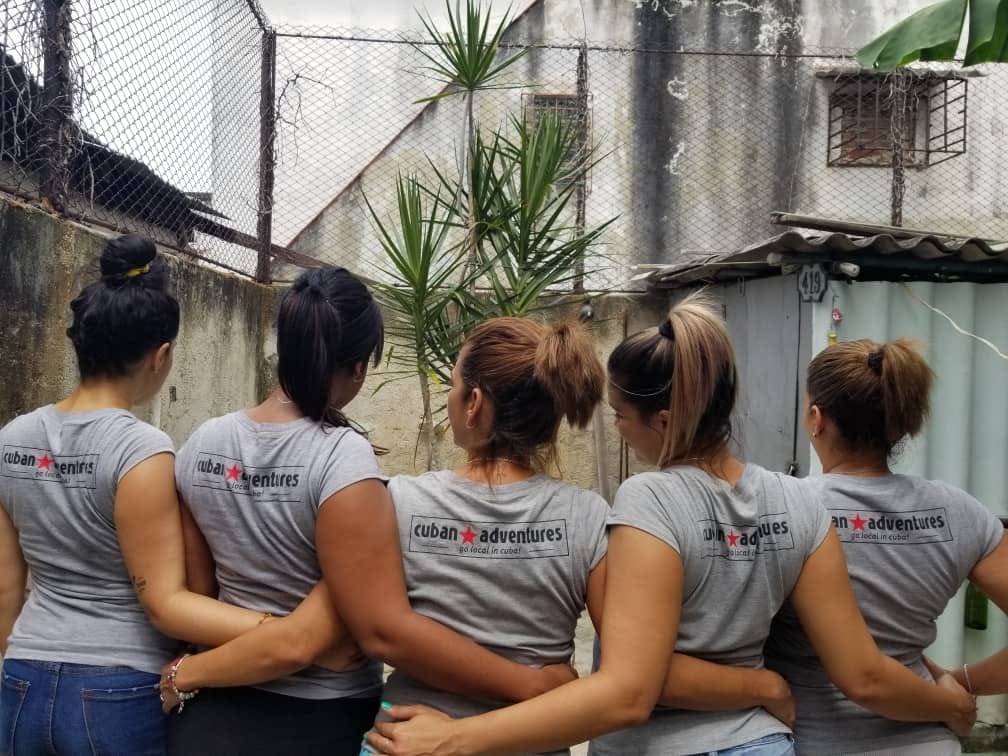 Itinerary Summary
Day 1
Arrival day Havana

Day 2,3
Viñales
Day 4
Cienfuegos
via Bay of Pigs
Day 5,6
Trinidad
Day 7
Havana
via Santa Clara
Day 8
Departure day
Awarding Winning Tour

The 8 day Original tour is the only tour in Cuba to win tourradar's Tour of the Year for Latin America. Tourradar is a popular tour review site, and our 8 day tour won this award 3 years in a row (2016, 2017 and 2018).
Booking Options
Tour description
Looking for an empowering dose of feminine solidarity? Visit Cuba on this is an all-female tour, run by women for women and with a focus on Cuban women. This tour will give you the opportunity to meet and interact with many of the strong female entrepreneurs and artists that are a source of inspiration, wisdom, and laughter. Additionally, you will experience Cuba with other like-minded female travellers, it's an opportunity not only to learn the local culture but also about the other people on your tour. Our inspiration? We are proud that women make up the majority of management positions in our company, and we felt it was time to celebrate all the amazing ladies that make up part of our team and the local culture and economy.

This tour follows the most popular award winning 8 day Original tour itinerary (just with a few extras thrown in!). Your tour leader (guide) will be one of our many female guides, they are all highly-rated, a wealth of information, and super fun. As much as possible, the casa particulares we stay in and the restaurants that we recommend will be women-owned.

Throughout the tour we will meet some extraordinary Cuban women of all generations - restaurant/cafe/bar owners, local craftswomen, women in the Arts, and entrepreneurs. All specialty activities will be optional, and paid locally. In some cases, there may be an activity fee, or a donation request, or just an opportunity to purchase products at the women-owned business. Some examples include:
Visits with clothing and jewellery designers
Meet prominent local artists and gallery owners
Learn about independent magazines focusing on entertainment, style, and women's issues
Enjoy a special menu from a highly respected local chef
Visit a recording studio to hear music from local artists
Note: This tour can meet the requirements for general license travel, please request general license assistance in comments section of your booking form.
Tour Summary
| | |
| --- | --- |
| duration | 8 days / 7 nights |
| group size | Minimum 2 / Maximum 16 / Average 12 |
| accommodation | Women-owned Cuban Guesthouses. Rooms are air-conditioned with ensuite bathroom. Twinshare. |
| single supplement | Single Room for the tour - $320 AUD extra (read more) |
| transport | Private air-conditioned transport throughout: mini-bus, micro-bus, or taxi depending on group size |
| activities included | Walking tour of Old Havana, Che Guevara Museum. We will offer several special optional activities on this tour that will support women-owned initiatives and allow for fun local interaction |
| other inclusions | 7 breakfasts, airport arrival transfer, local guide throughout |
| suggested combinations | Combine with the Eastern Cuba Short Stay, or a Beach stay package! |
| Can Americans join this tour? | Yes! This tour forms a great base for a legal trip to Cuba. Read more about how to make your trip to Cuba legal. |
Itinerary Details
Day 1 - Arrive Havana
Havana has to be one of the most exciting cities in the world. It's definitely intriguing and unique. Your included airport arrival transfer will take you to your Havana guesthouse for the first night. If you arrive early today, you'll have time to do some exploring on your own before meeting the rest of your tour group, and your tour guide, tonight. Your guide will leave you a note at your guesthouse with details about the group meeting time and place. Your accommodation in Havana for the tour will either be in Old Havana, Central Havana, or Vedado. The neighbourhoods of Old Havana and Central Havana are some of the places where you will feel Cuba at its most intense - narrow streets with old crumbling buildings and full of locals who are not placed there for the tourists but rather because this is their home. You will see them working, going to school, socialising, and going about their daily lives. Simply wandering the streets will give you a new experience and fill you with many questions about how Cuba functions as a country. Vedado is another interesting part of Havana where there is a concentration of restaurants, bars, majestic mansions, and historic mafia built hotels.
The tour package itself does not include much time in Havana, so we recommend that you book an extra night or two in Havana, either before or after the tour. After the tour is probably preferable, as by then, you will have learnt a bit about how things work in Cuba and how to get around. Plus you'll have the chance to talk to your tour guide and get some recommendations of what to do and see in Havana. When you book the tour you can request these extra nights on your booking form.
For dinner the tour leader will suggest a women owned and operated paladar (private restaurant).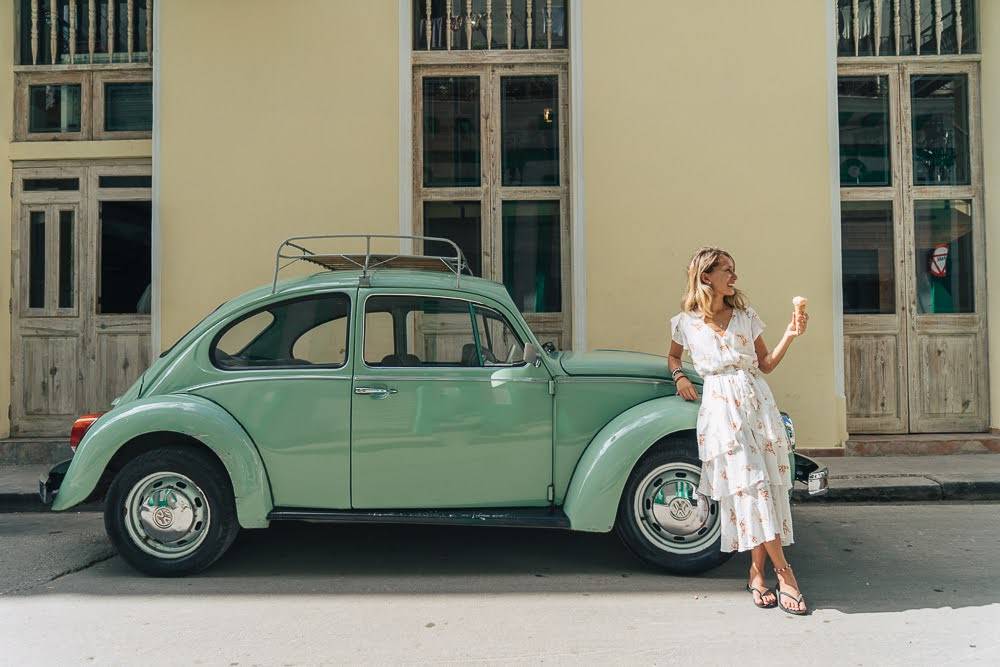 Day 2,3 - Viñales
Before departing Havana, we have a guided walking tour of the historic center of Havana (approx 2 hours). During this tour we will have our first opportunity to visit a women owned designer clothing boutiques, Dador and Clandestina.
From Havana to Viñales it's about a 4 hour drive, and on the way we usually stop for lunch. Surrounded by picturesque limestone pincushion hills ("mogotes"), Viñales is a small and culturally rich village, with friendly and welcoming residents and wide variety of outdoor activities available. Exploring caves, hiking, biking, horseback riding or simply enjoying the views of the valley and sprawling tobacco fields below are all options. Viñales is one of the more agriculturally productive areas, so an abundance of local seasonal fruit and vegetables is always on offer such as enormous avocados and mangoes, pineapples, papaya, guava, and a several varieties of sweet potatoes. It's one of the cooler areas of Cuba, so it's also a nice escape from the hotter parts of the country. The nightlife is very active in this village with the local residents more than willing participants in dancing to the local live music. Here there is a whole street of women-owned casa particulares, and you will have the opportunity to take a dance lesson at a private salsa school.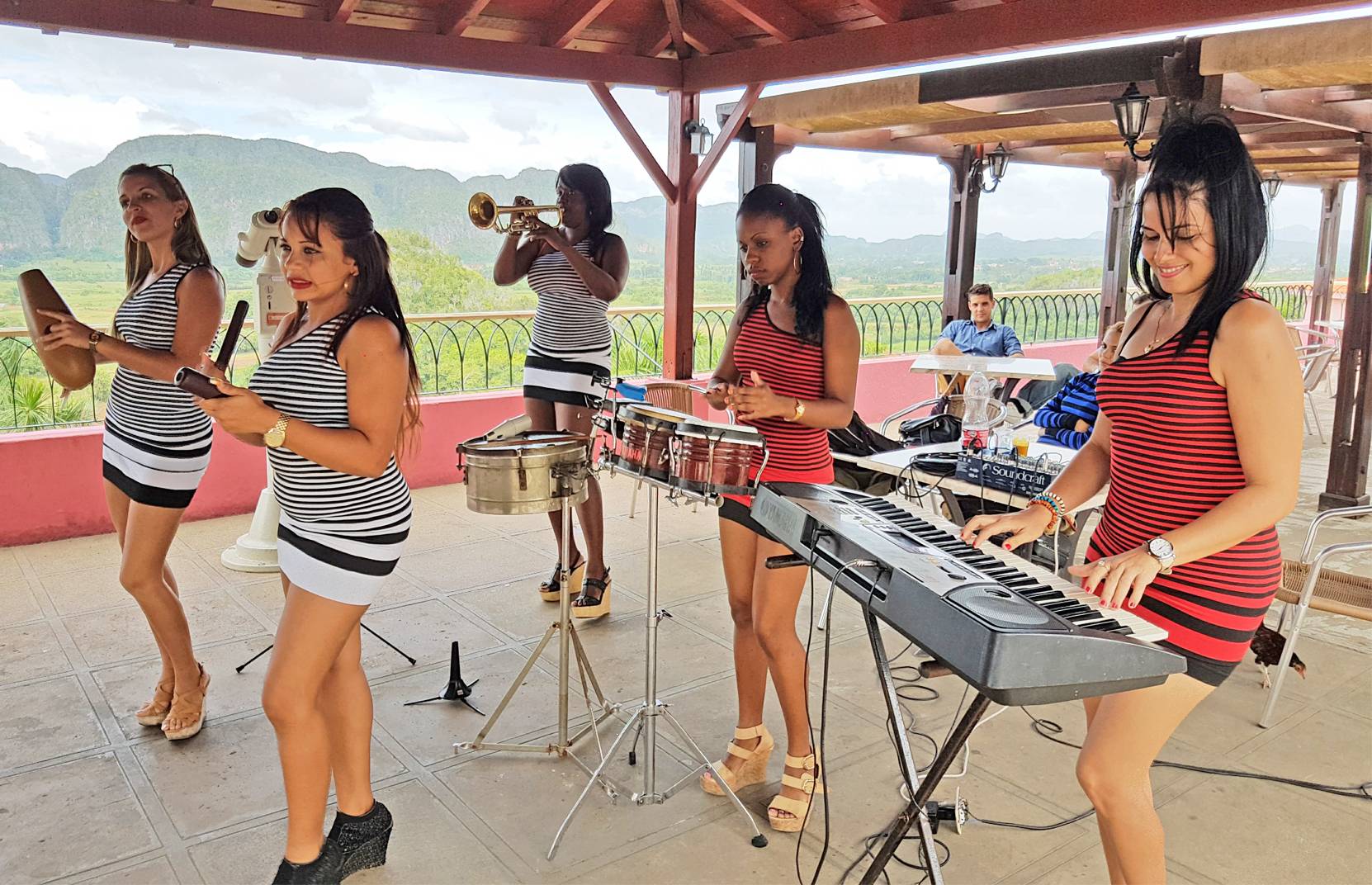 Day 4 - Bay of Pigs / Cienfuegos
We head back past Havana to the French founded city of Cienfuegos through the densely vegetated Peninsula de Zapata swamp-lands, and along the beautiful Bay of Pigs. This is where the landing of counter-revolutionary exile militia occurred in 1961. There is a museum here that recounts the events of this conflict which resulted in the first defeat of a U.S backed take-over in Latin America. We will also make stops at a beautiful swimming hole (cenote) which resembles a huge natural tropical fish tank, and if the conditions are favourable, at beach for snorkelling.
Cienfuegos appeal lies partly in the European flavour of its colonial hub, with a wide Parisian-style boulevard and elegant colonnades, and there is an ambience to inspire Cuba's most celebrated Son singer to write the words "Cienfuegos is the city I like best".
In Cienfuegos we'll have coffee with Lily, our local coordinator and enthusiastic ambassador for her hometown.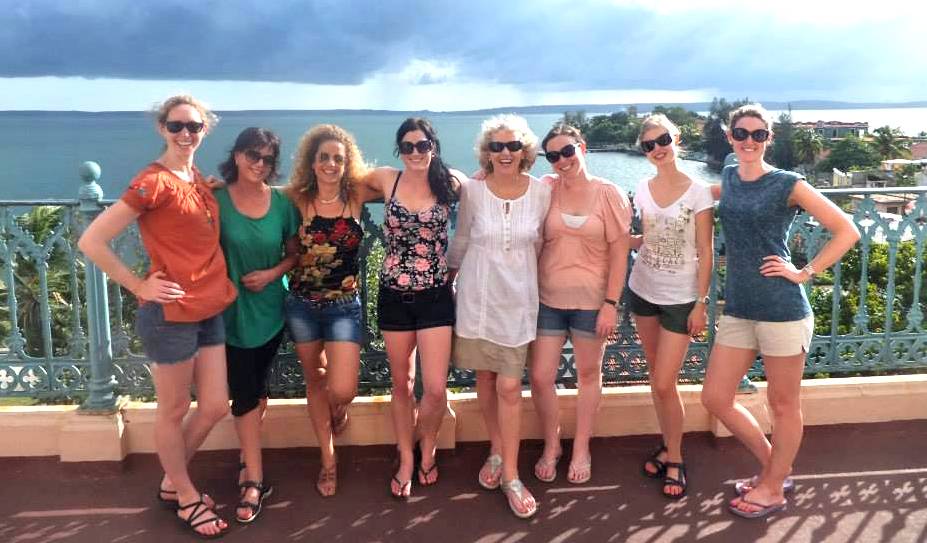 Day 5,6 - Trinidad
For many visitors to Cuba, Trinidad is their standout favourite destination. No other colonial city in Cuba is so well preserved, and the local residents are extremely friendly and festive. Trinidad is steeped in religiosity, none the least of which is Santeria, which is one of several Afro-Cuban religions.
The thing however that visitors most love about Trinidad is the nightlife. There are no less than 10 live music venues all within a short walking distance. Many of these have lovely outdoor settings, in courtyards, and within the walls of old colonial ruins.
Not far inland is the Valley of Sugarmills. This area of rich fertile soil is where the Trinidad colonists got most of their ludicrous wealth from. A 10 minute drive in the opposite direction will get you to a beautiful calm Caribbean beach called Playa Ancón. If the weather is fine, your tour guide might propose a dinner bbq here to witness the sunset over the ocean. Other optional activities in Trinidad are snorkeling, scuba diving, and a popular trek to a waterfall where you can swim in the fresh clear water spring.
In Trinidad we have the opportunity to meet many female artisans. Local specialties include delicate embroidery and ceramics. We will meet Dady, our local day tours coordinator, and pay a visit to an artist gallery.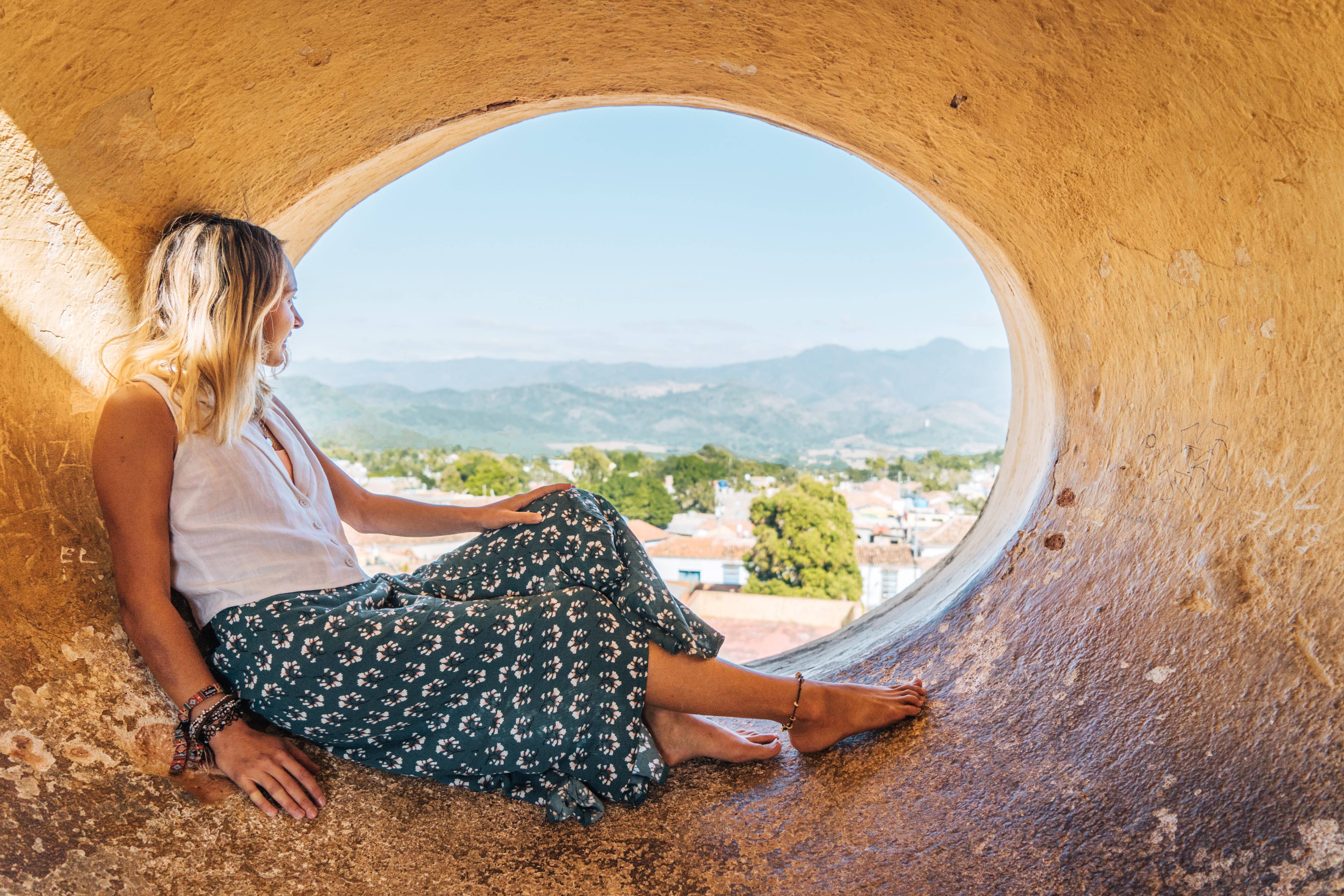 Day 7 - Havana
On the way back to Havana we stop in at the town of Santa Clara, a key city in the Cuban Revolution. Upon entering Santa Clara, there is a huge statue of Ernesto Ché Guevara, to commemorate his death and that of the revolutionaries who died along with him in Bolivia. There is also a museum here dedicated to his amazing life
It's one final night of the tour in Havana, and your tour guide will have some suggestions for a farewell dinner and fun night out, perhaps at the Fabrica de Arte Cubano which always features excellent female artists in its gallery and performance space, or maybe a live show with one of Cuba's talented musicians.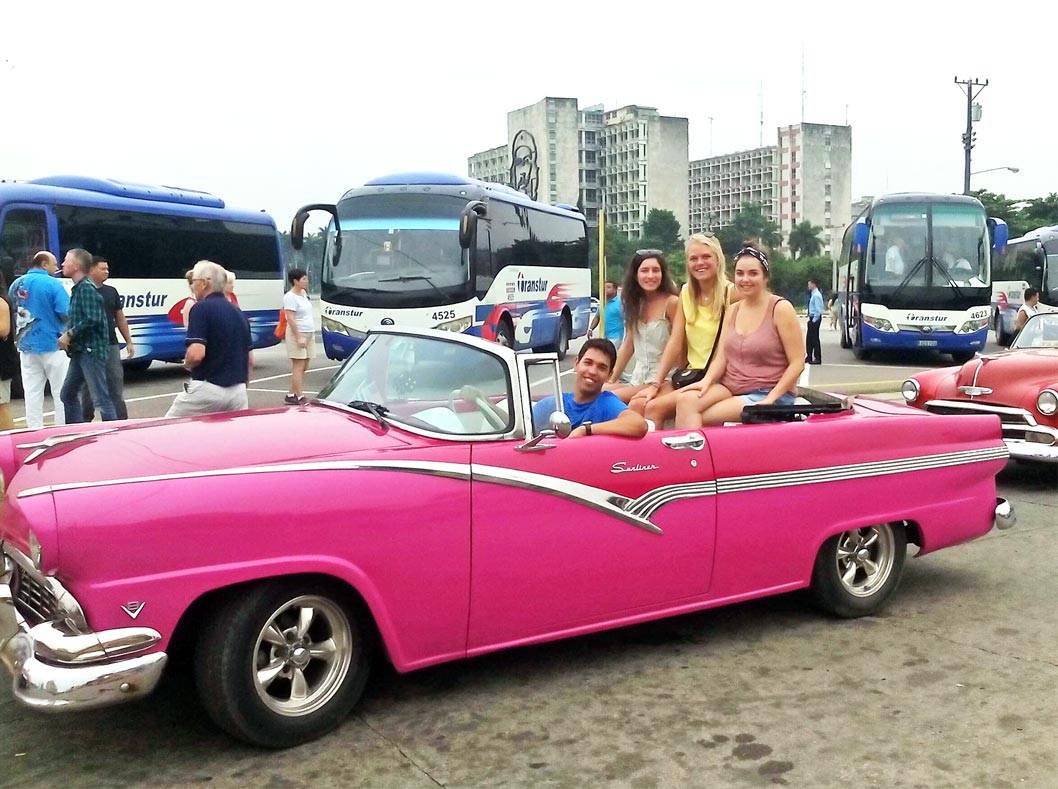 Day 8 - Depart Havana
Today you are free to depart at anytime.
Summary of Travel Times
| | |
| --- | --- |
| Havana to Viñales | 3 hours |
| Viñales to Cienfuegos via Bay of Pigs | 8 hours |
| Cienfuegos to Trinidad | 3 hours |
| Trinidad to Havana via Santa Clara | 7 hours |
Arrival and Departure Accommodation in Havana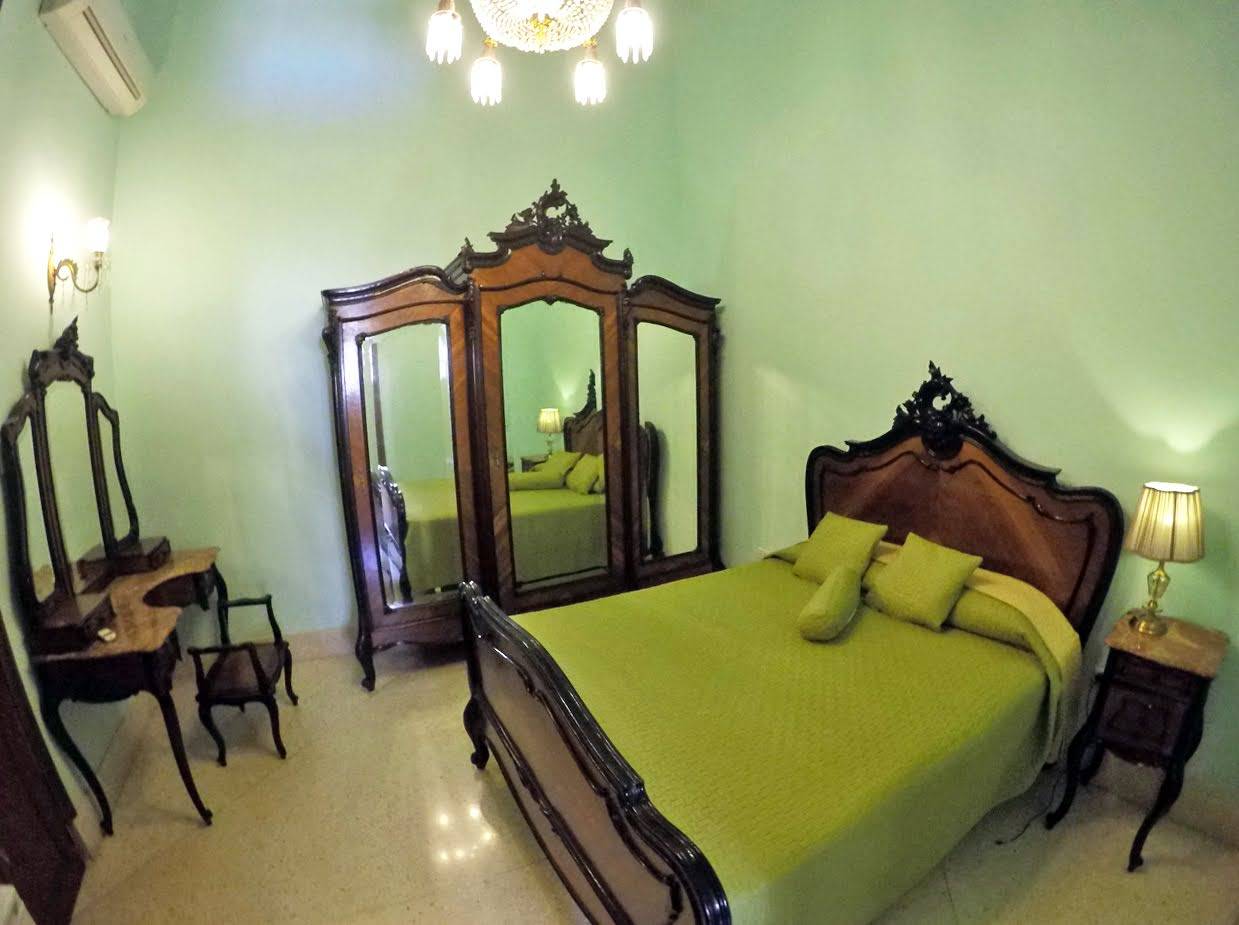 The first and last nights of the tour in Cuba will be in Guesthouse Accommodation, centrally located in either Old Havana, Central Havana, or Vedado.
We include an arrival transfer from the Havana airport (or from anywhere else in Havana if you are already in Cuba) to the joining Guesthouse Accommodation.
On the booking form, you can request extra nights before or after the tour in the same guesthouse you will have for the tour. Click here to see prices.
We also offer other accommodation options in Havana for before or after the tour.
Late arrivals or Early departures
Late Arrival - If you plan to arrive on Day 2 or after, we can arrange for you to catch up to the group. This may involve you paying transport costs to do so.
Early Departure - The group will arrive back in Havana, around midday on Day 7, so a departure from Cuba in the evening of Day 7 is possible. An earlier departure than this is also possible and may involve you paying transport costs for us to send you back to Havana by yourself.
Spending Money
We estimate you will need between €430 and €570 EUR ($620 and $820 AUD) for local expenses during the tour, such food and optional activities (but not including the Local Payment). Click here to see details of expenses you will have while on the tour in Cuba.
Not Included in the Tour
Explainer: Why are there no Cuba tours on tourradar?
Tour Dates & Availability
Flexible Bookings!
With our flexible bookings policy, you can book your place on a tour for only $25 and change your departure date anytime at no cost. Read more...
G

Jun 16 - Jun 23, 2022
10+ places available
$645

Guaranteed | guaranteed to depart

$645 AUD + €200 EUR Local Payment

June 16, 2022 - June 23, 2022

Adita scheduled to guide this tour

A

Aug 18 - Aug 25, 2022
10+ places available
$645

Available | no bookings yet

$645 AUD + €200 EUR Local Payment

August 18, 2022 - August 25, 2022

Tatiana scheduled to guide this tour

G

Oct 20 - Oct 27, 2022
10+ places available
$645

Guaranteed | guaranteed to depart

$645 AUD + €200 EUR Local Payment

October 20, 2022 - October 27, 2022

A

Dec 22 - Dec 29, 2022
10+ places available
$645

Available | no bookings yet

$645 AUD + €200 EUR Local Payment

December 22, 2022 - December 29, 2022

Yaima scheduled to guide this tour
Alternatives
Your travel dates don't match?